2013 MTV VMA Performances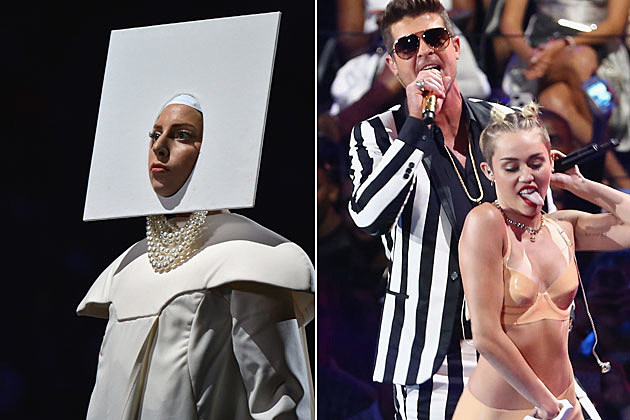 The 2013 MTV VMA performances celebrated some of the top songs of the year, and even had a few surprises in store. Viewers rubbed their eyes in disbelief when scheduled entertainer Justin Timberlake reunited 'N Sync on stage. Check out their performance and all of the others from the night!
Lady Gaga: Mother Monster opened the awards show with her new single, 'Applause.' In typical Gaga fashion, the performance was very dramatic and included multiple costume changes. [Watch Here]
Miley Cyrus: In keeping with the theme of her 'We Can't Stop' video, Miley Cyrus performed the single alongside oversized stuffed bears. [Watch Here]
Robin Thicke + Miley Cyrus: Robin Thicke's 'Blurred Lines' video has nothing on this performance. The singer dueted his hit with Miley Cyrus, who stripped down to a nude-colored ensemble and included some of her signature twerks. [Watch Here]
Kanye West: In his first performance since the birth of his daughter, North, Kanye West kept the audience in the dark. Literally. The rapper performed 'Blood on the Leaves' with just a hint of a spotlight cast on his body. [Watch Here]
Justin Timberlake: JT's medley ended up being both the longest performance of the night and the biggest highlight. Much to the delight of pop music fans everywhere, 'N Sync reunited for a short but sweet rendition of 'Bye Bye Bye.' [Watch Here]
Bruno Mars: Moments after winning the 2013 VMA for Best Male Video for 'Locked Out of Heaven,' Bruno sang his latest track, 'Gorilla.' The gimmick-free performance let the entertainer show off his smooth vocals. [Watch Here]
Macklemore + Ryan Lewis: When the duo performed their hit, 'Same Love,' they brought a special guest to join them — Jennifer Hudson! The emotional song was made all the more poignant by the fact that Macklemore + Ryan Lewis had just won the category of Best Video With a Social Message for 'Same Love.' [Watch Here]
Drake: Drake gave an explosive performance that included 'Hold On, We're Going Home' and 'Started From the Bottom.' While most of the crowd seemed into it, Rihanna noticeably wasn't. [Watch Here]
Katy Perry: The pop star closed out the awards show by performing her new single, 'Roar,' under the Brooklyn Bridge. Dressed as a boxer, Katy danced around the ring and acted like the champ she is. [Watch Here]
Next: See the 2013 MTV VMA Winners! Source:
2013 MTV VMA Performances