Miley Cyrus Shares 'Bangerz' Track Listing After She Breaks Vevo Record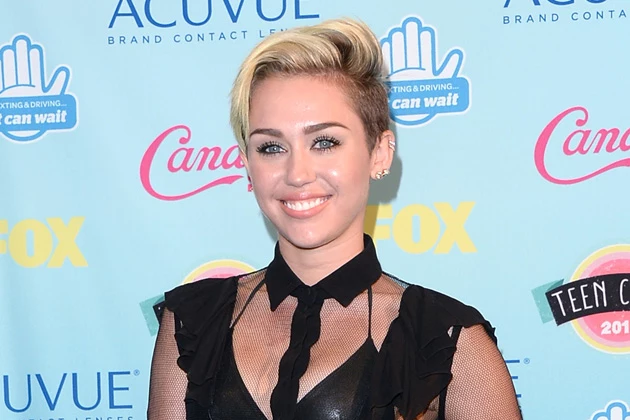 Miley Cyrus told her Twitter followers yesterday (Sept. 9) that if her 'Wrecking Ball' video broke a Vevo record, she would reveal the track listing for upcoming album 'Bangerz.' Well, it did, so she did!
Miley tweeted out the full list of songs and collaborations for her much-anticipated fourth album after the new nudity-filled clip broke a Vevo record, totaling more than 18 million views in the first 24 hours. Just like an actual wrecking ball, she smashed One Direction's previous record of 10.7 views, set this summer with 'Best Song Ever.'
Miley celebrates the milestone on Twitter:
Wrecking Ball has officially beat the @VEVO record. thank you smilerzzzzz

— Miley Ray Cyrus (@MileyCyrus) September 10, 2013
The track listing for 'Bangerz,' which is out on Oct. 8, is almost identical to the rumored one that leaked a week ago, with the sole exception being the title of track No. 5, a collaboration with rapper Future, which is now called 'My Darlin' instead of 'Stand By Me.' The previously rumored collaborations have all also been confirmed, with appearances by Britney Spears, Nelly, Big Sean and French Montana. Here are Miley's tweets announcing the tracks:
#BANGERZ 1. Adore you 2. We Can't Stop 3. SMS (BANGERZ) feat. It's ******* bitch 4. 4X4 feat. @Nelly_Mo 5. My Darlin feat. @1future

— Miley Ray Cyrus (@MileyCyrus) September 10, 2013
6.WRECKING BALL 7. feat. @bigsean 8.#GETITRIGHT 9.Drive 10. FU feat. @FrencHMonTanA 11.Do My Thang 12.Maybe You're Right 13. Someone Else

— Miley Ray Cyrus (@MileyCyrus) September 10, 2013
Miley Cyrus 'Bangerz' Track Listing:
1. 'Adore You'
2. 'We Can't Stop'
3. 'SMS (Bangerz)' feat. Britney Spears
4. '4×4′ feat. Nelly
5. 'My Darlin' feat. Future
6. 'Wrecking Ball'
7. 'Love, Money, Party' feat. Big Sean
8. 'Get It Right'
9. 'Drive'
10. 'FU' feat. French Montana
11. 'Do My Thang'
12. 'Maybe You're Right'
13. 'Someone Else'
In addition, Miley is promising to reveal the extra songs appearing on the deluxe edition of 'Bangerz' if 'Wrecking Ball' gets to No. 1 on iTunes. Get to work, Smilers! In the meantime, the rumored tracks are the following:
14. 'On My Own'
15. 'Rooting For My Baby'
16. 'Hands in the Air' feat. Ludacris
Next: Miley Cyrus vs. Skylar Grey? Source:
Miley Cyrus Shares 'Bangerz' Track Listing After She Breaks Vevo Record