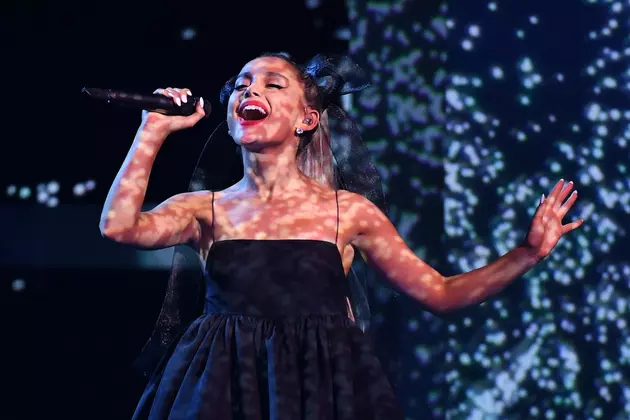 Ariana Grande Sings a Celine Dion Song in Adorable Throwback Video
Ethan Miller/Getty Images
Over the weekend the pop star shared two adorable throwback photos of her 4-year-old self belting out Celine Dion's "The Reason," as well as the Canadian musician's Barbra Streisand duet "Tell Him." In the video, Grande can be seen sitting in the backseat as her mom asks, "What else would you like to sing?"
"The next song," Ariana replies in the clip, prompting her mom to say, "You know the next song?"
Grande launches into her adorable, and perfectly on-pitch version of the song before speaking to brother Frankie Grande, not shown in the video.
"Put it from the beginning, Frankie," she says to her big brother, 14 at the time.
The clip also features and adorable moment between the musician, now 25, and her mom. Joan asks, "Am I Streisand?"
"I'm Barbra Streisand. Am I Celine or Barbra? I'm Celine?" She says.
In a tweet, Ariana revealed that  she and her mom "still sing this." The pair still maintain their assigned singing roles, too.
"she's still barbara [SIC] and still this stunning and cute if not more so," she wrote.
Joan replied, "Ariana I love you. so happy I found this video from 1997, damn 21 years ago and this is still a most amazing song and you a most amazing singer...and I always knew it!"
Ariana has become known for her impression of Dion, showing it on Saturday Night Live and The Tonight Show. She was even asked about it on the Elvis Duran and the Morning Show, during which she revealed that everyone she impersonates is flattered by it.
"When I met Celine, she tole me, she was like, 'When I saw you, I peed!'" she shared.
Ariana Grande, Rihanna, Lady Gaga + More Celebs in 2008 vs. 2018