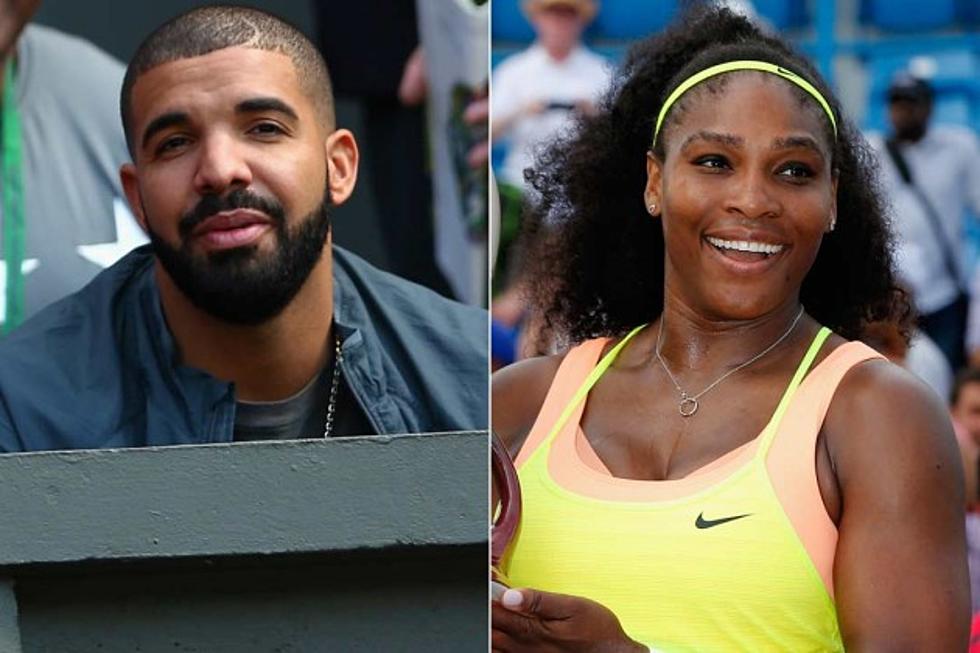 Drake and Serena Williams Make Out in Public
Rob Carr, Getty Images
It looks like Drake and Serena Williams are really enjoying each other's company.
According to TMZ, the pair were spotted making out at a Cincinnati restaurant last night (August 23). This was just hours after Serena defeated Simona Halep to win the WTA tournament for a second time, further cementing her status as one of the greatest athletes in the world.
Drake and Serena went to Sotto in downtown Cincinnati where they reportedly engaged in some ill-concealed PDA at a semi-private booth located in the back of the restaurant. TMZ goes on to report that the two were at a table with six other people, which sounds mildly uncomfortable for anyone not Drake or Serena. They did, however, allegedly order a round of tequila shots for everyone involved, which probably made up for the excessive PDA.
Rumors of a possible Drake and Serena coupling have been bubbling on the Internet for a while now, ever since Drake was seen in the crowd at Wimbledon, cheering for Serena.
We wonder how Common feels about all this. Back in 2011 and 2012, he and Drake participated in some public verbal sparring that Common later admitted was largely about Drake's budding relationship with his ex, Serena Williams.
He said (via MTV), "For me, I think it was an emotional thing. Meaning, I was feeling like, at that time, I think it was the Drake-Serena situation — I ain't know what was going on with that. And I ain't know if he was throwing things, shots at me. You know, this my ex, and we kinda, you know, going our separate ways. Unfortunately, the war might have been over a girl, even though at the time I never said that."
Thankfully, they hashed it all out when they saw each other in person. Common said, "I look back on it and say I'm glad it never escalated to a physical thing. Now it's nothing but love."
You can see photos of Drake and Serena together over at TMZ.
See Yearbook Photos of Drake + More Celebrities