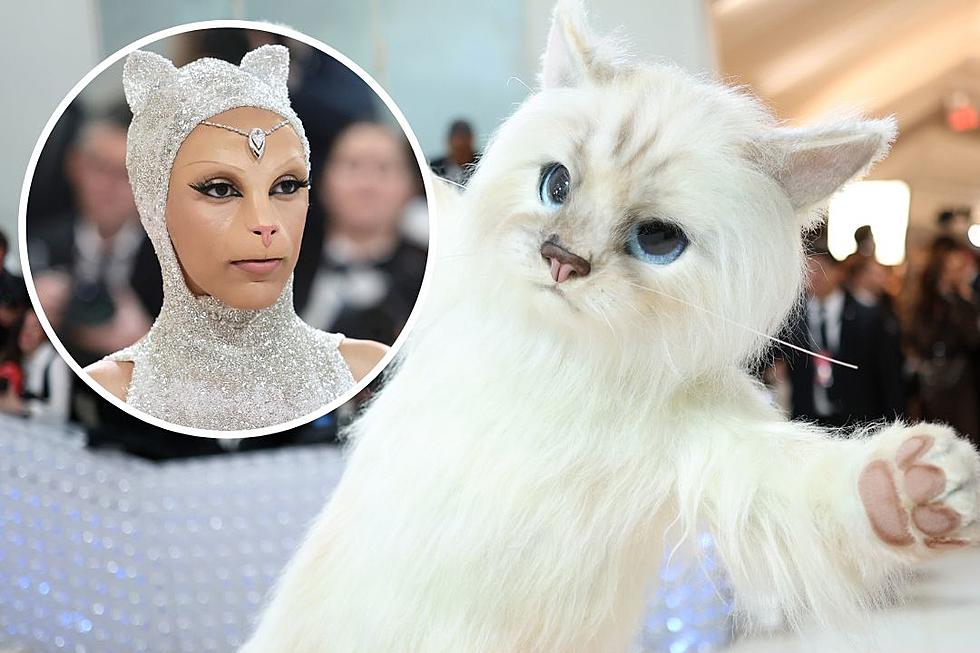 Two Celebrity Guests Literally Dressed Up as Cats for the 2023 Met Gala
Jamie McCarthy / Dimitrios Kambouris, Getty Images
Was there almost a cat fight on the 2023 Met Gala red carpet? No, not really, but two celebrities did turn heads Monday (May 1) with their respective, uncanny cat-inspired fashion looks.
It was the battle of the kitty cats on the 2023 Met Gala red carpet, which saw both Doja Cat and Jared Leto seemingly pay homage to Karl Lagerfeld's beloved white Burmese pet cat, Choupette.
Lagerfeld, who is the subject of this year's Met Gala theme: "Karl Lagerfeld: A Line of Beauty," died in 2019. When he passed, Choupette, now 11 years old, was left with his housekeeper, who still takes care of the cat today.
READ MORE: Why the 2023 Met Gala Theme Is so Controversial
After shielding her surprise look from the paparazzi in New York City, Doja turned up at the Met Gala in a sparkling Oscar de la Renta gown featuring a hood with cat ears. The open-back, mermaid silhouetted gown took over 5,000 to create and includes 350,000 silver and white beads, according to Harper's BAZAAR.
However, the standout feature of Doja's overall look was her makeup, including SFX to make her face more feline, complete with pink snout.
The pop star and rapper even made sure to give the camera a "meow" during one of her red carpet interviews.
But Doja wasn't the only celebrity to lean into the Karl Lagerfeld theme with a unique approach.
Leto took the cat idea even more literally, showing up in full furry form in a giant white catsuit complete with whiskers and pink toe beans.
"I knew Karl. He was always such a kind man to me. I could just imagine him looking down with a big smile on his face, seeing Choupette in all his glory. So it's a pleasure to be here to support this benefit," he told Entertainment Tonight on the red carpet.
Fans reacted to both Doja and Leto's showstopping outfits on social media.
"Doja Cat ... emphasis on CAT!" one person wrote, while another fan called her "mother."
Another Twitter user shared that Doja dressing as a cat for her Met Gala debut was "genius" for her branding.
As for Leto, one fan on Twitter wrote that it was only "logical" for the actor-musician to turn up at the Met Gala in full furry form.
Another wrote that "of course" it would be Leto inside the cat suit.
Met Gala 2023 Red Carpet: See Photos!