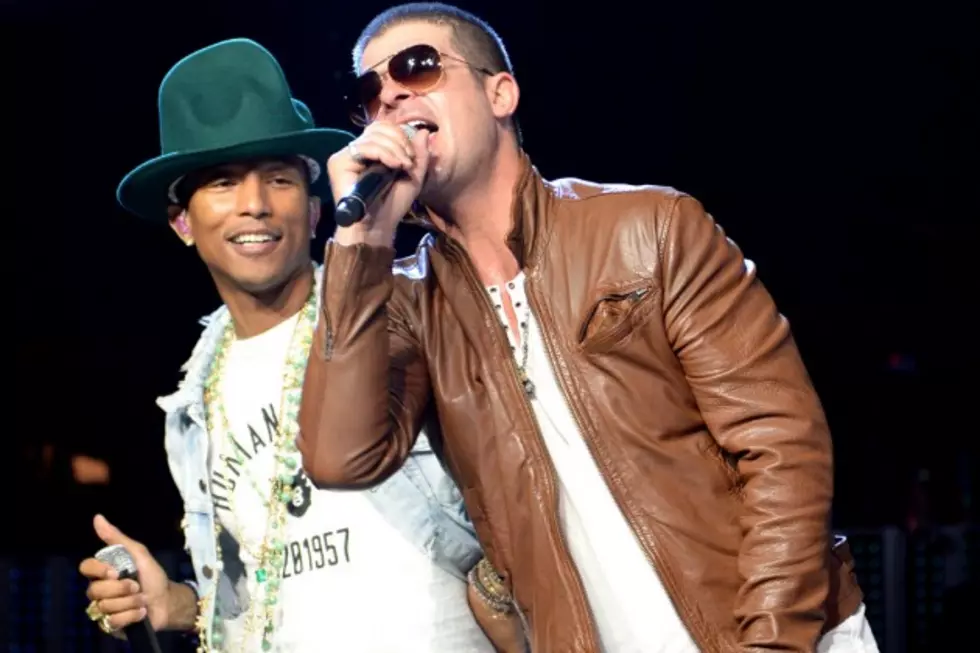 Pharrell Williams + Robin Thicke Found Guilty, Are Forced to Pay $7.3 Million in 'Blurred Lines' Case
Jamie McCarthy, Getty Images
Bad news for Pharrell Williams and Robin Thicke's bank accounts. It looks like their months-long court case, in which the pair were sued on claims that they plagiarized Marvin Gaye's hit "Got to Give it Up" for their song "Blurred Lines," has finally come to a conclusion. According to Variety, Williams and Thicke will be forced to pay $7.3 million to Gaye's family. Yikes.
It was recently revealed that "Blurred Lines" made more than $16 million, so quite a bit of that money will be going to Gaye's family.
To his credit, Williams did acknowledge that both tracks felt similar, but his lawyer insists that the ruling is a mistake, to the detriment of the music industry at large. Howard King said (quote via the Associated Press), "No one can claim they own the style or the genre of Marvin Gaye. There are no virgin births in music. Let my clients go forth and continue to make their magic."
Williams and Thicke lost the first round of rulings back in October, when a judge ruled that the track borrowed very heavily from "Got to Give It Up," citing the basis of his decision as coming from "the similarity of various hooks in both songs, bass lines, keyboard parts, vocal lines and elements of both songs' melodic and harmonic composition."
Thicke's odd behavior in court became a news story in itself, as he reportedly gave his testimony via a piano medley last month. According to PEOPLE, his point was to demonstrate that many songs have the same chord structure. He later went on to say that he did not write "Blurred Lines," giving all the credit to Williams. He said (quote via PEOPLE), "The biggest hit of my career was written by somebody else and I was jealous and wanted credit. I felt it was a little white lie that didn't hurt his career but boosted mine."
T.I., who added his rap to the song after it was already written, was also found guilty of copyright infringement.
Williams, Thicke and T.I. released a statement about the ruling of the case via a rep, saying, "While we respect the judicial process, we are extremely disappointed in the ruling made today, which sets a horrible precedent for music and creativity going forward. Blurred Lines was created from the heart and minds of Pharrell, Robin and T.I. and not taken from anyone or anywhere else. We are reviewing the decision, considering our options and you will hear more from us soon about this matter."