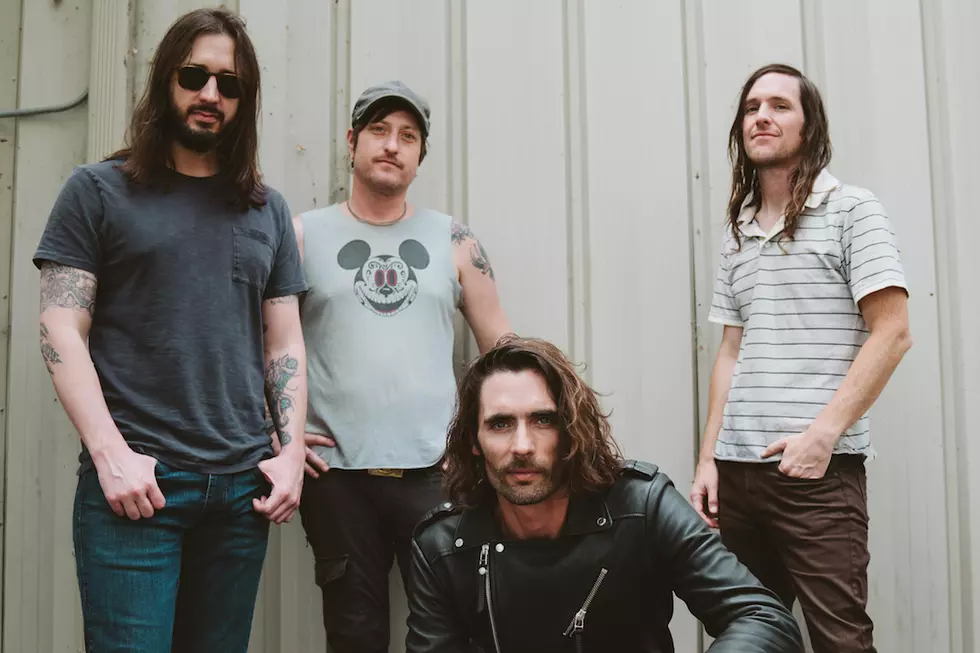 The All-American Rejects Explain Why Their Relationship With Warped Tour Was 'Bittersweet'
Courtesy of Alex Bemis
Since their debut in 1999, The All-American Rejects have spent two decades making a name for themselves with hit rock and pop-punk tracks like "Move Along," "Dirty Little Secret" and "Gives You Hell."
With four full-length albums under their belt and a fanbase that hasn't ever let them go, AAR finally brought new music to the scene with their July EP release, Send Her to Heaven. Three new songs are featured on the EP, including the title track "Send Her to Heaven," "Gen Why? (DGAF)" and "Demons." The band partnered up with Epitaph Records for the release, which follows their 2012 album, Kids in the Street.
Send Her to Heaven was released only days before the band was slated to play the 25th anniversary of the Vans Warped Tour in Mountain View, California. The event, which took place on the weekend of July 21-22, marked the last of three stops to close out the iconic tour's final summer on the road. AAR originally made their first appearance on the VWT during the summer of 2003, so it's no wonder fans were excited to have the boys back for one last epic set.
According to frontman Tyson Ritter, "Rejects fans are always rejects. That's what I love about our fans. People like us [because] we're either a guilty pleasure, something they remember from back in the day or something they're just now discovering. It feels good."
We caught up with the band hours before they performed to talk about all things Warped Tour, new music and what's to come. Check out our Q&A, below.
What was your initial reaction when you were asked to perform at the final VWT?
It was kind of an "aw, dammit." Warped Tour is like the cool step brother that invites all the cool people to your party and makes you have a better time. People don't realize there's the stage and everything in front of it. And then there's the carnival life where you literally have to tailor clothes for the tour to even survive.
What's it like performing at the final VWT in 2019 versus your first appearance in the summer of 2003?
This [year] is way less nerve wracking. [During the first one] I was in the common area walking around for the first time on the first day and a group of people started chasing me. So, I scaled this chain link fence that wasn't secure to the ground, so it fell down. I fell and got this birthmark on my leg from Warped Tour.
What are your favorite VWT memories?
Our first year we did Warped Tour there was this policy where you couldn't use swear words on stage. It was one show because there was a neighborhood really close by in Florida. We got off stage and there were cops on both sides of the stage, so we ran off. We hid in a tree in a park after getting split up. I had to lay down in a car to get out of the venue and then we get back and [VWT's founder] Kevin Lyman asks us, "What did you guys do that for?" We're like, "You were gonna arrest us, we're sorry!" Kevin says, "I don't know what you're talking about."
What does the VWT mean to you as a band?
First love, first love. We've grown up, we've moved on. We part ways every four years or whatever. We bump into each other at the grocery store. But, we went to catch up for a coffee and goddamn, it still looks good. The relationship with Warped Tour is bittersweet because when you did Warped Tour [then] it was a totally different thing than this. Did you see how f--cking huge that stage is!? I want to play on the Ernie Ball stage today.
What was the inspiration for your new EP, Send Her to Heaven?
It was a bunch of experimentation. We were in this weird place where we hadn't recorded music together for three years and all of the sudden we had three dates with three different producers in a two week period. We just surrendered to the moment and we never were really comfortable doing that. We usually took a moment and made it last nine months and then we called it a record. I feel like it probably means something to everybody a little bit differently.
What's next for AAR as a band?
The music is the only thing that has ever worked for this band. Music and making some music videos. I feel like we're one of the only bands that didn't calculate some sort of a breakup where we could announce we're getting back together to capitalize on interest. We're still making music, we never have really stopped and a lot of people don't know that.
We have a video coming out for "Gen Why? (DGAF)," which is another song on our EP. And then anything moving forward, we're all just sitting and watching this EP right now. We've lived through the major label system and now there's no outside pressure to do stuff. We go at our own pace. We lucked out with someone like Epitaph Records. It's a nice freedom we have. With the streaming thing and being able to release one or, in this case, three songs at a time ... everybody has the opportunity to test the waters and see what we feel like doing next and see what other people might enjoy next.
Surprising Stars Who Got Their Start on Warped Tour