Shawn Mendes Is 'Frustrated' Over Allegedly Misleading Billboard Cover Story, Apologizes to Fans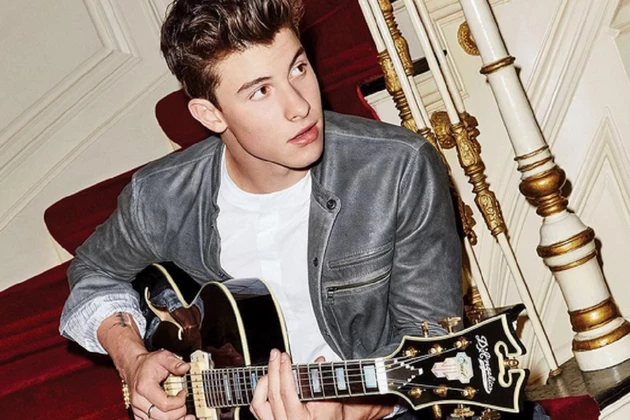 Shawn Mendes is currently on the cover of Billboard's "Fall Music Preview," but the "Treat You Better" singer isn't thrilled with how his interview turned out — or rather, the "bad version of it."
On Thursday (August 25), the artist posted a series of tweets slamming the magazine for allegedly twisting his words from statements he made about his relationship with his fans.
On Twitter, Billboard teased the story with "Shawn Mendes on how his fans don't truly know him & why romance after fame is 'impossible,'" which ignited one upset fan to respond, "B—h what?"
"his fans don't truly know him" bitch what? https://t.co/pgewd4RlFY

— maria 16 (@radialmendes) August 25, 2016
Seeing her tweet, Mendes denied ever saying such a thing during his interview.
"I have no idea why they would say that. I did not say that!!!" he tweeted, explaining his perspective on the interview and blaming Billboard for supposedly putting words in his mouth.
"I explained how I'm growing up and so are you guys and how it takes time for you all to fully understand me and me to understand you," Mendes posted, adding that he was "very frustrated" with the piece.
"It's really unfortunate when what you say gets turned into the bad version of it. I'm sorry guys…and the part that I spoke about how much my fans mean to me and what I owe them is not even touched on," he wrote.
"You're one person," Billboard quotes Mendes as saying about his fans in the issue. "You can't let them take everything from you. Because they will — not in a malicious way. They just love you. You have to be careful."
According to the piece, Mendes does talk briefly about how people may project their ideals onto him, but he doesn't seem to ever directly imply that his fans don't know him.
"People know me but they have no idea," the musician says, according to the interview. "I can't be best friends with the entire world, I can't fall in love with every girl, I can't be a father figure or older-brother figure to every person. But I hate being alone. I just want someone there — to get out of my own head for a minute."
Meanwhile, fans have sided with Mendes, voicing their support on Twitter as well as demanding Billboard apologize to the artist:
I love Shawn Mendes so much, I can't believe that billboard would twist his words like that, he deserves to be happy #WeLoveYouShawn

— krystina loves niall (@myhomeniall) August 25, 2016
If she stans Shawn Mendes, she knows he would never say more than half the things that were put in that Billboard article.

— If She Stans (@IfSheStans) August 25, 2016
Billboard you might want to consider revising, Shawn loves his fans more than you know #WeLoveYouShawn @ShawnMendes pic.twitter.com/2FJjWxwBWQ

— Amanda 15 (@kkidrauhlmendes) August 25, 2016
Billboard has yet to comment. See Mendes' tweets, below:
I have no idea why they would say that. I did not say that!!! https://t.co/6wVylRkhSX

— Shawn Mendes (@ShawnMendes) August 25, 2016
I explained how im growing up and so are you guys and how it takes time for you all to fully understand me and me to understand you

— Shawn Mendes (@ShawnMendes) August 25, 2016
Its really unfortunate when what you say gets turned into the bad version of it. Im sorry guys

— Shawn Mendes (@ShawnMendes) August 25, 2016
and the part that i spoke about how much my fans mean to me and what i owe them is not even touched on

— Shawn Mendes (@ShawnMendes) August 25, 2016
Again, im sorry. Very frustrated ❤️

— Shawn Mendes (@ShawnMendes) August 25, 2016
Shawn Mendes' Best Live Vocals:
Subscribe to Mix 93.1 on
Five Celebrity Good Boys Gone Bad:

Source:
Shawn Mendes Is 'Frustrated' Over Allegedly Misleading Billboard Cover Story, Apologizes to Fans