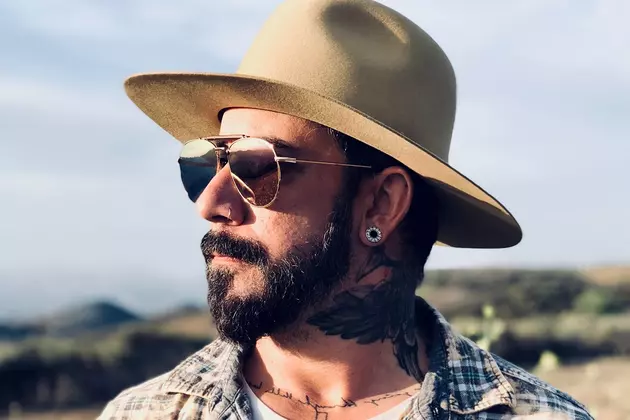 AJ McLean Says He Thought Backstreet Boys' Grammy Nomination Was 'Rumor' at First (INTERVIEW)
Courtesy of BMF Media
While AJ McLean is probably best known for his work as one-fifth of the members of Backstreet Boys, his solo work is starting to take a front seat in his career. Back in 2010, McLean released his debut solo album Have It All, a blend of dance, rock and pop, but McLean's newest work is a departure from the worlds he's become known for. These days, he's forging ahead into country music.
Despite growing up on country music, McLean never contemplated pursuing that genre himself until he and Backstreet Boys released "God, Your Mama, And Me" with Florida Georgia Line in 2016. After being approached by industry folks who thought he could really do something in the genre, McLean decided to consider it further. Since June 2018, McLean has released two country-crossover tracks with "Back Porch Bottle Service" and "Night Visions," both which show he's putting his own spin on the genre. An album looks likely for April.
As long as the country music community embraces him, McLean will continue along that path. "Country music is one of the genres that's not going anywhere," he told PopCrush. "It's just getting bigger and bigger."
Ahead of Backstreet Boys' new album release, McLean talked about his country music beginnings, working with Florida Georgia Line, and the Backstreet Boys' Grammy nomination for "Don't Go Breaking My Heart."
Tell me about your latest single "Night Visions."
About a year and a half ago, when I first started diving into the world of country, I went down to Nashville for a good month spread out over about a two-month period and met a lot of writers and started getting a lot of song submissions. One of the first ones submitted to me was "Night Visions," along with "Back Porch Bottle Service." There was something about "Night Visions" that grabbed me on an emotional side and production side.
It was a great bridge record coming from the world of pop for 25 years into this new journey of country. The vocals and the kind of melodic content in the song definitely took me to a place of country-pop but again, the production was more crossover, so once we had the vocals on it I fell madly in love with it. I thought it was a perfect way to start things off. When I say it's the tip of the iceberg based on the other songs I cut, it is the tip of the iceberg.
What was your gateway into country music?
My mom was a very eclectic music fan as far as what she played in the car — everything from southern rock to R&B to country. One of the first country artists I ever knew was Dolly Parton. Then I moved into Reba McEntire and Garth Brooks. I got a chance to see Garth live in Orlando years ago when he was flying out over the audience. Little did I know that would happen to me and the rest of Backstreet — flying over the audience! But I really think the turning point for me was recording "God, Your Mama, And Me" with Florida Georgia Line.
As a group we hadn't been on radio since 2005, so now we're back on radio with [the song] and it goes to No. 1. It was this new world. We did this show called Crossroads with Florida Georgia Line and shortly after the show I was approached by local publishing and label people in Nashville. They came to me in particular saying, "Have you ever thought of doing something in the world of country? You have this soulfulness about you." One girl referred to it as "sexy country." One of the key things I told myself if I was going to go down this road was, it's gotta be organic, it can't feel forced. I don't want to come into a whole new genre of music and people look at me like I'm trying so hard ... There's something about country that tells stories. I want to talk about my kids, my amazing wife, the highs and lows and things that relate to everyone.
How did the Florida Georgia Line collaboration happen?
I gotta chalk that one up to my boy Nick Carter. Nick was living in Nashville at the time and he went to CMA Fest with his wife where he met Florida Georgia Line backstage and found out that those guys were huge Backstreet Boys fans. They grew up on our music, and they were doing "Everybody (Backstreet's Back)" at their show. None of us really believed it and then Nick sent us a YouTube video, and I was like, "Holy crap. They're doing 'Everybody (Backstreet's Back)' at a country concert?" The whole audience was singing every line.
That was the tip of the iceberg — the start of this brand new friendship we have with BK and Tyler. They were pretty much done with their album Digging Your Roots, but there was one song they had already cut called "God, Your Mama, And Me" that they played for Nick. And Nick was like, "This sounds like a Backstreet Boys record. What about the possibility of us hopping on the song with you guys as a feature?" The next thing you know, the five of us are in Los Angeles cutting a record, and here we are.
If you were to continue to do more solo records, would they be country albums?
Honestly, yes. I think country is morphing into something a little different as far as more crossovers. Clearly Florida Georgia Line are the black sheep of country. They just do what they want, take risks and their risks have paid off. They've moved out of the world of country into the world of pop, doing stuff with Bebe Rexha, The Chainsmokers and us. It's taking country to all new heights. There's still going to be a pop element to what I do because that's what I do, but there's also going to be a soulful element because that's me being true to who I am. As long as I stay true to myself, I'd love to continue doing country records until nobody wants to hear it from me.
You guys have been making music for so long. How did you feel about Backstreet Boys' Grammy nomination for "Don't Go Breaking My Heart?"
It's a funny story. I had just gotten home at about 1 a.m. on Friday morning and went to sleep. My youngest came in and jumped on me and woke me up at 6:30 a.m., and I had to get up early anyway to take my oldest [kid] to school. I opened up my phone and I saw 21 text messages. The first thing I'm thinking is, "Oh god, what happened?" So when I opened my text messages one of the first ones I saw was from a friend of mine in Nashville saying, "Oh my God, brother, congratulations on your Grammy nomination." I was like, "What are you talking about? That's gotta be a rumor starting."
Then I opened up a text with Nick, Howie, our manager and our publicist, and they were like, "Congratulations. All this work has paid off." My wife dropped her coffee. We've been nominated seven times and we've never won. The last time we were nominated was in 2002 and after being a group for 25 years grinding and grinding for the past seven years to get us back to where we were today, we're back on radio. We're so blessed to have an amazing first single with "Don't Go Breaking My Heart" and an amazing single called "Chances." All these pieces to this puzzle have finally fallen into place. Just to be nominated...we're so grateful. It's still a big surprise to us as well. Fingers crossed that this is the one that sticks.
Artists Who Went Solo From their Groups