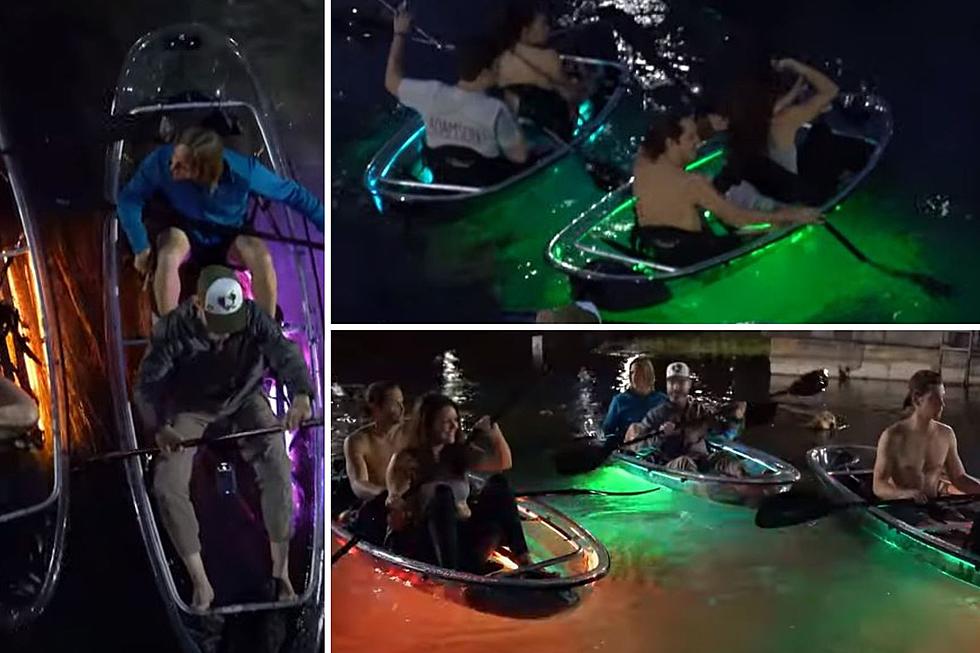 An Interesting And Fun Looking Texas Activity – Night Glow Kayaking
Paddle SMTX via YouTube
If you've ever floated the Guadalupe River or San Marcos River near San Marcos, Texas, or the Comal River in New Braunfels in a black innertube with a bunch of your friends under a hot summer sun you've no doubt had a blast. Living life out of a cooler for a couple of hours and floating down the spring-fed river is one way to relax and hang with some friends. Now you can experience those same rivers differently, at night and not under the blazing hot central Texas summer sun thanks to some unique kayak and canoe rentals.
When it comes to a very different and unique activity, kayaking one of these rivers in a crystal clear kayak or canoe that's been outfitted with color-changing LED lights gives you a chance to check out the aquatic life underneath you as you paddle down the river. Something you don't normally get to see when you're on your back floating in an inner tube.
Known as 'lighted floating glow tours', several different river guide outfitters in the Central Texas area offer a unique experience for anyone willing to man a paddle in a lighted kayak at night. It's not very often that you can check out the aquatic life below you as you gently float down the clear waters of the San Marcos River at night. As you paddle down the river you'll see plenty of fish and plant life and at the same time on a clear night you'll check out the amazing stars and you just might see some wildlife along the banks of the river.
Just like your daytime trip down the river, you can still bring that cooler along with you!
This is a unique experience that many have written rave reviews about and they suggest it for anyone and many of them have plans on returning and doing it again. Some did say though come prepared for a workout because there is some work involved in paddling your lighted LED crystal kayak down the river.
This unique experience can also be found on the Texas Gulf Coast in select cities too. So if you've floated the river before and you're looking for a new experience, this could be the thing you're looking to do this summer or any time of the year.
View this post on Instagram
Only The Truest East Texan Can Get Through This 'Jeopardy!' Game
We took one of America's most popular game shows and put an East Texas spin on it. Scroll slowly through the answer so you don't reveal the question too early! Good luck, sorry there's no money to be won, just bragging rights on how many you get right!
Stay at 'The Nest' Just Three Hours from Tyler, TX for Breathtaking Views
A Five Level Lindale Treehouse On Airbnb Holds A Soccer Team
If after watching an episode of 'Treehouse Masters' with Pete Nelson and crew, you have the urge to experience treehouse living, there's a place in Lindale that is perfect.
Hey Food Network, These East Texas Best East Are Worthy Of An Episode
We're sending Food Network a message - it's about time to bring some of those cameras from your shows and feature our fantastic restaurants on several of your shows.
East Texas is full of fantastic restaurants that are owned by some extremely talented chefs, pitmasters and bakers. For years you, the Food Network, have been creating shows featuring local hot spots and we feel it's about time for some of our favorite hot spots to be featured on one of your many shows.