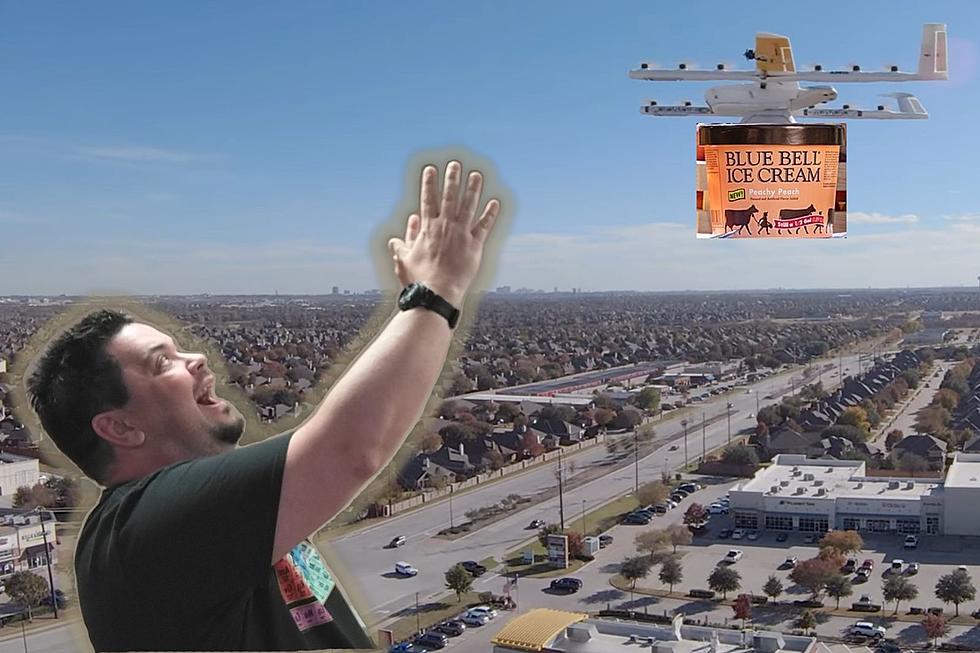 Blue Bell Ice Cream Will Rain from the Heavens in These Two Texas Cities
Drone - Wing via YouTube / Blue Bell Peachy Peach via Blue Bell on Facebook / Michael Gibson - Townsquare Media
If this is the future of delivery, I'm all for it. A company has set up shop in both Frisco and Little Elm, outside of Dallas, to deliver select items straight to a front or back yard. One of those select items happens to be Texas' favorite ice cream, Blue Bell. The company is called Wing and here is how it will all work.
The company is called Wing and they were created in Australia. They have brought their unique service to both Frisco and Little Elm. In a partnership with Walgreens, residents of those two cities can use the Wing app to order the select products that are available, which includes Blue Bell ice cream, and those products will be loaded into a box that is then hooked to a drone that will fly to their home or wherever is most convenient for them to pick up. The drone will then hover over that area and lower the product safely to the ground and fly away.
The concept is fantastic so let's hope that people will take advantage of this service so it can expand to more of Dallas and then maybe creep into East Texas. I mean, how awesome would that be on a hot summer Saturday afternoon and you're in need of some ice cream for the kid's pool party. You pick up your phone, select the flavor your need and BOOM, its lowered into your yard in a short amount of time.
We're counting our chickens before their hatched but that's an awesome thought. This service will only be available for this week. I'm sure there is lots of data that will be collected and then possibly a more expanded test will happen down the road.
If you want some more details on Wing, the company behind all of this, go to wing.com. Check out their video, too, of what they're doing in Frisco and Little Elm this week below.
Peak Inside Houston's Manor on Carnarvon, The Second Most Expensive Home in Texas
EAA Young Eagles Flight Photos
The Young Eagles is a program sponsored by the Experimental Aircraft Association (EAA) and set up for kids who are excited about aviation.
Dogs Available at Jacksonville Animal Shelter
If you're looking for a new dog here is what is currently up for adoption at the Jacksonville Animal Shelter