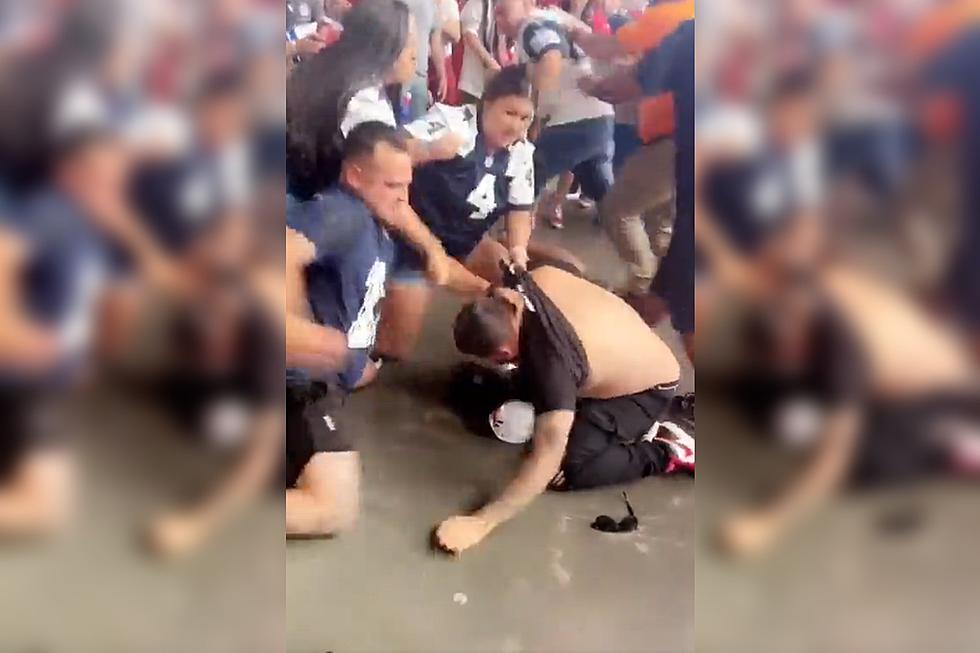 Dallas Cowboys Stadium One Of The Most Dangerous For Fans According To Poll
X: itsallphoenix
We've Shared Dozens Of Videos Before Of Fans Fighting At Dallas Cowboys Games And A Recent Poll Just Confirmed What A Lot Of Fans Are Feeling About Going To Games.
I've said this before and it bears reiteration: If you can't handle your emotions and have to get VIOLENT over sports, do everybody and yourself a favor and stay home and watch on TV.
But of course, when alcohol and passion combine, its inevitable that violence will soon follow closely behind. That's why I wasn't surprised by a recent poll that put AT&T Stadium, home of the Dallas Cowboys" on the list of one of the most dangerous NFL stadiums.
A Sports Betting Website Conducted The Survey.
The survey was conducted by Sportsbook Review, and they compared local crime statistics around each stadium and polled over 3,000 football fans about their experiences.
When comes to crime "AROUND" the stadium, The Denver Broncos home field takes first place, but the Cowboys don't fare well when fans asked about their experiences at AT&T Stadium.
The "Firsthand Fan Experience Poll" Puts Dallas In The Top 5 In All Categories.
Nearly 40 percent of NFL fans say that they have witnessed a crime at or around an NFL Stadium. Dallas ranks SECOND in that category with more than 54 Percent of fans saying that they witnessed a crime at the stadium.
When asked "which stadium would you not feel comfortable visiting as an opposing fan" Dallas came in FOURTH behind Chicago, Cleveland and Philadelphia. Where things get alarming for Dallas is when fans are asked if they were ever a VICTIM of a crime at the stadium.
Dallas Finished In First In That Category.
It must be noted when it comes to the crimes fans claimed to have experienced being victims of, most of them are "public intoxication" or "verbal harassment" which in most cases can be expected.
---
Upset Dallas Cowboys Fan Versus Cardinals Fan Blow by Blow During Loss on Sunday
Fights are becoming more and more common at sporting events lately with the latest being between a Dallas Cowboys and Arizona Cardinals fan during Sunday's game.
5 Things You Can't Bring To Dallas Cowboys Games
We found 5 interesting items that are banned from AT&T Stadium during Dallas Cowboys games. Here's 5 of them.
Check Out These Dallas Cowboys Super Fans Rides
The Cowboys Life Family Tailgates In Tyler