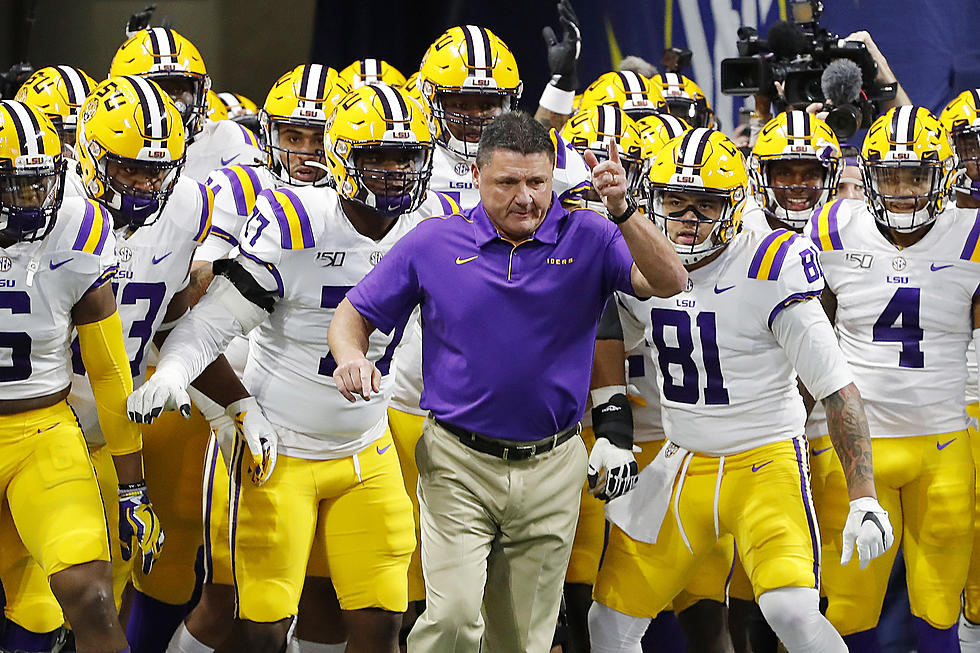 Dozens of LSU Football Players Quarantined
Kevin C. Cox, Getty Images
At least 30 of LSU's 115 football players are in quarantine because of coronavirus concerns.
Sports Illustrated reports "At least 30 of LSU's 115 players have been isolated because they tested positive for COVID-19 or were found to have had contact with those who tested positive."  But sources inside LSU football report that number will continue to change as more players are tested.
No top brass at LSU is talking, citing HIPPA laws which mandate that medical information is private. Shelly Mullenix, senior associate athletic trainer declined to confirm the numbers of players testing positive, but she did say LSU's situation is "on par with a nationwide uptick in the virus related to Memorial Day activities and the widespread mass gatherings from protests."
So far, reports out of Baton Rouge indicate no Tiger players or coaches have required hospital treatment because of the virus and very few have exhibited any serious symptoms.
There is some concern the players might have contracted the virus at clubs in Tigerland where at least 3 workers have tested positive. The Louisiana Department of Health reports at least 100 cases of coronavirus are now traced to clubs in Tigerland.
LSU is not alone in finding a spike in cases. Clemson recently announced 28 people in the athletic department have tested positive. At least 8 players at Alabama have tested positive for COVID-19. Texas has also announced 13 players tested positive and nearly a dozen others were in quarantine. Sports experts expect to see more of these reports across the country in coming weeks.
The Tigers are scheduled to open the season on September 5th at home against UTSA.
Sports Stars from Shreveport