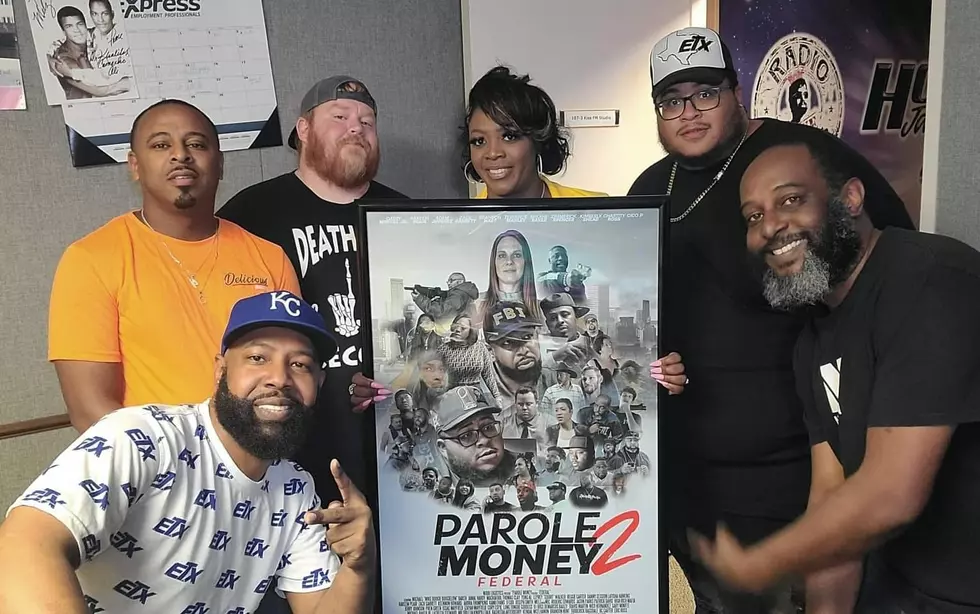 East Texas Filmmaker Prepares For Parole Money 2 Premiere In Tyler
Melz
At about this EXACT time last year, we invited East Texas music producer and filmmaker Michael "BoogieLow" Baker by to talk about his movie "Parole Money" which features a wide cast and crew of well known East Texas personalities. Well, he's back once again with the sequel Parole Money 2!
Parole Money 2: Federal Was Filmed Entirely In East Texas
"Parole Money 2" picks up where the first movie left off. The dramatic comedy movie about a father who is trying to get his money up to buy his family a home but has to deal with a ton of obstacles along the way is now moving on up to higher stakes and danger than the last time.

Parole Money Part 1 Is Streaming Everywhere Right Now
If you want to get caught up on the storyline, you can watch the original Parole Money on various streaming services including Tubi, Amazon Prime Video and other outlets where you can stream movies.
The beautiful thing about this movie is that Mr. Baker not only wrote, directed, edited and filmed the entire movie here in East Texas, but he also has a big cast of well known folks from East Texas.
Local stars from Tyler to Longview to Marshall are reprising their roles in the movie including well known East Texas party rocker MC Minifee, Rakeem Peair who returns as "Big Vandross", new comers Brandon Hart and Kimberley Shead who also owns Phat's Extension Bar in Tyler. Oh, and you can see ME in the movie as well!
The Movie Premiere For Parole Money 2 Will Take Place Oct. 2nd In Tyler.
There will be a red carpet premiere of Parole Money 2 on Sunday Oct. 2nd at the Studio Movie Grill in Tyler kicking off at 5pm. Tickets are on sale right not at eventbrite.com. We caught up with the cast of the movie and talked about it on the Melz On The MIC podcast available on demand inside the Kiss app and below.
Ten Movies You DIDN'T Know Were Shot in Texas
We have plenty of classic movies filmed in Texas that brag they're set in Texas. What about the movies that are shot here that pretend to be somewhere else? This is what we're taking a look at today.
12 of Eddie Murphy's Best Movies Ranked
With the recent release of Coming 2 America, the sequel to the classic cult hit made back in 1988, I got to thinking about Eddie Murphy's other classic films. Whether he's talking to animals, wearing purple tight leather doing stand-up, or playing multiple characters in one movie, here are my Top 12 favorite Eddie Murphy Movies of All Time.
5 "Based on a True Story" Movies About Ark-La-Tex Murders
These movies are either based on murders that took place in the Ark-La-Tex, or are based on people from the Ark-La-Tex area.