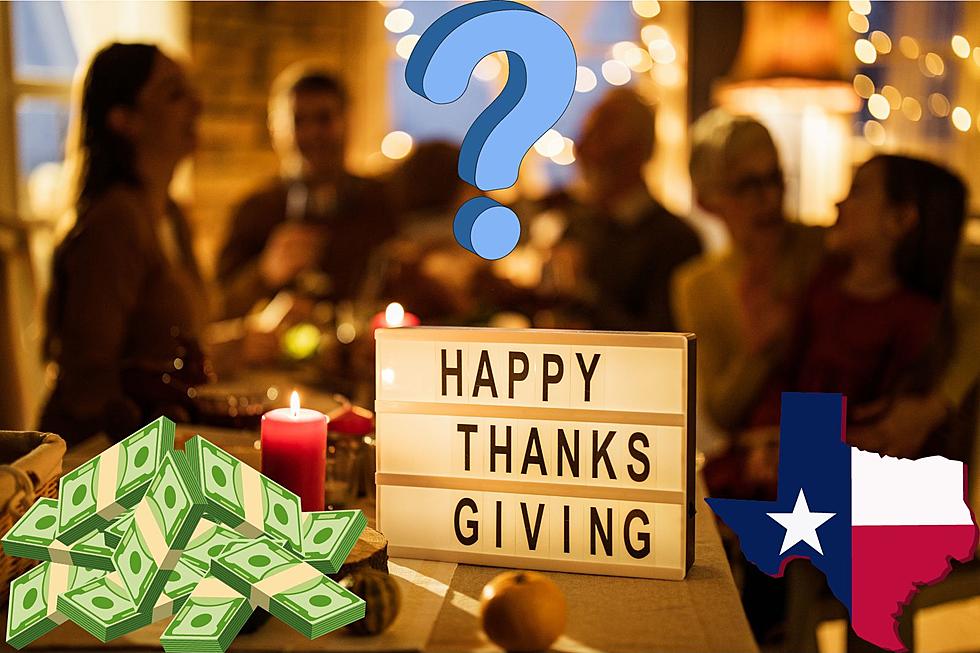 How Much Does Texas, On Average, Spend For Thanksgiving?
Canva
The holiday of Thanksgiving is one to celebrate with family and friends.
The Lone Star state is preparing around the clock for the holiday. Turkeys are being bought, sides are being prepared, and most importantly, nerves are being prepared for when family arrives.
Admit it, you need to prepare for one family member this year.
But overall, it's a time many look forward to in the state. But going back to the mentioning of purchasing items, it does indeed cost money to get these items for the holiday. But how much does the state spend on Thanksgiving?
Thankfully, it does look like data exists to find out the answer. Wouldn't you know it, Texas doesn't spare any expense during the holiday either.
How Much Does Texas Shell Out For The Holiday?
Casino.org once again brings us the data to find out where Texas lands. With everything being bigger in the Lone Star State, we have a feeling that we might be high up on the list. Enough talk however, let's find out shall we?
According to the website, Texas landed in the top 10 for Thanksgiving spending, with the average being $127 for a Texan to spend on the holiday. Alabama landed at number one with a $200 average.
So to say the least, Texans take the holiday seriously. But what about...the younger generation of Texas residents? Turns out they'll be a little more thrifty when it comes to Thanksgiving.
Casino.org reports that Millennials, according to average, will spend under $50 dollars for the big day. We've got to ask, where are those deals to save that amount of money?
What A Joy! These Are The Happiest Cities In The State Of Texas
You can find happy Texans everywhere, but where are the truly happiest?
Gallery Credit: Tommy Paradise, Townsquare Media, CreditDonkey, Canva
Texas Is Number 1 In The USA In These Categories
According to research at OnlyInYourState.com, Texas is #1 in the USA at these things.
Gallery Credit: Noah/Canva
10 Most Beautiful Cities In Texas
MoneyInc.com compiled data of the most beautiful cities in Texas.
Gallery Credit: Noah Sherwood
7 Texas Stereotypes Every Non Texan Gets Wrong
These are the 7 things everyone gets wrong about Texans according to
MyHighPlains.com
.
Gallery Credit: Noah