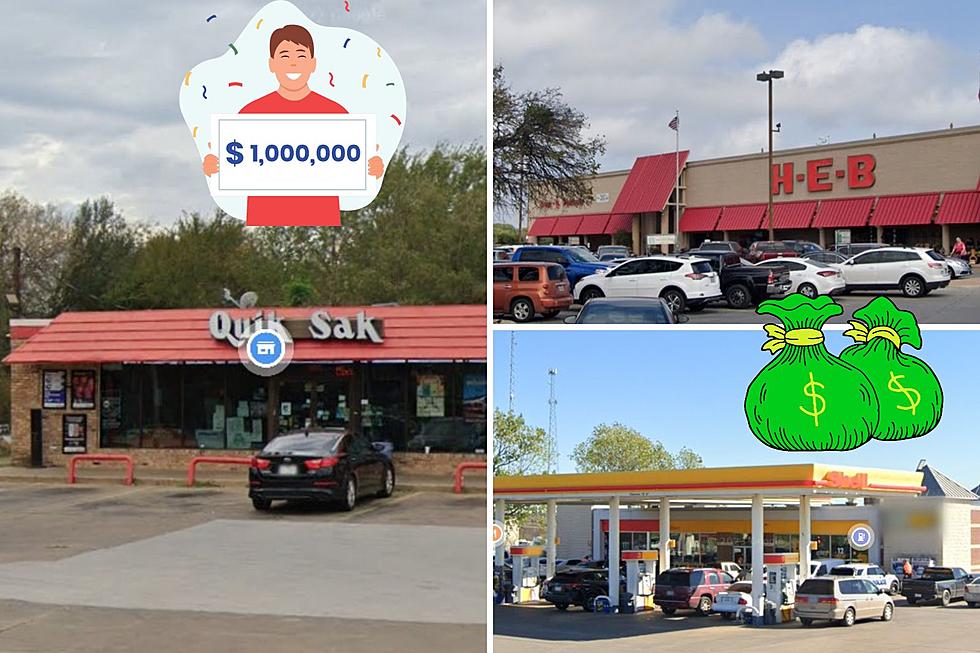 These 3 Texas Stores Just Sold Million Dollar Powerball Tickets
Google Maps/Canva
💰Nobody matched all 6 numbers for Wednesday's Powerball drawing
💰Saturday's jackpot is worth an estimated $1.4 Billion
💰Tickets sold in Texas produced three new millionaires
---
No one matched all six numbers in Wednesday's Powerball drawing, but there were ten tickets sold that matched all five of the white numbers drawn.
Those tickets were sold in Texas (3), California (2), Pennsylvania (2), Kentucky, Colorado, and New York. Three of those tickets were purchased with the Power Play option, so those tickets will pay out double ($2 million).
The Three Texas Winners
We may never know the identity of the winners, but here is where they bought their tickets.
S&Z Food Mart (Shell) off West Interstate 20 in Forney, Texas (near Dallas)
HEB on Grissom in San Antonio, Texas ($2 million winner)
Quik Sak on Shawnee Trail in Lake Worth (near Fort Worth)
The numbers drawn on Wednesday were 9-35-54-63-64, and the red Powerball number was 1.
The Biggest Powerball Jackpots of All Time
The next Powerball drawing will take place on Saturday, October 7. That jackpot is currently up to $1.4 BILLION. That makes it the 3rd largest Powerball jackpot in history.
The largest occurred in November 2022 when the jackpot soared to $2.04 Billion. That winning ticket was sold in California. The second largest happened in January 2016. Three persons from California, Tennessee, and Florida split that jackpot of $1.586 billion
Play Responsibly
$1.4 billion would allow you to buy a new $1 million home every month for 116 years. Even if you go with the estimated cash value payout of $643 million, that kind of money is hard to comprehend.
But, as always, be responsible when playing the lottery. Yes, someone will eventually win, but the chances of it being you are about 1 in 300,000,000.
LOOK: The largest lottery jackpots in US history
Stacker
compiled a list of the 15 largest lottery jackpots in U.S. history from news reports and lottery press releases.
[This list is current as of July 25, 2023.]
Gallery Credit: Chandler Friedman