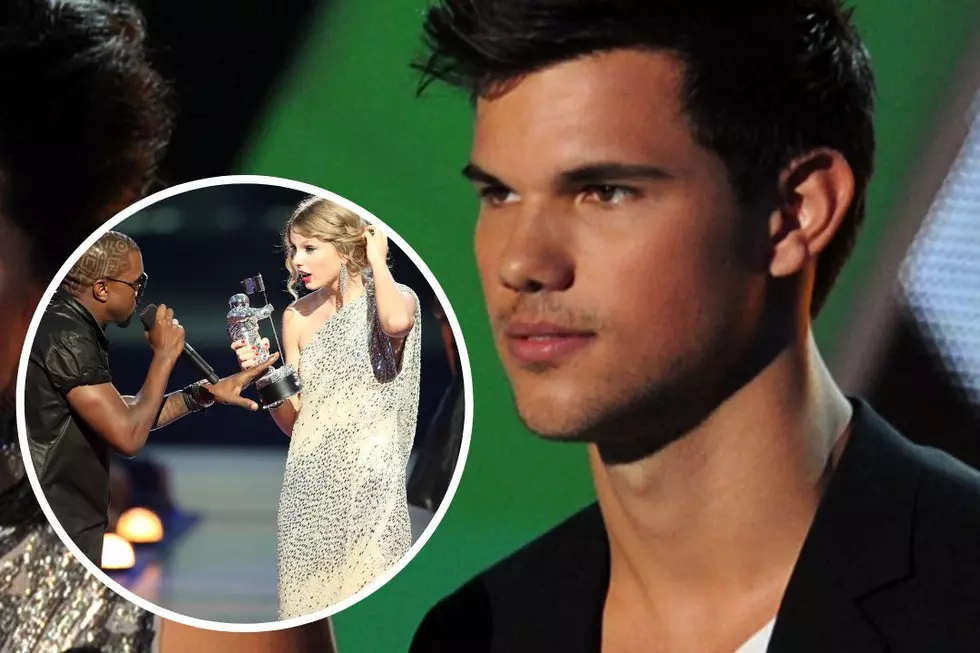 The One Thing Taylor Lautner Regrets About His Relationship With Taylor Swift
Christopher Polk / Kevin Winter, Getty Images
Taylor Lautner regrets not standing up for ex-girlfriend Taylor Swift when Kanye West interrupted her onstage at the 2009 MTV Video Music Awards.
The Twilight star revealed his relationship regret during a recent episode of his podcast, The Squeeze.
Chatting with his wife Taylor Dome, Lautner revealed he wishes he had done something the night West ambushed Swift while she was accepting the award for Best Female Video for "You Belong With Me" onstage at the VMAs.
Lautner, who was also onstage at the time to present the award, admitted he was "unaware that the Kanye thing was not a skit." He didn't realize until after the fiasco, when Swift turned around and he saw the look on her face.
"I can barely hear it. I can't see them. I'm just assuming that this whole thing was a practiced and rehearsed skit because why else would Kanye West be jumping up on the stage, interrupting Taylor Swift?" Lautner explained, adding that he even laughed along at one point since he didn't understand what was happening.
"He jumped off, she finished [and] the second she turned back around and I saw her face for the first time, I was like, 'Oh, no... that wasn't good.' Probably should have said something," he continued.
At the 2009 VMAs, West ran onto the stage and took the mic from Swift, announcing that Beyoncé should have won the award instead for the video for her chart-topping smash "Single Ladies."
"Yo, Taylor, I'm really happy for you, I'mma let you finish, but Beyoncé had one of the best videos of all time!" West infamously told the audience.
After the incident, West apologized to Swift.
"Kanye did call me and he was very sincere in his apology, and I accepted that apology," the country-turned-pop star told ABC Radio in 2009.
"The support I got from other artists and from the fans, and so many people sticking up for me, that's what got me to the place where I could accept that apology. And I'm just very thankful that everyone showed me so much love," Swift added.
However, Swift and West — as well as his ex-wife Kim Kardashian — have continued to feud on and off over the past 14 years.
Most Controversial, Iconic and Shocking VMAs Moments
Celebrities Who Fell From Public Grace