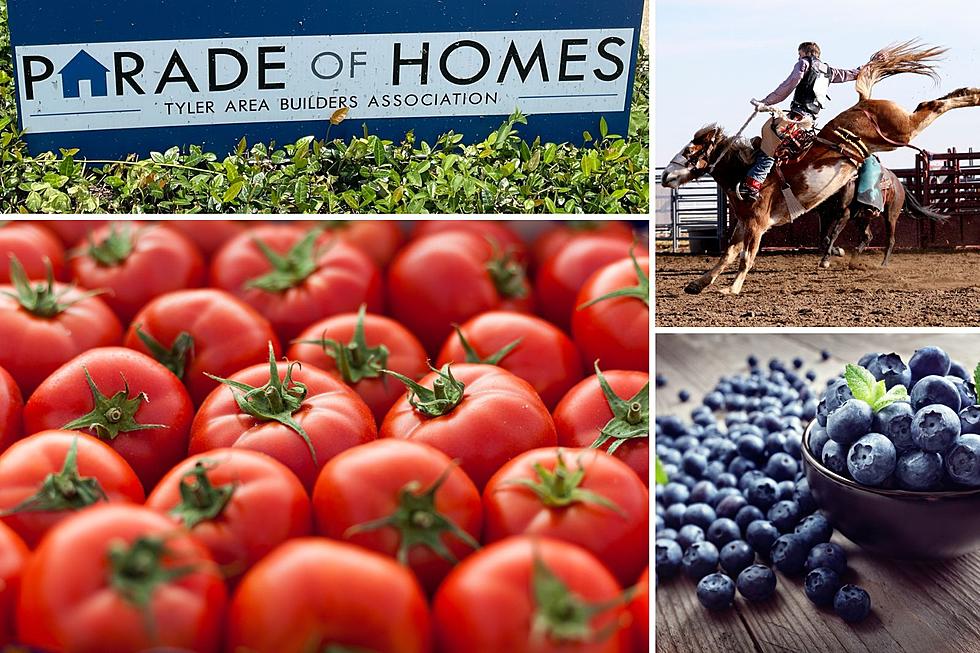 Tomatoes, Blueberries And A Rodeo Among The 7 Big Things Happening In East Texas This Weekend
Lucky Larry, Mix 93-1 and Getty Images
Another East Texas weekend is quickly approaching and this weekend's event calendar is full of activities for any lifestyle. There are big events happening in Jacksonville, Gilmer, Tyler, and even Nacogdoches, Texas as locals celebrate the bounty of tomatoes, and blueberries while being entertained at the rodeo.
This weekend's highlights are:
Jacksonville Tomato Fest
Blueberry Festival in Nacogdoches
Gladewater Rodeo Round-Up
Tyler Parade of Homes
There are many other events and activities that we all can be a part of to help support local businesses and organizations.
Here's what's happening throughout East Texas this weekend:
For more information on any event, simply click on their bolded title.
Thursday - Saturday
downtown Jacksonville
It's all about the power of the tomato in Jacksonville this week. Tomato Fest highlights EVERYTHING about the tomato. There will be many competitions where the tomato is the star during this nearly week-long celebration. The big festival will happen along Commerce St. Saturday from 8a - 3p and will feature more than 350 vendors along with a car show, many tournaments, a fun run and so much more.
Look for us to be there all day Saturday!
Saturday
downtown Nacogdoches
It's blueberry harvest season in Nacogdoches! The festival features many competitions, entertainment, fair-style food options, live music, and a lot of fun on the brick streets of downtown Nacogdoches. The day kicks off with a blueberry pancake breakfast at 8a and the rest of the day is filled with fun activities, shopping, an auto show, and much more.
Wednesday - Saturday
Gladewater Rodeo Arena - Gladewater
The rodeo has been entertaining fans since 1938. The action gets underway nightly at 8:15p. The rodeo supports scholarships for area students. Tickets are now available for all rodeo events.
now - Sunday
Smith County
This is the final weekend for the Tyler Parade Of Homes. The Tyler Area Builders Association presents the 70th annual event. Tyler builders have been busy the past few months putting the finishing touches on their latest masterpieces to inspire other home builders and those who are looking to build a home. The new construction home showcasing the work of area builders are dispersed throughout Smith County and range in price from $200k to $750k+. Portions of the admission to the Parade of Homes will benefit The Hospice Of East Texas' Pediatric Hospice Care and Children's Grief Support Service.
Saturday - 10a - 6p
Courtyard Marriott - Tyler
Psychics, vendors and other entertainment will be a part of the day of fun.
Saturday 8:15p
Bergfeld Park - Tyler
This is a rescheduled event by Tyler Parks and Recreation. See the movie 'The Wedding Planner' on the big screen on the amphitheater stage at Bergfeld Park. Bring your blankets, lawn chairs, and some movie snacks, and see a movie under the stars.
Saturday - 12:30p - 6p
Longview
Longview Parks and Recreation is hosting 'Splash Day' as the city opens the Longview Swim Center for the summer. Coll off in the water of the Longview city pool and have fun in the pool all summer long.
Saturday - 11a - 2p
Longview
The Orr Pre-Owned lot on Spur 63/McCann Rd in Longview will be turned into a fun carnival atmosphere for kids. It will feature bounce houses, balloon art, train rides, and of course carnival sweets like snow cones and cotton candy.
18 Unusual Town Names Across the State of Texas
People in Texas have a lot of pride even in the small towns with usual names.
20 Pet Friendly Cities in the U.S.
Want to go on vacation and take your pet with you? These are the top 20 pet friendly cities in the United States.
Paris and Grand Saline Hold 2 Unique Guinness Book World Records in Texas
Texas is known for a lot of things including many different Guinness Book World Records. East Texas has a claim to two of those unique world records that still stand today.
AI Describes the Perfect Day in Tyler, Texas
Here is a look at what artificial intelligence describes as the perfect day in Tyler, Texas.