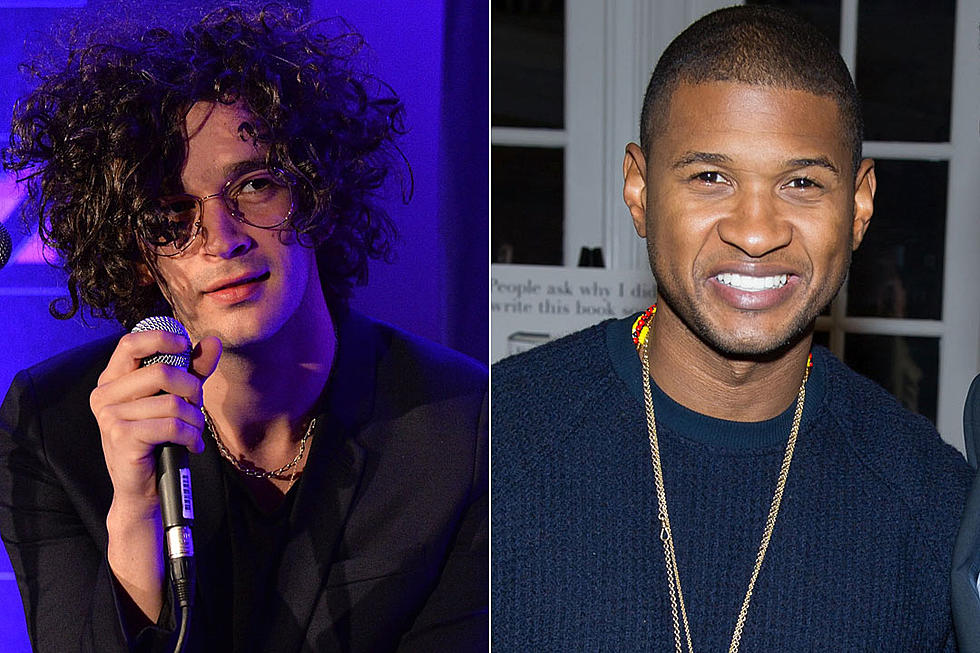 Usher Upset The 1975's Matt Healy When He Mistook Him for Skrillex
Slaven Vlasic / Marcus Ingram, Getty Images
Despite the ever-growing popularity of UK band The 1975, not everyone recognizes frontman Matt Healy outside of the group.
When asked to describe a time when he felt like a "complete idiot," Healy told Pitchfork about an encounter he had with Usher, who confused him for EDM artist Skrillex three years ago.
"At South by Southwest in 2013, I was standing by the side of the stage and Usher — actual f—ing Usher — bounded over to me, like, 'Yo man, what's up?' And I'm like 'Hello, mate. How you doing?' And then he made some weird excuse and left very quickly," he said. "As he was leaving, I realized he thought I was f—ing Skrillex, and it pissed me off so much. I haven't run into him since — but I'm definitely going to pretend to be Skrillex if I do."
Healy continued, explaining that his newfound celebrity hasn't changed the way he interacts with famous people, even though he was hoping it might.
"When you start becoming a pop star, you think, Hold on a second, maybe my life is different now—maybe all these people that I thought of as celebrities are going to be normal, and when I walk into a room I'm going to be really cool and so is everyone else," he admitted.
"But that's not what happens at all — I was awkward, and then I just retreated from any social engagement for about a year. I'm a bit of a hermit now," Healy continued. "Russell Brand has an amazing quote: 'My life is a series of embarrassing events strung together by me telling people about those embarrassing events.' I empathize with that."
Head over to Pitchfork to read Healy's full interview.
Martin Garrix Talks Usher, Ed Sheeran + His Debut Album
Best Albums of 2016 (So Far!)