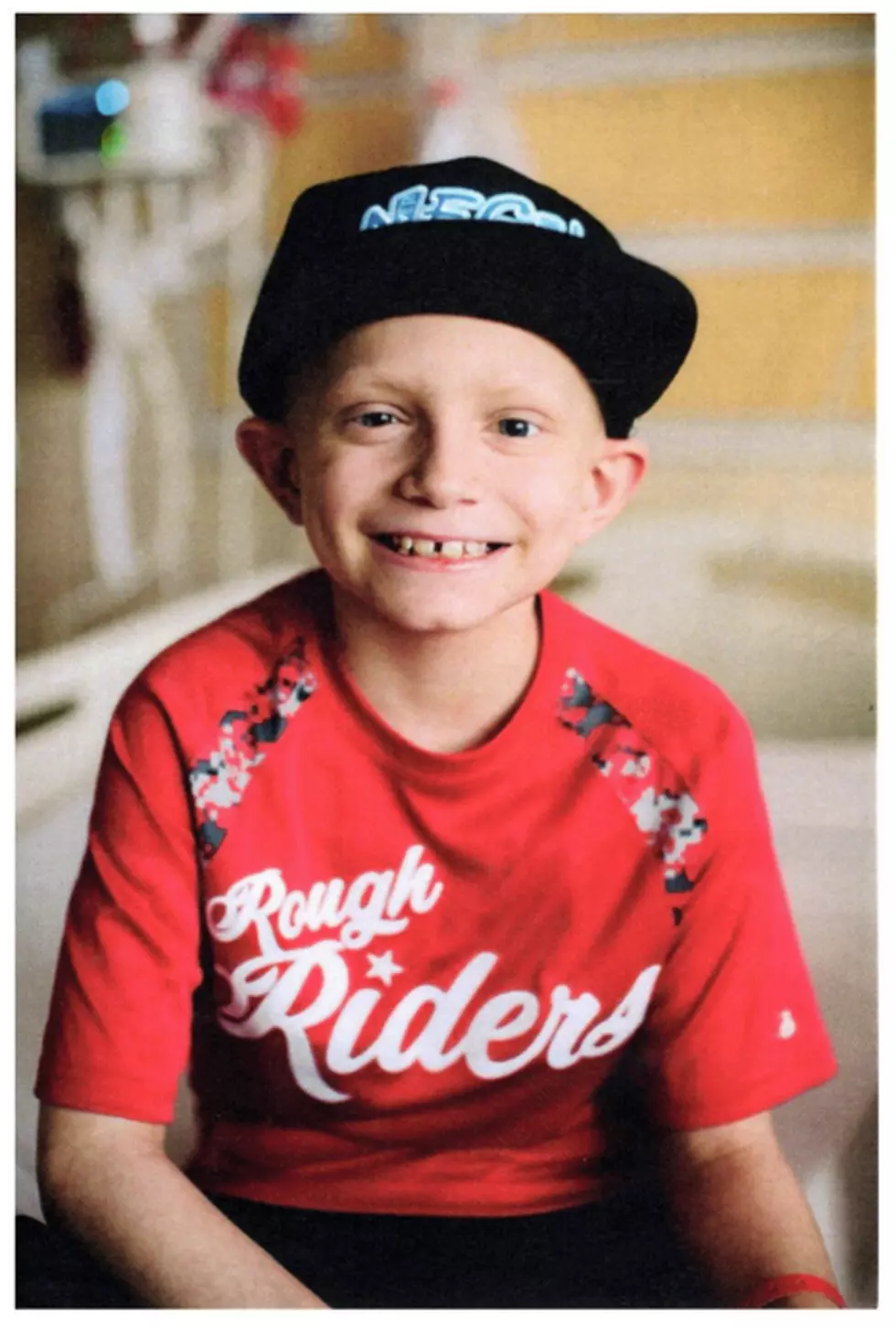 Meet Conner Sides – A 2017 Kidd's Kids
Kidd's Kids
Before boarding the Southwest Airlines plane bound to Orlando and Walt Disney World, a Southwest Airlines mechanic took him to get an up close look at one of the powerful engines that would be lifting their plane off the ground! Afterwards he was given a set of Mickey Mouse ears by one of the flight attendants!
Conner is a nine year old at Troup Elementary, who has Neuroblasoma and has been looking forward to having a great time with his family at Walt Disney World ever since he learned that he was among a very special group of kids know as Kidd's Kids! Conner isn't headed to Disney alone, his older brothers Matthew and Skyler and mom and dad, Nikki and Robert, are along for the ride too! Before leaving for the trip the family answered some questions about the Kidd's Kids trip for the Kidd's Kids Foundation and here's what they had to say:
For each member of your party (particularly each child), please list their favorite animated Disney character or characters.  Are there any special reasons why?
Conner: Mickey Mouse, Pluto, Woody, Buzz Lightyear, Jack Sparrow. Skyler: Tiger, Peter Pan, Slinky Dog, 101 Dalmatians, Chipmunks. Matthew: Winnie the Pooh, Olaf, Pocahontas, Dumbo
Which Walt Disney World attractions are members of your party most looking forward to riding?
Hollywood Studios, Hollywood Tower of Terror, Space Mountain, Safari, Sea Aquarium, Magic Kingdom
Which Walt Disney World Stage shows are members of your party most looking forward to seeing?
Beauty and the Beast, Lion King, anything.
Do you, your Kidd's Kid or any other members of your party have a favorite member of the Kidd Kraddick Morning Show team? If so, why?
We love each and every one of them. They are all our favorite.
What do you think the most exciting part of the Kidd's Kids Trip is going to be and why?
I think the most exciting and best part of the Kidd's Kids Trip is going to be spending time as a family doing things that none of us have ever done before and without the restraints of Conner being sick or in the hospital.
What are your Kidd's Kid's special interests (for example: science, art, theatre, music)? Does he/she have any special goals?
Football, Cooking, Science, Nerf Guns, and Call of Duty on the XBOX. Conner's goal is to be able to play football next year.
As a parent, what are some of the things that you are looking forward to seeing your child do while on the Kidd's Kids trip, and why?
We look forward to being able to spend time with the family, see the kids smiling and laughing and being kids. We are looking forward to being able to make new friends and have new adventures that will leave lasting memories. We look forward to this and the kids deserve this because of how they have had to handled everything that they've been through the last year.
If your Kidd's Kid will be on the trip with his/her sibling(s), what are the siblings looking forward to the most? What special things could happen for them?
Roller coasters and museums and attractions, games and water parks.
Are there any attractions/shows that you (as a parent) want to make sure you see?
We've never been so we don't even know what there is so we don't know what we want to see