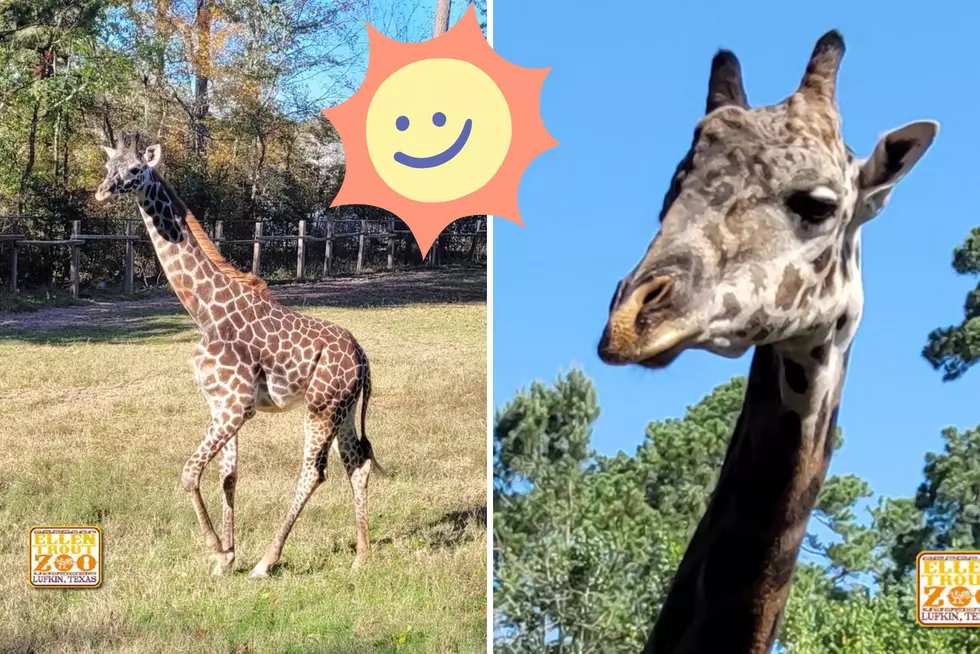 Meet The New Baby Giraffe At Ellen Trout Zoo In Lufkin, Texas
ellentroutzoo/facebook/canva
Baby animals are always at the top of the cuteness scale. The Ellen Trout Zoo has something to celebrate with the recent addition of a new juvenile giraffe.
Meet Luna, a 10-month-old Masai Giraffe, from the Phoenix Zoo. Though she was not born at Ellen Trout Zoo, they have quickly embraced her as one of their own.
As weather permits, you can see Luna now in the giraffe habitat in the African exhibit at the Lufkin zoo. You will see her testing the limits, exploring her new surroundings, and hanging out with her new friends, Kellen and Twiga, the other two Masai Giraffes already in the enclosure.
Related Story: Santa's Elves At On The Loose At Ellen Trout Zoo 
10 Month Old Masai Giraffe Luna Comes To Ellen Trout Zoo In Lufkin, Texas
Though she is less than a year old, Luna already tips the scales at 600 lbs. That seems large, but to put it into perspective Kellen weighs in at a trim 2,760 lbs.
It's obvious that Luna still has plenty of growing to do and many milestones to come at the Ellen Trout Zoo. The staff has spent several weeks helping Luna adjust to her new home.
It's much more humid here than in Phoenix, Arizona where she was born. They have been closely monitoring her due to her age, species, and the fact that she's still new to the enclosure.
SEE ALSO: Donate Your Leftover Pumpkins To Ellen Trout Zoo 
Though the staff at the Phoenix Zoo may miss Luna, we are so proud to have her here in Deep East Texas. Plan a trip to see her at the zoo and consider giving the unique gift of a zoo membership this holiday season.
Ellen Trout Zoo - Zoo Boo 2022 Saturday Photos
The last night of this Ellen Trout Zoo Halloween event was well attended and even bigger than the Friday night event.
Zoo Boo 2022 Photos From Ellen Trout Zoo
Friday October 21,2022 was the first night of the Zoo Boo. Take a look at some of the pictures from the event.
Zoo Boo - A Look Back At The Ellen Trout Zoo in Lufkin, Texas
See if you can find a younger version of yourself at the Zoo Boo in these photos.