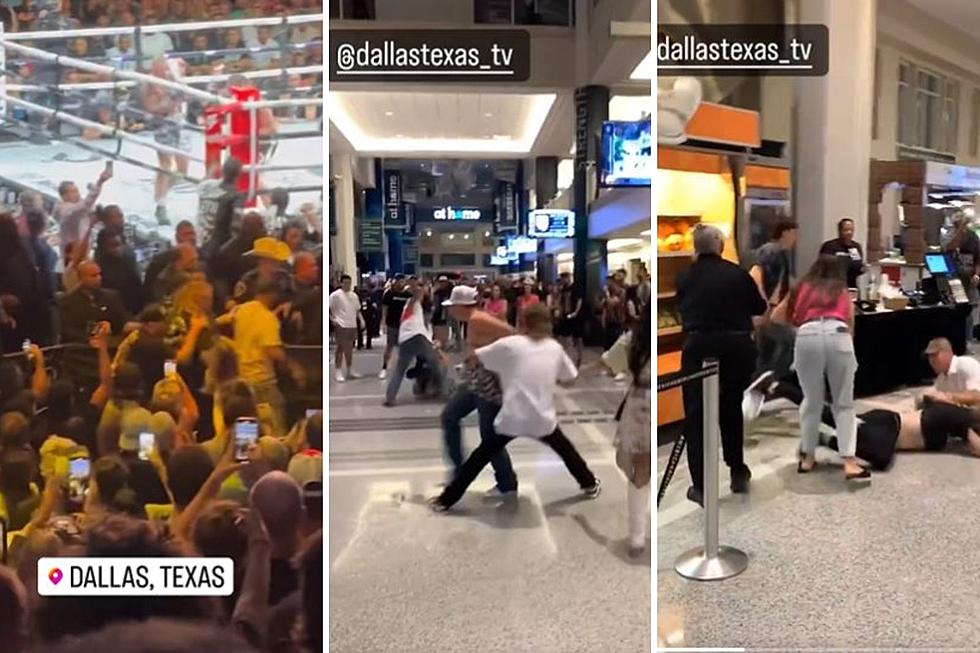 Multiple Fights Break Out During Jake Paul and Nate Diaz Fight In Dallas
Twitter: Dallas Texas TV
Maybe we should leave the fighting to the pros.
As always, it's been hotter than Satan's Breath in Texas here lately. And just like you can count on triple-digit temperatures this time of year, you can also count on tempers flaring when it gets this hot (even though the fights broke out in the air-conditioned American Airlines Center).
The first brawl broke out between fans sitting ringside during the fight between Jake Paul and Nate Diaz. You can't really make much out in the video shared by Dallas Texas TV on X (formerly known as Twitter). But it appears security was able to quickly get it under control.
The second fight that broke out happened after the fight and it was pure chaos. The video shows three separate fights going on at once.
It's not 100% clear whether or not the fights were related, but at one point you see a guy involved in one of the scuffles run over to another and get involved in it, so I'm guessing it was two groups of guys going at it.
Whatever the case may be, people really need to chill. Because it's getting to where I don't even want to go out anymore.
The video isn't embeddable, so cruise over here to watch it.
Top Ten Trashiest Towns in Texas
Time to take out the trash or show off the trash of Texas. Check out the top ten below.
(All crime statistics were pulled from
www.neighborhoodscout.com
based on each individual town. See editor's note for Lufkin, Texas.)
5 Texas Myths That Aren't Really Myths
Sure, texas isn't short on folklore. But there are many things people from outside Texas believe are myths, but are actually true.
The Definitive Ranking of Texas Professional Sports Mascots
I am a Dallas fan for pretty much everything, except baseball. Sorry, grew up in Baltimore so the Orioles are my team. However, when it comes to my mascot list below, I am being 100% honest. I think my choices will honestly shock you.