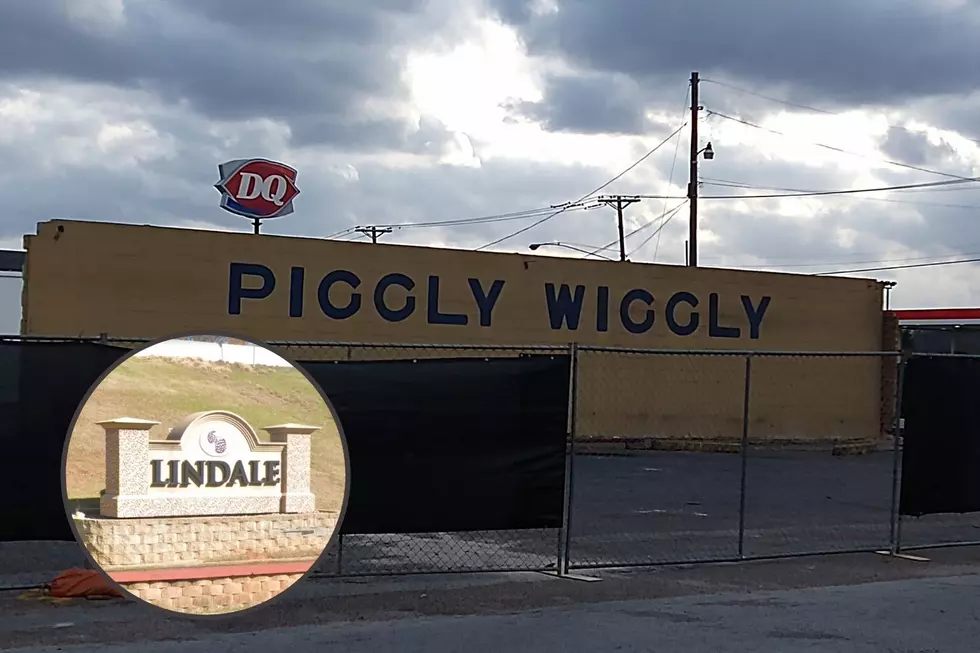 New Construction in Lindale, Texas Brought Back Some Wonderful Memories
Piggly Wiggly - Michael Gibson, Townsquare Media / Lindale Sign - Google Maps
So, a little bit about myself. I grew up in Lindale, Texas. I graduated from Lindale High School in 1996. My parents and sister still live in Lindale and I recently moved back to Lindale after 20 plus years living in Tyler. I have always had love for my hometown and have been both excited and saddened about my little hometown's growth. Recently, some of that growth brought back some wonderful memories for many long time Lindale residents and I was able to reach out to share those memories with you.
Grocery Options
Before Brookshire's became the king of groceries in East Texas, many other grocery retailers, and some mom and pop grocery stores, stood tall in many East Texas towns. Lindale was one of those. I was born in 1977 so my memories can only go back to the early 80's but I remember Brookshire's was in it's current spot and Piggly Wiggly was in the area of Pittman Motors. What I didn't know was that Piggly Wiggly wasn't in it's original spot, the first store was located at the corner of South Main Street and East South Street.
New Construction Brought Back Old Memories
The building sitting on that corner lot was Lindale's first Piggly Wiggly. Next to that building is Mineola State Bank. Very recently, that bank bought the old Piggly Wiggly building next to it so they could build a new building for their bank. That new construction revealed the long lost exterior wall of that original Piggly Wiggly. This reveal brought back so many great memories for so many long time Lindale residents.
I captured the above picture of that wall Sunday afternoon, January 15, and posted it in both the Speak-Up Lindale and Heads Up Lindale Facebook groups wanting residents to share their memories of the Piggly Wiggly in Lindale. Let me tell you, they did not disappoint. There were a ton of replies with some great memories being shared. Sadly, that wall came down on Monday, January 16.
Ronda Pennington James
Yes this is the original store! My father in law's dad was the original owner and they have owned that building since selling it recently. Before it was a Piggly Wiggly it was called the James Food Store! It's got a lot of great history behind it!
Kathy Kennedy Cooley
I remember Shirley Lovin checking our groceries. I would walk to the store after school and get what we needed and sign the black charge book. Now, I realize how that helped us so much. My memories of Piggly Wiggly are some I will never forget.
Beth Bowins Blanchard
I remember going in that store with my grandmother. We came to Lindale every Sunday and ate at grandparents house every Sunday. Also visited the Lindale candy store every Sunday. Saw this today and was wanting a picture of it. Was surprised that it was covered up all these years.
Donna Mangrum
Michael this is a post from my page regarding Piggly Wiggly. I'm not only from Lindale I was born here at Kinzie Clinic. I think about all that has changed. So much! I remember going to Piggly Wiggly with my granddaddy to help carry groceries home. Yes we walked to the store and carried our groceries home, groceries granddaddy charged till payday. On a good day the owner Nig James would let his son, Kenneth carry us home so we didn't have to carry them. I can't hear the song John Deere Green by Joe Diffey without thinking of Don Gimble climbing the old water tower and writing his name. We would laugh every time we passed it. I hated seeing it repainted after he died. To quote another old song, the only thing that stays the same is everything changes. Those of us who have been here all our lives remember the good ole days when everyone knew each other, we didn't lock our doors and life was so much simpler.
Craig Summerville
I remember when I was a kid. I went there with my grandparents. I would sit on top the dog food in the front of the store with my grandfather with all the other men and when grandmother would turn on the isle where the cookies were I would help her shop.
Wes Gilbert
I grew up in Lindale and remember when I was really little the building next door to the old Piggly Wiggly was East Tx Savings and Loan. My grandmother worked there. We would go up there to see her and walk next door to the Piggly Wiggly to get a drink. The Piggly Wiggly there was owned by the James family. Kenneth James's youngest son Nathan was one of my best friends growing up. I have so many great memories in Lindale. I spent the first 37 years of my life there.
Kim Malone Armstrong
I remember shopping at the Piggly Wiggly with my mom and grandmother. (I think I remember 2 mechanical rides out front...a brown horse & a red pig. Anyone else??) They gave S&H Green Stamps with purchases and it was my job to paste them in the books when we got home. My grandmother's sister bought her groceries at the PW (Piggly Wiggly) in Mineola and gave me her stamps. We had a drawer full. Years later, I took all those books to the Green Stamp store and bought things I needed for my first apartment.
Jim McClenny
Went there with my grandad many times.
Wanda Carol
I remember Piggly wiggly as a kid growing up in the sixties and seventies. Nig James and his wife owned the store. They were very nice people.
Tonya Watkins
We lived across the street, yes it was only 2 lanes when I was a little girl, where the Whataburger is now and I would go to Piggly Wiggly all the time to get things for my moma. Then I would also go across the street to the Texaco gas stations and carry out empty jug from milk and buy another one. This station is where Little Caesar's is now. When I was 8 we moved down the street and I would ride my bike up to Piggly Wiggly and get stuff. Also where 7 Eleven is now there use to be a Gulf station and they had this glass jar that had peanut patties in it and they were like 10 cents.
This is Not Just My Story
What's great about a piece like this is that its not just my story. Shortly after I posted my picture, one of my classmates reached out, Nathan James. His grandfather owned James Food Store before it became Piggly Wiggly. Nathan was kind enough to share some pictures of that time and give me a brief history of that building, too.
Nathan said the James Food Store opened in 1961 and changed over to Piggly Wiggly in 1965. Thank you Nathan for sharing with us.
How Lindale has Grown
Its crazy how a long hidden exterior wall can bring back a flood of great memories. When I graduated high school in 1996, Lindale's population was just under 2,500. It is now over 6,000. Areas there were once pasture or open fields are now home to shopping centers or neighborhoods. A few mom and pop businesses have survived over the years because of the loyalty of long time residents and the new residents who have grown to love their products. My little home town of Lindale, Texas ain't so small anymore but it houses so many memories for so many people.
13 Great Locations to Add a Buc-ee's in East Texas
We've put together a wishlist of great locations for a Buc-ee's location in East Texas.
Dragonfly Inn is a Short Walk from First Monday Trade Days in Canton
The Dragonfly Inn in Canton could be the perfect stay for a weekend of shopping or just a girl's weekend away from the guys.
Hemi Hideout in Brookshire, Texas
This garage is the ultimate man cave full of Dodge muscle cars, neon signs and nostalgia.