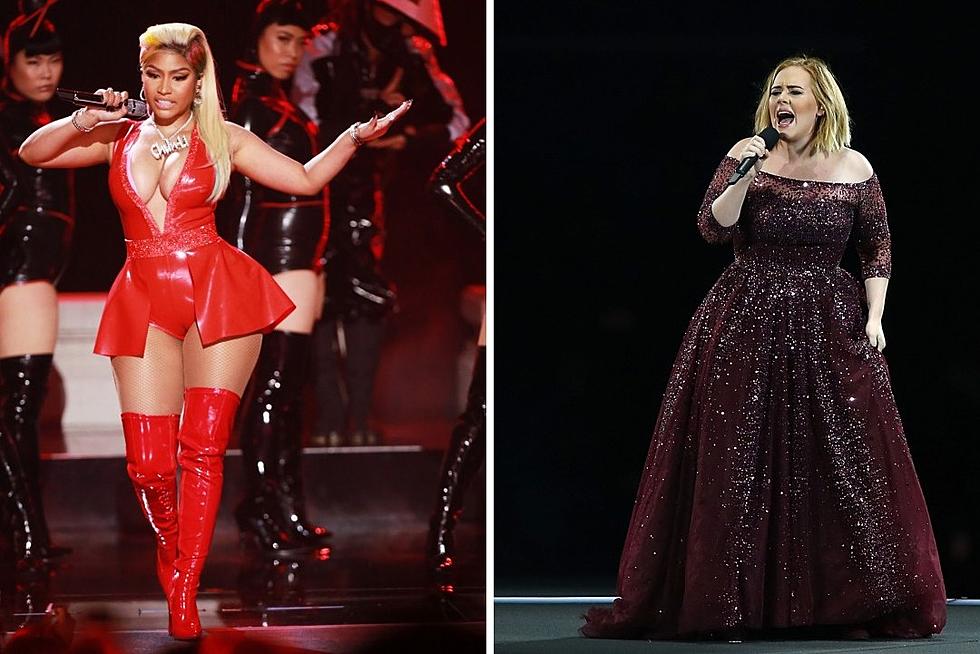 Nicki Minaj Reveals Adele Collaboration in the Works
Leon Bennett, Paul Kane, Getty Images
UPDATE (2 PM): Our excitement has been crushed, it turns out that Nicki Minaj was just joking with everyone. "I thought everyone could clearly see I was being sarcastic," Minaj tweeted. "S--t! Now I have to go to Adele's studio and steal some files. Who's in the UK? I got a job for you," she joked.
The entire fanbase shared their disappointment that they'll no longer be anticipating a collaboration with the two iconic musicians.
ORIGINAL STORY (12 PM): Nicki Minaj revealed that she has a collaboration with Adele in the works.
Minaj made the big announcement at the launch of her fashion line, Fendi Prints On, on Tuesday (October 15) in Beverly Hills.
When asked if she was working with the "Hello" singer, Minaj couldn't hold her excitement back. "Yes and yes, yes and yes, wooo hoo!" Minaj told Entertainment Tonight in an interview.
"But Adele made me swear to secrecy that I'm not allowed to tell anyone that I'm working with her. And that we already shot a video. And it's an epic song," she continued.
Adele has been hard at work on her third studio album, her first release since her 2015 album, 25. Fans pointed out that the collaboration could be featured on the upcoming record.
Adele has been outspoken about her love of Minaj's music. The pop songstress even rapped Minaj's verse in Eminem's "Monster" during her Carpool Karaoke episode in 2016. Minaj covered "Hello" on an Instagram story after hearing Adele's cover of her verse.
Artists Who Went Solo From their Groups