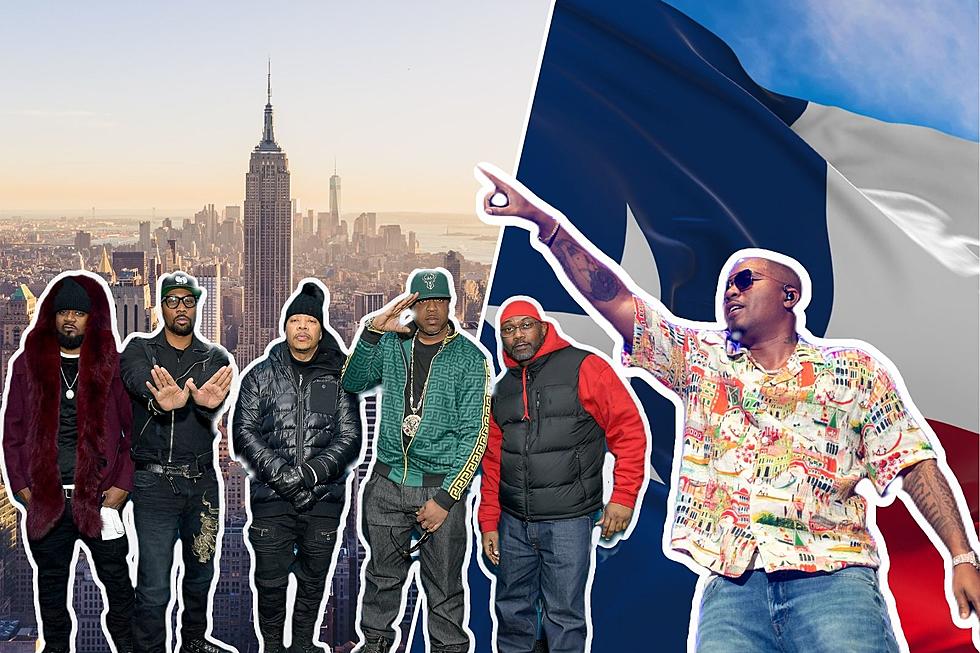 NYC Is Coming To Texas: Nas & Wu-Tang Clan Announce Texas Tour
Getty Images/ Canva
You didn't have to grow up on the East Coast to appreciate the iconic hip hop music Nas and Wu-Tang Clan have put out over the decades and now you have a chance to throw on your Timbos and practice your New York slang because these iconic artists are coming to Texas in September for a big tour.
Wu-Tang Clan and Nas have announced their upcoming legendary co-headlining NY State of Mind tour.
Wu-Tang Clan Founded in New York City's Staten Island in the early 1990s, the Wu-Tang Clan is comprised of members RZA, GZA, Method Man, Raekwon, Ghostface Killah, U-God, Masta Killa, Inspectah Deck, Cappadonna, and the deceased Ol' Dirty Bastard (ODB). Their name is a reference to a 1983 martial arts film.
Led by the production of RZA, samples from martial arts films have thematically appeared throughout the group's music, as have samples of classic funk and soul tracks from artists like Rick James, James Brown, and Syl Johnson. As a group, Wu-Tang Clan have three platinum albums among their eight LPs, and the group's complete anthology (including solo albums) has more than 85 full-length releases. More than just rappers, Wu-Tang Clan are entrepreneurs and successful cultural influencers, with an empire that features everything from clothing lines and video games to books and acting credits.
Considered by many to be the greatest hip-hop group of all time, Wu-Tang Clan have been touring as a unit since their debut record — Enter the Wu-Tang (36 Chambers) — came out in 1993. The now triple-platinum release vaulted the New York City group with songs like "C.R.E.A.M." (Cash Rules Everything Around Me) and "Protect Ya Neck" that are about as recognizable as anything in the rap canon. Their live sets are a family affair, with every member of the crew representing their lyrical contributions to the Wu's eight studio albums, as well as notable cuts from the Wu-Tang solo discography. With the omnipresent Wu-Tang "W" flanking all angles of the stage, there's a familiarity to Wu-Tang Clan's music that gives their shows unique mass appeal.
Nas (Nasir Jones) first reached an international audience when his track "Halftime" was tapped by producer MC Serch as the opening cut on 1992's Zebrahead movie soundtrack. Signed to Columbia Records, the first full-length album by poet and rhyme-master Nas arrived in 1994, Illmatic. The RIAA platinum hip-hop landmark featured "It Ain't Hard To Tell," "The World Is Yours," and "One." 1996 brought the breakthrough double-platinum It Was Written (#1 R&B for 7 weeks, #1 pop for 4 weeks), with his first major crossover singles "Street Dreams" and "If I Ruled the World (Imagine That)." Success continued with the double-platinum I Am in 1999 (again #1 pop and #1 R&B), with the chart singles "Nas Is Like," "Hate Me Now" (featuring Puff Daddy), and "You Won't See Me Tonight" (featuring Aaliyah).
In addition to his successful career in music, Nas has pursued a career in motion pictures that began with his co-starring role (alongside DMX) in 1998's cult classic crime drama Belly, a film by director Hype Williams (with whom Nas has done several music videos). Most recently, he was the executive producer of the 2016 Netflix series The Get Down. Nas is also the co-founder of Mass Appeal Records.
Wu-Tang Clan and Nas will bring the NY State of Mind Tour To 3 Stops In Texas
The first stop will be the Toyota Center in Houston, TX, on Saturday, September 24, Germania Insurance Amphitheater in Austin, TX, on Sunday, September 25, and Dos Equis Pavilion in Dallas, TX, as part of the Nissan concert series, on Monday, September 26, 2022. Tickets go on sale starting on Tuesday, April 26th at 10 am at livenation.com
See 52 of the Most Controversial Hip-Hop Album Covers Since 2 Live Crew's As Nasty As They Wanna Be
Which rapper has the most controversial album cover?
See 16 Things Hip-Hop Fans Need to Get Over in 2022
See 11 Rappers You Might Not Know Had Signed Record Deals With Professional Athletes