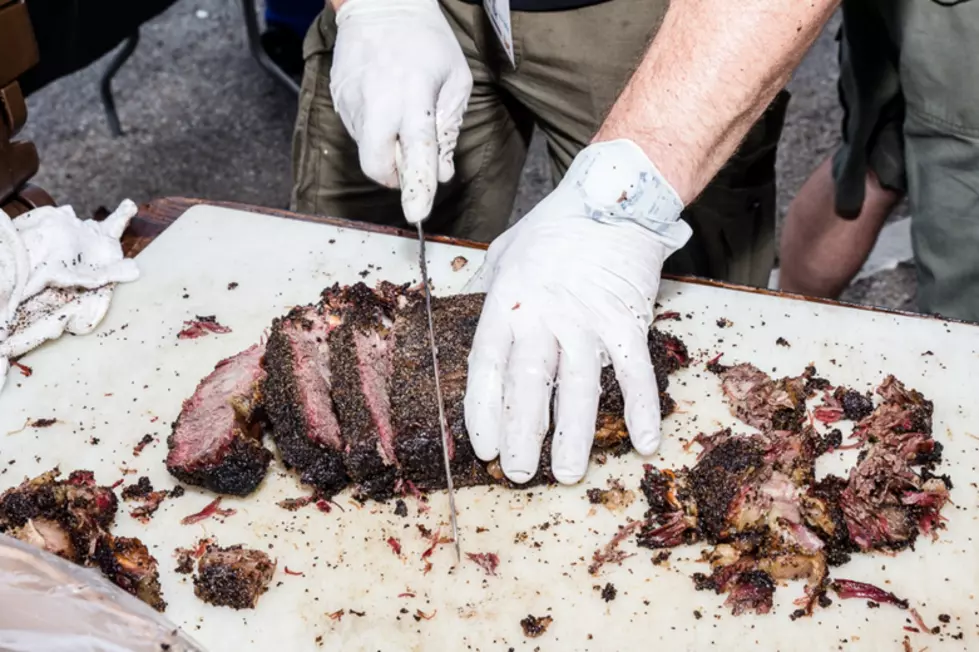 Red Dirt BBQ & Music Festival Lineup Revealed, Tickets On Sale Friday
Red Dirt BBQ Festival
This year the legendary Randy Rogers Band will headline the festival on the brick streets of downtown Tyler, TX on Saturday, May 4th. They'll be joined by Wade Bowen and Stoney LaRue, legends in their own right. And a couple of the hottest bands in the Texas scene,  American Aquarium and Mike and the Moonpies will get the party started.
The festival will also feature 26 of the state's most celebrated barbecue restaurants that will provide samples of their smoked meats to attendees.
Participating restaurants include: Stanley's Famous Pit BBQ (Tyler), Louie Mueller Barbecue (Taylor), The Slow Bone (Dallas), Black's Barbecue (Lockhart, Austin, San Marcos), Hutchins BBQ (McKinney, Frisco), Schmidt Family Barbecue (Bee Cave), Lockhart Smokehouse (Dallas, Plano), Kreuz Market (Lockhart), Joseph's Riverport Bar-B-Q (Jefferson), Opie's Barbecue (Spicewood), Roegels Barbecue Co. (Houston), Meat Church (Waxahachie), Micklethwait Craft Meats (Austin), BBQ on the Brazos (Cresson), Bet the House BBQ (Denton), Buzzie's BBQ (Kerrville), The Original Bodacious Bar-B-Q (Longview), Truth BBQ (Brenham, Houston), Miller's Smokehouse (Belton), Tyler's Barbeque (Amarillo), LeRoy and Lewis (Austin), Brotherton's Black Iron Barbecue (Pflugerville), Evie Mae's Barbecue (Wolfforth), Country Tavern (Kilgore), Pinkerton's Barbecue (Houston) and Stiles Switch BBQ & Brew (Austin).
Randy Rogers Band announced it will release its eighth studio album, Hellbent, on April 26, just over a week before they take the stage at Red Dirt.
Randy Rogers and Wade Bowen headline their annual "Hold My Beer and Watch This" tour every year to massive fanfare, and having the two together on this year's Red Dirt lineup is something attendees don't want to miss.
Stoney LaRue is a Red Dirt Music legend who broke onto the scene with his 2005 release, The Red Dirt Album, and is known for the hits "Down in Flames," "Oklahoma Breakdown," and "Feet Don't Touch the Ground."
Raleigh, N.C., based American Aquarium is one of the hardest working bands in the business, and received much fanfare for their 2018 release, Things Change. The same can be said for Mike and the Moonpies and their latest album, Steak Night at the Prairie Rose. Both albums were named in the top 20 of Rolling Stone's top 20 country and Americana albums of 2018.
"Top to bottom, I don't think there's ever been a Red Dirt lineup we've been more excited about. Having these names join our incredible barbecue joints is a huge honor for our sixth festival," Red Dirt promoter Chase Colston said. "We're expecting an even faster sellout this year and can't wait to get back on the brick streets for another great Red Dirt BBQ & Music Festival.
The Red Dirt BBQ & Music Festival has sold out in each of its previous five years, including in a record 48 hours in 2018. More than 5,500 festival-goers are expected at 2019's event.
Tickets go on sale for this year's festival at 10 a.m. CT Friday, Feb. 1, at http://reddirtbbqfest.com. VIP tickets are $110, general admission tickets – which include access to the barbecue and music portions of the festival – are $65, and concert-only tickets are $30.
The Red Dirt BBQ & Music Festival is presented by 101.5 KNUE, East Texas' No. 1 country music station, Radio Texas, LIVE! With Buddy Logan, and Hyundai of Longview. A portion of the festival's proceeds benefits The Heart of Tyler/Tyler Main Street, a non-profit organization dedicated to the economic, cultural and historic revitalization of Downtown Tyler, and The Boot Campaign, whose mission is to ignite the inner patriot in all Americans and provide life-improving programs to military families nationwide.
The festival is also sponsored by Stonewater Roofing, Tyler Home Mortgage, Dr Pepper, Cavenders, Choctaw Casino-Grant, Oklahoma, and 281 Lodging Group