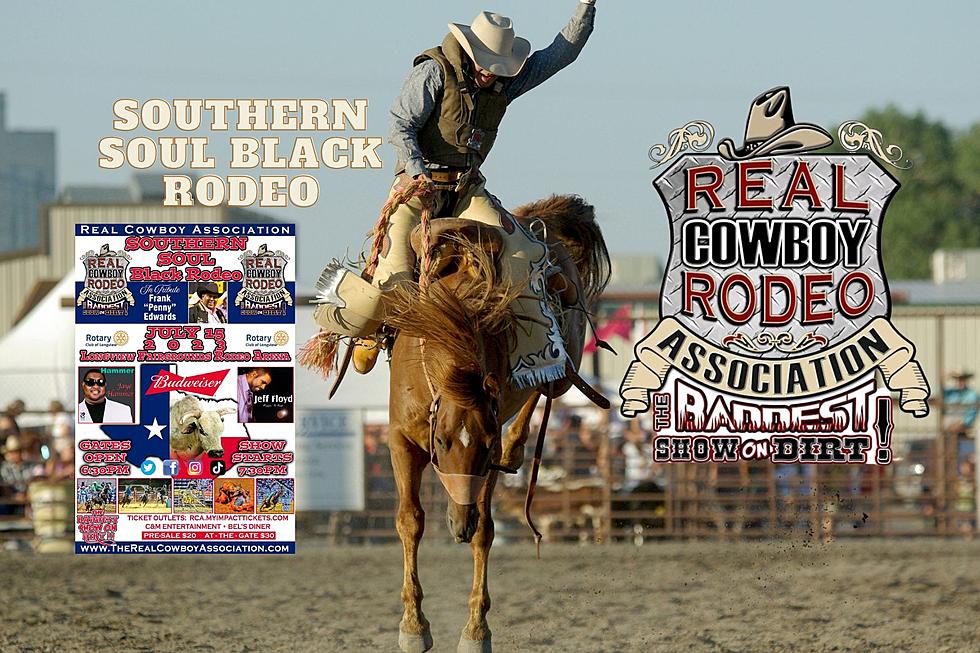 Saddle Up Again Longview! The Southern Soul Black Rodeo Returns July 15th
Canva
Rodeo Action Returns To Longview In July With The Real Cowboy Association!
"The Baddest Show On Dirt" was live and in full effect recently as the 30th Annual Longview Juneteenth Black Rodeo jumped off in Longview wrapping up the Juneteenth holiday celebration.
The Longview Fairgrounds Was ROCKING!
Cowboys and cowgirls from all across the country pulled into East Texas to compete in the rodeo and hundreds of rodeo fans danced and partied the night away with live a special live performance from hip hop legends 8Ball and MJG.
Thanks To These TikToks From @atxcowboy__ You Can See That It Was Going Down!
The 2023 RCA Rodeo season and tour is officially underway and they are COMING BACK to Longview on July 15th for another round of competitions and OF COURSE the PARTY!
The Southern Soul Black Rodeo Is Coming Up Next!
The Longview Fairgrounds Rodeo Arena will be rocking once again this time with live performances from Southern Soul stars Jaye Hammer and Jeff Floyd. The gates open at 6:30 and the show starts at 7:30 PM.
Tickets are on sale right now online at rca.myimpacttickets.com and you can also get tickets at C&M Entertainment in Henderson and Bel's Diner in Longview. Tickets will also be available the day of the event at the gate.
Don't miss another edition of The Baddest Show On Dirt before they hit the road for the rest of the tour which will be making stops in Mississippi and Louisiana as well as Conroe, TX.
Deserted Texas Town For Sale For $100,000
Lobo, Texas was abandoned in the 90's and after some folks tried to revive it, they're putting the entire town up for sale for a reasonably low price.
Jamie Foxx Gifts Basketball Court To Hometown Of Terrell, TX
The Academy Award Winner Gifts His Hometown With A New Court For Hoopers!
First Look At Proposed New Casino One Hour Away From Longview, TX
Live! Casino & Hotel Louisiana is scheduled to open in 2025 in Bossier City. Here's Your First Look at how the casino will be designed.