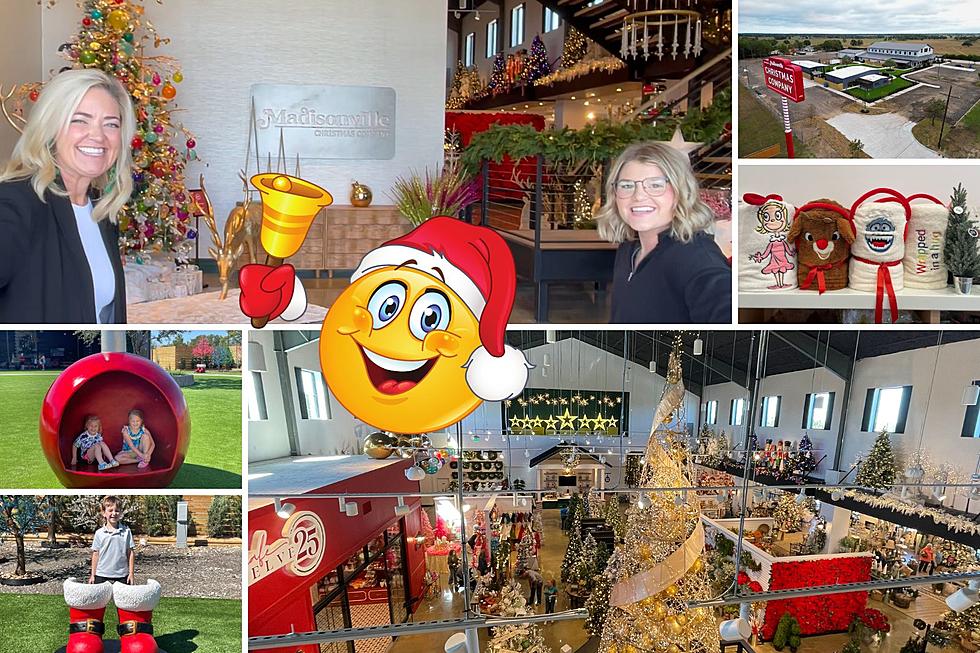 Take an Exclusive Tour of This Massive New Texas Christmas Store
KICKS 105/MCC
I am a rather frequent traveler through Madisonville, Texas. I have family in the Austin area and through the years, my children have participated in sporting events that have required trips down the Highway 21 corridor from Lufkin to San Marcos.
About a dozen years ago, making a pit stop in Madisonville became a requirement with the opening of their Buc-ee's location. Sparkling restrooms baited us into the store, the myriad of food, housewares, clothing, and other Beaver-related goods kept us there for at least another 30 minutes.
During some of my recent travels through Madisonville, I noticed something large was being built just a few hundred feet east of Buc-ee's. I didn't know what it was going to be until I saw an article on social media promoting the upcoming grand opening of the Madisonville Christmas Company.
I love Christmas, and when I saw some of the online photos and descriptions, I knew I had to take a tour and share the details on our website.
Ashley Rentz and Camryn Earley were kind enough to take time out of their busy day to treat me to a detailed tour.
I planned to take no more than 10-15 minutes of their time, but the Madisonville Christmas Company is more like a Christmas campus, and the in-depth tour took better than 45 minutes. (The video of that tour is located later in this post)
My First Thoughts of The Madisonville Christmas Company (MCC)
You can't help but smile when you walk into the massive store and soak in the beauty of Christmas
This is a Christmas decorator's paradise
There are so many themes and options, that you could be overwhelmed as to how you could make it work in your home or business. But, that's exactly why MCC has several professional designers ready to consult with you and make decorating your place a snap.
Cafe Twelve25 looks like Santa's elves designed the place, and the food and specialty drinks are what Christmas dreams are made of.
You've got to take advantage of the numerous photo ops both inside the store and outside in the expansive holiday courtyard.
There's even a sports bar called The Mantel
I could go on and on, but my biggest advice to you is...make the trip to see firsthand the Madisonville Christmas Company. Until then, take the tour with Ashley and Camryn in the video below. Plus, browse through the 160+ photos in the gallery.
It looks like my stops in Madisonville will be taking a lot longer from now on.
Madisonville Christmas Company
The Madisonville Christmas Company is now open and is located on Highway 21, just east of Madisonville, and it features several acres of holiday decor, photo ops, food, a courtyard, a sports bar, and more. Take a look at the wide variety of Christmas trees, decor, accessories and much more that they have to offer.
Gallery Credit: Danny Merrell