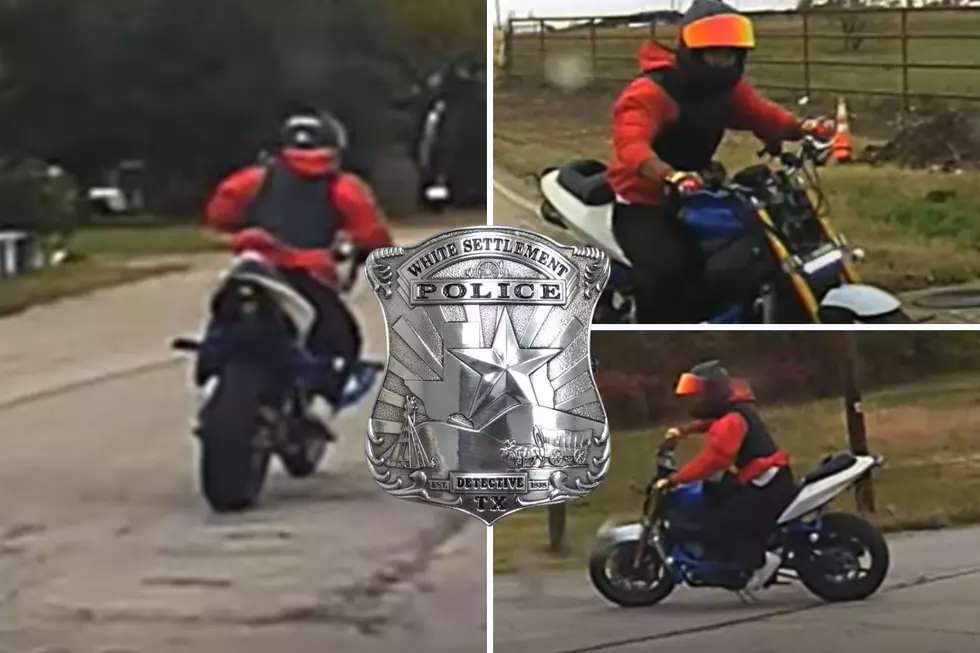 Texas Cops Chase Motorcyclist Who Manages To Get Away
White Settlement PD
Wild Video Of Police Chasing A Guy On A Crotch Rocket.
We take you to White Settlement, TX where cops there came across a person who apparently wasn't in the mood to talk to them and took off on his motorcycle and managed to evade cops who are still looking for him.
According to a Post On Their Facebook Page, The Chase Took Place On Friday November 25th.
Just past Noon on Black Friday, an officer with the White Settlement Police Department attempted to stop a motorcyclist for a traffic violation of not displaying a license plate.
The motorcycle operator, described as a Hispanic or Asian man wearing black pants and a red hooded sweatshirt, fled from the officer and began "engaging in reckless driving behaviors while putting the public and police officers at risk" according to police.
Check Out Another Video Of The Chase.
Its clear in the video that the cyclist is racing his bike at a high rate of speed and also takes the pursuing officer on twists and turns throughout the chase. While one wonders why the guy took off, according to police, it is common for criminals to remove license plates to conceal stolen vehicles and engage in other violent criminal activities.
The pursuit was terminated due to the increasing danger to innocent motorists.
In the State of Texas, it is a state jail felony to evade officers in a vehicle. White Settlement PD is asking for the public's help in identifying the motorcycle and suspect.
Anyone with information is asked to contact Tarrant County Crime Stoppers at 817-469-TIPS. Tipsters can remain anonymous and may be eligible for a cash reward for information leading to the identity and prosecution of this offender. The community can also contact WSPD at 817-246-7070 or sperson@wspd.us.
The 11 Deadliest Roads In East Texas
This is list is based upon the roads with the most fatal accidents.
Ten Cities With The Most Expensive Homes In Texas
If you got money and are ready to buy an EXPENSIVE home, these 10 Texas Cities have what you're looking for.
The 7 Most Snake Infested Lakes In Texas
If you're planning to take your boat out soon or just plan on hanging out at the lake, you definitely need to know which lakes contain something you don't to mess with. Snakes