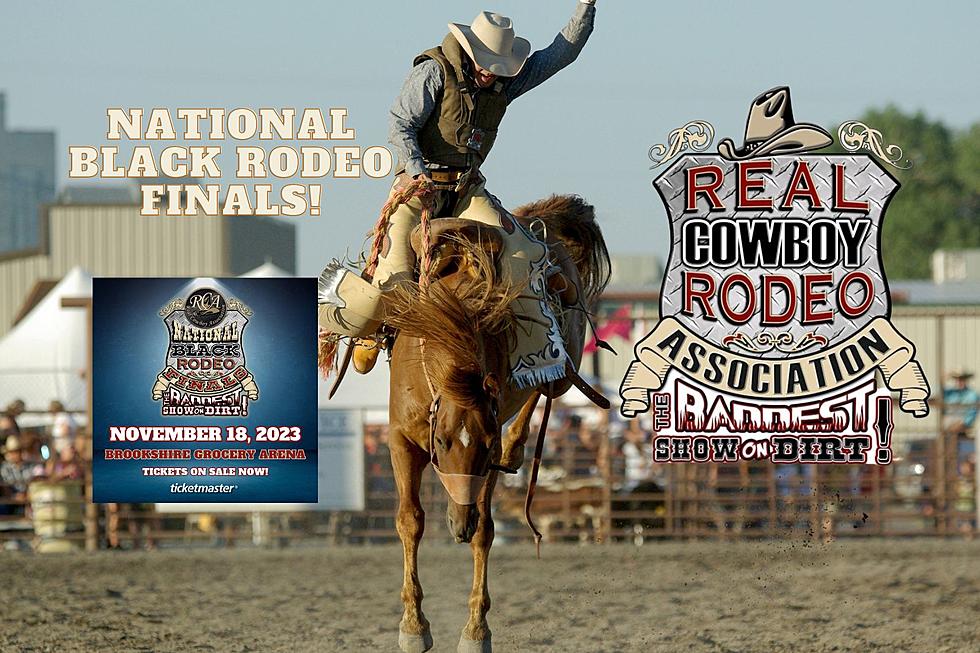 The National Black Rodeo Finals Returns To Louisiana
Canva
All The Best Black Cowboys And Cowgirls Are Coming Back To Bossier City, LA For The National Black Rodeo Finals!
It's called "The Baddest Show On Dirt" for a reason as thousands will make their way to the Port City/Bossier City area for the Real Cowboys Association's big event which is more than a competition, its a big PARTY you don't want to miss!
This Huge Event Jumps Off Saturday November 18th!
For over 30 years, the Real Cowboy Association has been committed to bringing exciting family rodeo and entertainment to the masses. RCA rodeo season consists of rodeos in the southern region per year, with over 100,000 loyal rodeo fans across the states of Arkansas, Texas, Oklahoma, Louisiana, and Mississippi.
RCA ends the rodeo tour in the state of Louisiana with the National Black Rodeo Finals.
This year's rodeo will feature competitions that include, Ladies and Jr. Barrel Racing, Steer Wrestling, Ladies Steer Undecorating, Calf Roping, Old Timers and Jr. Breakaway, Team Roping, Pony Express and Bull Riding. But I did mention the PARTY part right?
There Will Also Be Live Performance From Some Big Stars!
HD4President, One of the biggest viral stars of the last few years will be in the building performing his smash hit "Touch Down 2 Cause Hell (Bow Bow Bow) and other stars will be there performing as well.
Tickets Are On Sale Now!
Tickets are available right now online at Ticketmaster and online at therealcowboyassociation.com. Keep it locked to Kiss-FM for more details coming soon!
2022 Lindale Championship Rodeo
Here are a few photos from the 35th annual Lindale, Texas Championship Rodeo.
Gallery Credit: Billy Jenkins
Recommendations for Delicious Food in Shreveport
Here is a list of yummy food options when you're in Shreveport, Louisiana.
Gallery Credit: Billy Jenkins
Mutton Busting at the Nacogdoches Rodeo on March 26, 2022
Here are the fifteen young cowboys and cowgirls who took part in Saturday's mutton bustin' competition at the Nacogdoches Pro Rodeo.
Gallery Credit: Danny Merrell