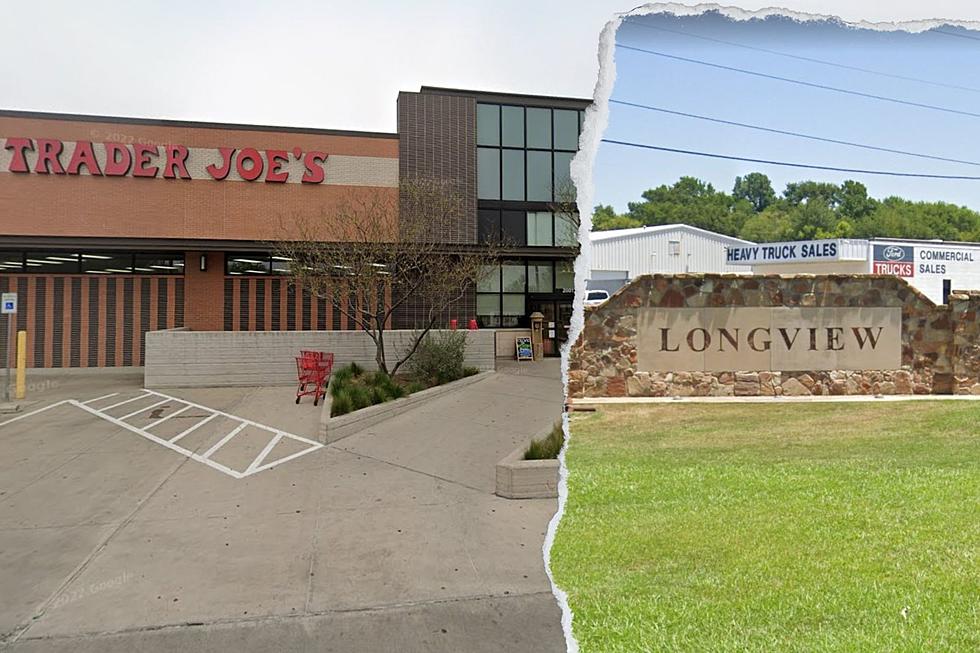 Those Dreaming of a Trader Joe's Got Excited Over the Weekend in Longview, Texas
Google Maps
When you ask the residents of any East Texas city about what store they would love to have in their town, you will get a whole list of wants. H-E-B, In-N-Out Burger, CostCo, Dave & Busters and others always seem to top the list. While none of those chains are in East Texas, residents have either visited them or lived somewhere where there was one, really enjoyed the experience and want it closer to them. Another chain wanted by many East Texans is a Trader Joe's. Personally, I've never been to one and don't have a clue what they offer but folks in Longview, Texas got excited over the weekend as one popped up on Google Maps.
Short Lived Excitement
There was some very short lived excitement in Longview over the weekend as a much requested grocery store showed up on Google Maps, Trader Joe's. I'm saying short lived because it was soon learned that the store wasn't there and that there are no plans to build one anytime soon. I did my own search when I first heard this news and did see Trader Joe's listed on Google Maps at 103 W Loop 281 Ste 1000. This is across from the Longview Mall.
Trader Joe's on Google Maps
Here it is as I searched for it this morning (September 12):
You see the "pin" with Trader Joe's beside it. But in the box to the left, you see Natural Grocer's as the store that is there and it is listed as "Permanently Closed." That's not right either because Natural Grocer's isn't in that location, that's where Burlington used to be. Please correct me if I'm wrong but Burlington moved to the shopping center with Best Buy in what used to be Bed Bath and Beyond. Natural Grocer's is located next to Ollie's.
So what happened?
I'm not exactly sure. Without reaching out to Trader Joe's or Google Maps, I can only think that Google Maps had some kind of glitch. So sorry Longview Trader Joe's fans, there is not a store coming soon to the area.
How can I be so sure?
A Longview resident did reach out to the City of Longview. According to the screenshotted exchange, Development Services have not heard anything officially from Trader Joe's about building in Longview. The city is aware of the rumors.
So unfortunately, this will have to put in the "rumors and disappointments" folder next to the "Buc-ee's Coming to Lindale Rumor Box." Until then, we'll have to drive to DFW to get our Trader Joe's fix.
These 7 Problems Make Your Car Illegal to Drive in Texas
We've seen it on the streets of East Texas, cars with busted windshields, only one headlight working or other issues. Those issues could and should result in a ticket as there are seven vehicle problems that are illegal to drive with.
East Texas Salvation Army Locations Will Not Accept These 14 Donations
The Salvation Army is a great place to donate some items you don't need anymore. However, there are things that they will not accept.
Let's Find Out How 15 of Our East Texas Towns Got Their Name
Let's take a moment and out how Tyler, Daingerfield, Canton and 12 other East Texas towns got their name.