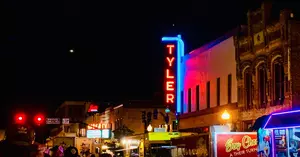 Three Things I've Learned Spending One Day In Tyler
Tara Holley
Howdy East Texas! I finally made it to East Texas after spending most of my time working from home in Central Texas due to the pandemic. I'm super excited to be here and join this growing community as we prepare to do some great things here!
This isn't my first time in Tyler or East Texas. I used to stop or pass through all the time in my many years as a truck driver but now I get to be a permanent resident and there are some things that I'm still learning about the area and some things I already know and understand but had to see for myself.
Here are 3 things I've learned so far, and to be quite frank, some of them aren't good.
1

Masks Are Clearly Optional

I spend much of my first day in Tyler running around to various stores to pick up items and the one thing I've noticed is folks around here don't care to wear a mask when out and about. Neither do those who WORK in a lot of these stores.

Jeenah Moon, Getty Images

Jeenah Moon, Getty Images

2

If you've driven around this area for some time, then I don't need to tell you that the most popular driving maneuver in Tyler is THE U-TURN.

I get that the loop is wide and troublesome and maybe, just maybe a few extra inside turning lanes could cut down on the need to go past things and immediately double back.

3

I do have to say that I enjoy the East Texas beauty and with all the parks here in Tyler, my family and I have really enjoyed spending time together at a few of these parks including the trails at Rose Rudman Park and a few others. You should really take advantage if you haven't yet.