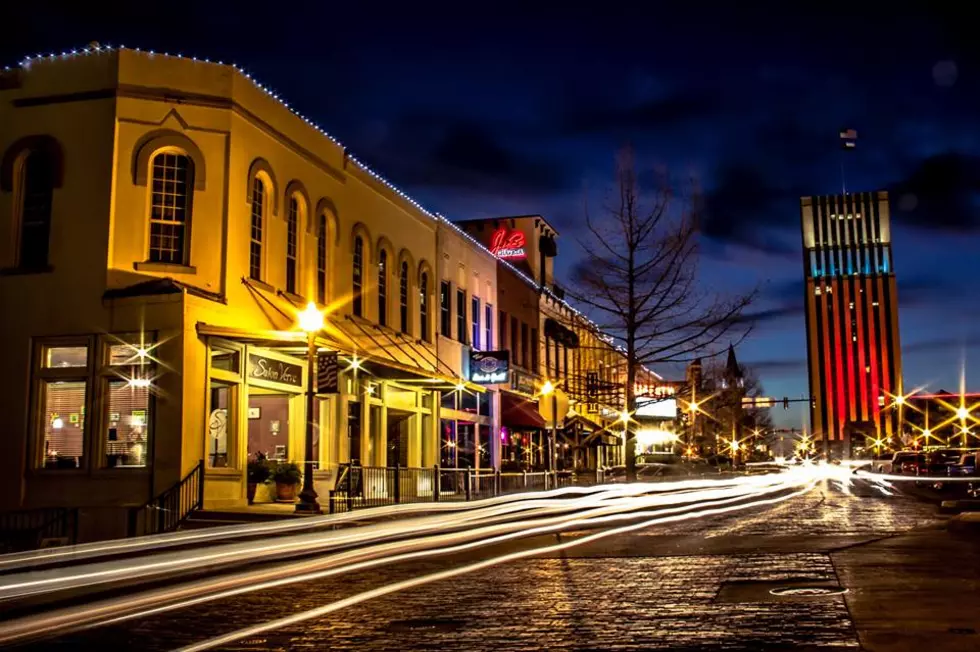 What's Happening This Weekend In Downtown Tyler, TX
Photo courtesy of Downtown Tyler
If you're looking for something to get into this weekend while you're in Tyler, on the second Saturday of every month, Downtown Tyler celebrates Hit the Bricks, inviting everyone to come downtown to the square and enjoy some exciting activities! There's a long list of things to do this weekend so here's what's on the agenda!
If you Love Art, Check Out The Caldwell Arts Academy Exhibit
Gallery Main Street's newest exhibit is on display. Visit Plaza Tower Atrium to view the newest exhibit presented by students of the Caldwell Arts Academy. This is the second exhibit this year by Caldwell Arts Academy and it will be open until April 27.
Get Your Praise On With Praise Fest!
Praise Fest is a festival designed to bring the Body of Christ together for a day of praise, worship & unity with various genres of Christian music. This event will be on the square from 10 a.m. to 3 p.m. this Saturday.
The Rose City Farmer's Market Will Be Open This Weekend

The Rose City Farmer's Market will open up for the first time this season and they will be set up at ETX Brewing with their Winter Market from 10 a.m. to 1 p.m. on Saturday. But before you start shopping, enjoy a morning of free yoga with Flow happening at the Rose City Farmer's market from 8 to 9 a.m.
If you're into Ghosts And The Paranormal, Or Just A History Buff Take A Walking Tour!
Spirits of Oakwood Walking Tours will be taking place on Saturday at 1 p.m. Tickets are $10 and can be purchased at the Oakwood Cemetery.
There's Fun For The Kids At The Tyler Public Library
The Tyler Public Library is kicking off Art-O-Rama Afternoons one Saturday each month. Look forward to lots of art-inspired programs like Starry Night Café on April 9th from 2-4 p.m.! This program is for ages 7 and up and features painting and snacks. Registration is required due to limited space so click here to get signed up!
There's Also DINOSAUS in Downtown Tyler This Weekend!
Stop by Discovery Science Place and learn more about baby dinosaurs! Tiny Titans: Dinosaur Eggs and Babies Exhibit will be available this Saturday from 10 a.m. to 5 p.m. and will be available throughout the summer.
Love Antiques? There's something for you too!
The Goodman Museum will host a special exhibition through April 9. Come tour the house and view antique quilts from local collections. Come tour the house and view antique quilts from local collections.
Downtown has a variety of restaurants and shopping stores.
For a full list, hours of operation, address and contact information, visit DowntownTyler.org or stop by the Visitor Center and Boutique Shop located at 110 N. College Ave., open Monday through Friday from 10 a.m. until 5 p.m. and Saturday from 10 a.m. until 3 p.m. Hit the Bricks is held rain or shine, cold or hot and even amid pandemics.
[PHOTOS] Tyler, Texas People Tell Newcomers What They'll Love Most About Living Here
A woman asking for insight from Tyler, Texas locals before her pending move to our area received plenty of positive feedback. Here are the top 10 responses.
Top 15 Family Friendly Around Tyler, Texas
Here are some great options to take the whole family out to eat around Tyler, Texas.
Best Ice Cream, Frozen Yogurt, and Gelato around Tyler
If you're looking for a delicious treat around Tyler, Texas you might want to start at one of these locations.