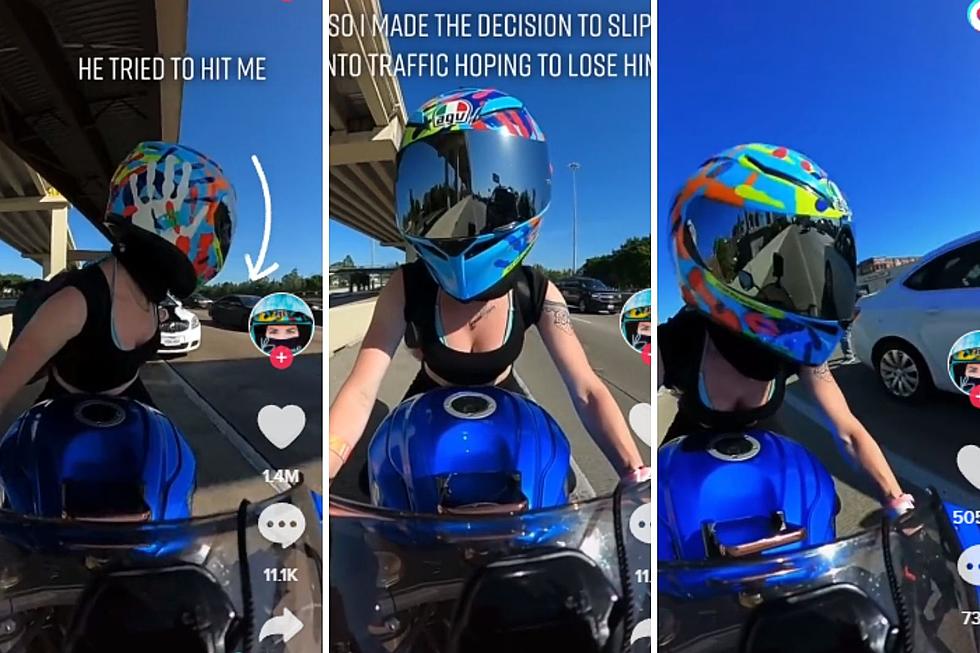 Biker Records Road Rage As She's Chased Through Traffic In Houston, Texas
Credit: TikTok/Bisous.my.suzuki
Riding a motorcycle can be both fun and dangerous, especially on these wild Texas streets and highways. It goes without saying that as drivers, we have to be careful and keep an eye out for bikers while on the road and bikers, please be careful and protect yourselves while you're on the road as well. With that being said, let's take a look at a series of wild TikTok videos posted by a Texas biker who got into a real live chase with someone on a Houston highway.
TikTok User @bisous.my.suzuki Has Some Really Cool Videos About Her Bike Riding Experience in Texas.
With over 3 Million followers to her credit, @bisous.my.suzuki shares some amazing videos about her experience on her bike. Most of the videos are fun and lighthearted in nature while others showcase some of the drama and stress bikers have to deal with from folks on the road. like the video above.
But Things Got Real While On A Ride On A Houston Highway
Almost a year ago, while on a ride in Houston, "Bea" shared a series of videos of a road rage incident where she got into it with a driver who subsequently begins to chase down the highway. In the first video, you can see the driver of the car come up behind on the shoulder in what seems to be an attempt to hit her as she speeds off.
The Chase Is On From There And The Driver Makes Things Worse
As the driver begins giving chase, at one point he stops his car in the middle of traffic and attempts to chase her down on foot. What an idiot....and smartly, our biker friends speeds off leaving him standing in the middle of the road while she's on the phone with 911 trying to share her location. But wait there's more.
After Pulling Off On Him, The Driver Continues To Mess Up Traffic In An Attempt To Catch Her.
You would have thought getting left in the street was enough to make the driver say "Maybe I'm doing too much" but nope, he continues after the biker driving on the shoulder and swerving in and out of lanes of traffic to keep up. Meanwhile "Bea" is on the phone with 911 who basically tells her "keep running away".
The Biker Finally Comes Across Houston Fire Fighters And Asks For Help
In the end, "Bea" comes across some firefighters working on the highway and she stops and asks for help while police arrive. The driver claims that "Bea" clipped his rear view mirror when she passed which why he gave chase. While "Bea" disputes his claim, police don't arrest the driver despite video evidence of his erratic driving. While everyone walked away safe and with their "freedom" in tact, please remember to watch for motorcycles and bikers watch out for us as well.
12 Extremely Random Things For Sale Found On Tyler Marketplace
East Texans are trying to sell off some extremely random things and make a few bucks off of them before it becomes someone else's treasure.
Activity Ideas for Young Kids in East Texas
Here are some fun ideas for kids under the age of 2-years-old
Feel Like You've Won The Lottery In This Flower Mound, Texas Home
Every once in a while, while randomly looking at property and homes that are on the market, there is one that will catch your eye and have you feeling like you're destined for the high life like a multi-million dollar lottery winner.