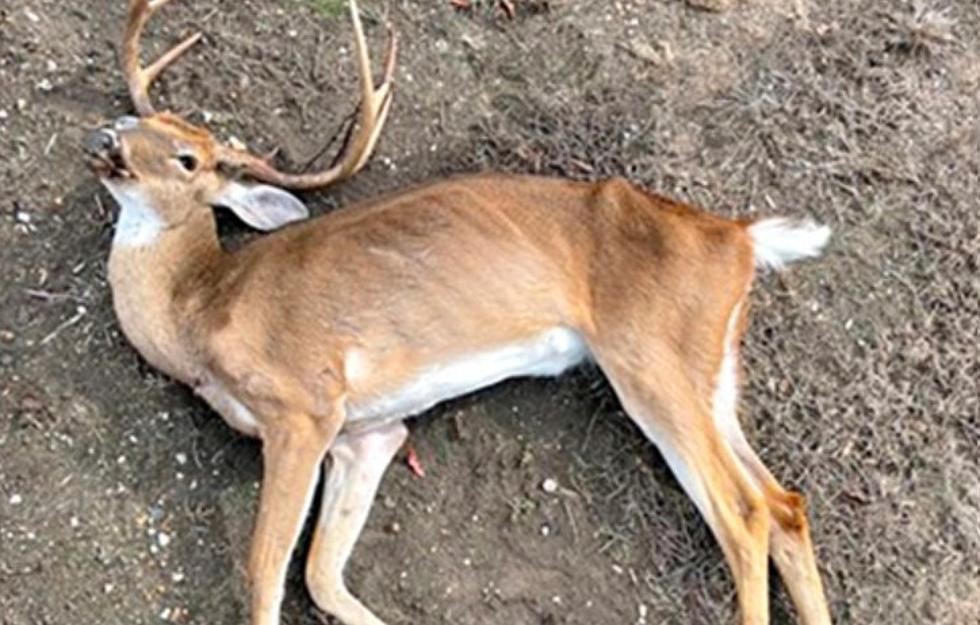 Worst Case Scenario As Zombie Deer Disease Makes It Way To Texas
Photo courtesy of the Mississippi Department of Wildlife, Parks and Fisheries
Straight out of a Texas horror movie, authorities have discovered deer in South Texas with Chronic Wasting Disease, known as the "Zombie Deer Disease" or CWD.
It's the first time South Texas deer in Frio and Hamilton have been found with zombie deer disease and that's concerning!
Sadly, according to Texas Parks and Wildlife Department, this is the first time deer in these South Texas counties have been detected with the horrific disease, and from the recent report, it looks like several deer might be battling the disease.
How many deer have been found with the disease? Read on!
KSAT 12 reports, "Chronic Wasting Disease, or CWD, was found in a dead deer at a breeding facility in Frio County, southwest of Bexar County, TPWD said in a release on Tuesday. The disease was also found in a live deer at a breeding facility in Hamilton County, west of Waco. Authorities at the TPWD said, "This is the first time CWD was discovered in those counties."
What are they going to do about it?
The report offers care has been made for all the deer at the Hamilton County facility and they will isolate the deer for further testing. They have coordinated plans with organizations such as the National Veterinary Services Laboratory to continue the investigation in hopes to curb the spread of Zombie Deer Disease in the South Texas area.
Why should we care?
Not only is the disease "100-percent fatal" the disease is also a neurological infection found in deer, elk, and even moose that causes degeneration of their brains.
Why do they call it Zombie Deer Disease?
Animals afflicted with Zombie Disease slowly begin to show signs of degeneration of their brains often becoming sluggish, and drooling all while starving themselves. They literally waste away.
Yes, it is transmissible. 
Even after the scare of Zombie Deer Disease in 2022 more research is still needed and continues on the likelihood that this fatal disease could be transferred to humans.
Unfortunately for the deer in South Texas, the answer is a strong resounding yes, it's highly transmissible.
States with the most registered hunters
Stacker
analyzed data from the U.S. Fish and Wildlife Service to determine which states have the most registered hunters. Read on to see how your state ranks on Stacker's list.
LOOK: Here are the states where you are most likely to hit an animal
Hitting an animal while driving is a frightening experience, and this list ranks all 50 states in order of the likelihood of such incidents happening, in addition to providing tips on how to avoid them.
LOOK: Stunning animal photos from around the world
From grazing Tibetan antelope to migrating monarch butterflies, these 50 photos of wildlife around the world capture the staggering grace of the animal kingdom. The forthcoming gallery runs sequentially from air to land to water, and focuses on birds, land mammals, aquatic life, and insects as they work in pairs or groups, or sometimes all on their own.