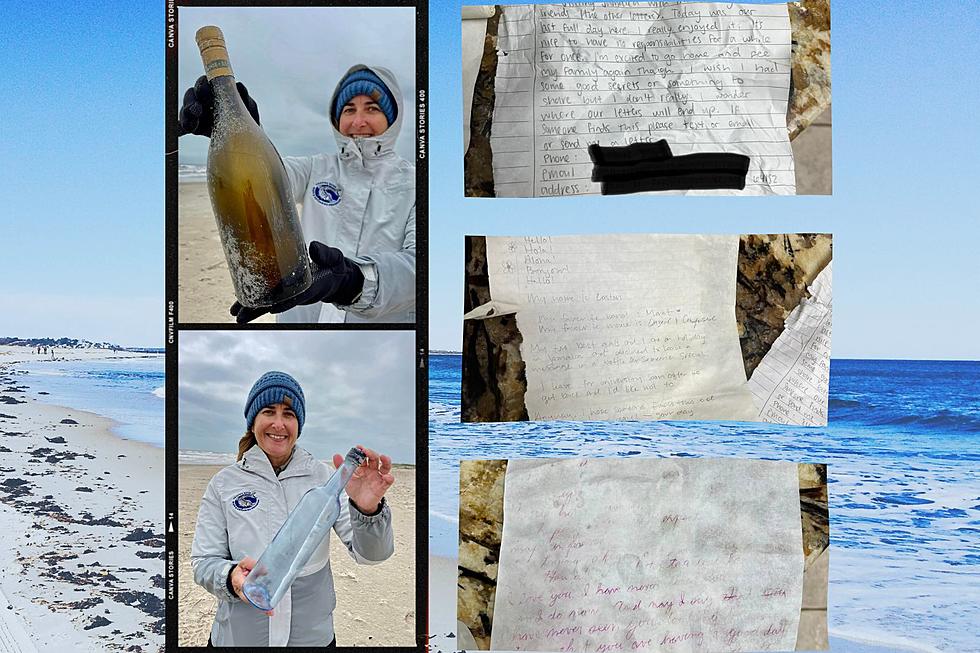 2 Very Cool Finds Washed Up on the Beach in Port Aransas, Texas
Mission-Aransas Reserve via Facebook
We know the song by Police called "Message in a Bottle." It is about a person stranded on an island and their only hope is to write a message, put it in a bottle and hope that someone finds it so they can be rescued. While that song tells a fictional story, real life people will write a message that maybe has some encouraging words for a stranger or just communicating a part of their life in hopes that someone finds it and will communicate back to them. The aforementioned scenario happened in Port Aransas, Texas when two messages in a bottle washed ashore.
Message in a Bottle
It was documented on Tuesday, April 4 and Friday, April 7 on the Mission-Aransas Reserve Facebook page that two separate messages in a bottle had come ashore. The first bottle contained two letters from a group of friends who were vacationing in Jamaica dated June 13, 2022. They had just graduated high school and were telling about their time on a resort there and how nice it was to actually be able to relax for bit before entering college life.
Hello! I hope someone finds this! My name is Madi Whalen. I'm writing from the Grand Palladium Resort in Jamaica, but I live in KC, MO in the USA. I'm 18 and just graduated high school a month ago. I'm visiting Jamaica with two of my best friends (the other letters). Today was our last full day here. I really enjoyed it. It's nice to have no responsibilities for a while for once. I'm excited to go home and see my family again though. I wish I had some good secrets or something to share but I don't really. I wonder where our letters will end up. If someone finds this please text or email or send me a letter. (She gives phone number, email and physical address which are redacted) Hope this found you well & PLEASE reach out if it found you at all! Madi :)
A Second Message in a Bottle
The second bottle that came ashore had a letter in it that unfortunately became illegible during it's trip. All that is really legible is that they hope whoever finds this is having a good day and that by finding the message, it made their day better. You can also read Galveston Island State Park so we can assume that this message originated from that location and didn't have a far journey to get to Port Aransas.
We usually find that messages in a bottle that use pencil and in a dark bottle are preserved the best. Pen fades, especially in a clear bottle. - Port Aransas researchers
Really Cool Finds
These are very cool finds and just cool that these people wanted to send a message to a stranger without any hopes of someone finding it. Luckily, these people were not like the story told in Police's "Message in a Bottle". They just wanted to put a smile on someone's face. Keep a lookout if your summer adventures take you to a beach. You may find a message in a bottle as well.
Winnsboro has a Cute Cabin Available for a Weekend Staycation
You don't have to travel to an exotic locale to have a moment of relaxation. Sometimes, it can be in our metaphorical backyard.
Buy This $40,000 Home in Kilgore But It Will Need a Lot of Work
The home market is still wonky across East Texas so if you find a cheap home, you'll probably need to put some work into it.
Reality Show that Best Matches an East Texas City
We decided to have a little fun and match several East Texas cities with a reality show that best encapsulates that town. Have a sense of humor with some of the matches, please.