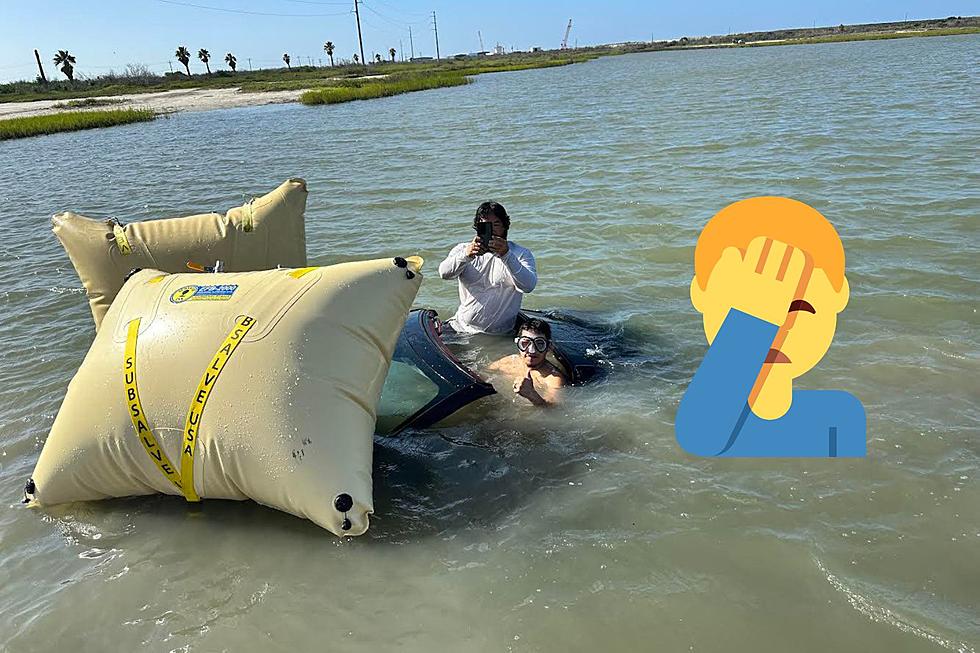 A Corvette Driver Drifted Into The Texas Gulf And Had To Be Tugged Out
Aranasas Pass Police Facebook
Plenty Of Folks Are Having Fun Along The Texas Gulf Coast This Summer, Some Folks Are Having WAAY Too Much Fun Though.
As someone currently in desperate need of a vacation, the Texas Gulf sound pretty good this year. Aransas Pass is known as a very popular destination in Texas for beach side fun but someone from out of town had TOO MUCH fun and lost their car to the elements.
A driver from out of town ended up sinking their 2022 Corvette in about 7 feet of water near Aransas Pass last week.

A wild story from out of Aransas Pass is making the rounds on social media after the Aransas Pass Police Department shared photos on their Facebook page about what happened last week when the relatively new Corvette took its passengers for a swim after drifting off road and into the Gulf.
They Had To Call A "TugBoat" In To Get It Out.
According to post on Facebook, the Corvette drifted off and totally submerged after being driven into the water near the flats on July 5. A local company called Tow Boat U.S. was able to "drive" the car back to the shore. Thankfully, no injuries were reported and  there was no environmental hazard discovered during the recovery.
But I'm quite sure the Corvette owner will have a story to tell to their insurance company as they will probably have to pay A LOT MORE in premiums in the coming months but at least we got some cool photos to share from this crazy story.
[PHOTOS] The Hot New Trend in Master Planned Texas Communities? 'Beachfront' Lagoons
Some of these new master-planned communities also offer amenities that may include pickleball courts, pools, fishing ponds, cafes, playgrounds, garden areas, and even schools.
[PHOTOS]: Why Are These Scary Dolls Washing Up on Texas Beaches?
Top 10 FREE Things To Do In Texas This Summer
Looking for stuff to do for the very low cost of $FREE.99 then check out these recommendations in the Lone Star State.