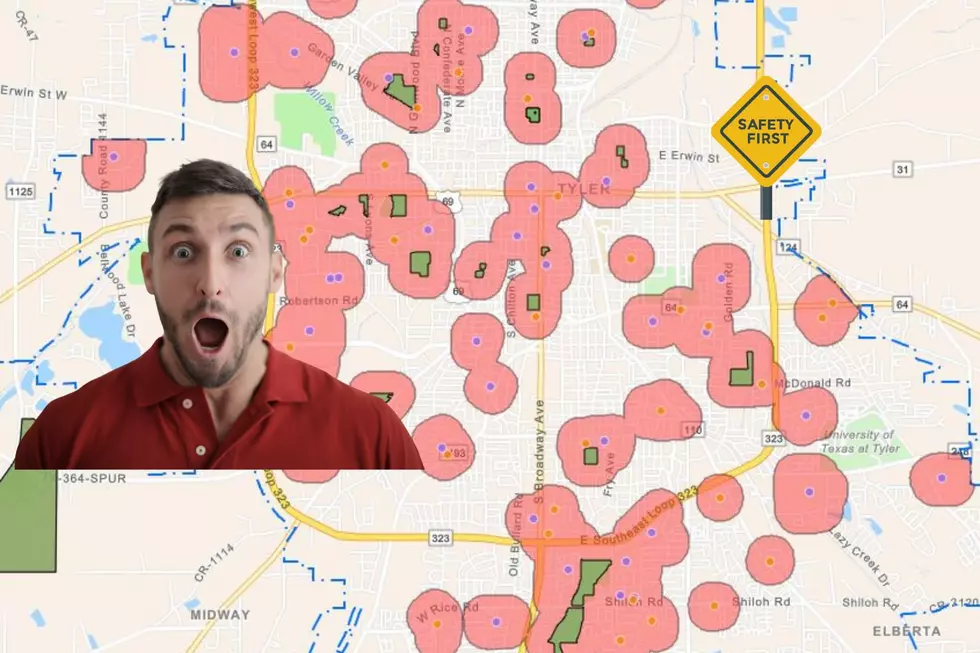 Be Careful Trick-or-Treating, Here is the Tyler, TX Map of Sex Offenders
City of Tyler, Canva
Years ago, we didn't worry as much about the dangers of trick-or-treating but now parents are way more cautious about putting their children in a potentially dangerous situation. The last thing any parent wants is something bad to happen to their children which is why I wanted to share the city of Tyler, Texas map of safety zones concerning registered sex offenders. 
While looking at this map won't identify every danger that you or your kids could face on Halloween night at least you can try to avoid any potentially dangerous areas. Sharing this information is all about safety and making sure kids have a wonderful Halloween and have as much fun as possible, while helping parents keep them safe. 
There Are Quite a Few Registered Sex Offenders in Tyler, TX
It's not something that people like to talk about often, but just like everywhere else in the world there are quite a few registered sex offenders here in the Tyler area. If that fact is something you want to avoid all together remember there are always trunk-or-treating events taking place that might give you more of the safety you're looking for on Halloween. 
Safety is Priority Number One on Halloween
Beyond avoiding registered sex offenders in the area, just make sure you're doing everything possible to keep kids safe on Halloween. Expect them to run across roads, make sure you keep an eye on your kids at all times, and the more reflective clothing (or glow sticks) the better for them to be seen from a distance. We are wishing you only the best this Halloween. 
Trick-Or-Treating? Here are Key Safety Tips For Your Kids Before They Head Out
As fun as Halloween can be, it's important to make sure our kids have basic safety rules in place--regarding traffic, people, and navigating unfamiliar places.
Here is a List of the Safest Neighborhoods Near Tyler
When looking at crime statistics around Tyler here is what is being called the safest neighborhoods:
The 10 Safest Towns in Texas
These are the 10 safest towns in Texas based on violent crime and property crime rates via
Neighborhood Scout
.