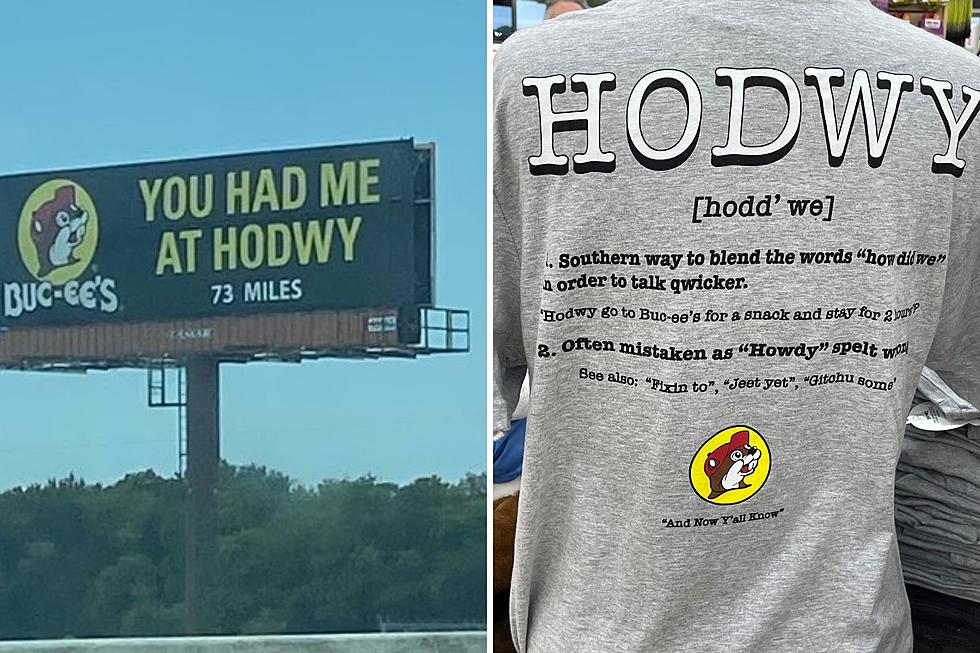 Buc-ee's Creates New Texas Word Thanks to its Billboard Blunder
Merrell Family
The Billboard in Question
Back in July, I wrote a story about a Buc-ee's billboard that my wife and youngest daughter, Cullen, observed on Interstate 35 between Dallas and Temple. The billboard read, "You Had Me at Hodwy".
Intentional or Not?
I wondered if this incorrect spelling of howdy was intentional, or was it a massive mistake by the sign company. I figured the marketing geniuses at Buc-ee's were either up to something or they would turn this unplanned mistake into a marketing opportunity.
The story took off like wildfire. I had media outlets from across Texas and beyond asking me for more details and permission to use my story and photo in their publications or shows.
'Hodwy' Appears Again...'And Now Y'all Know'
Friday morning, my wife and I stopped at the Buc-ee's in Madisonville, and while we were inside she waved me over to show me a stack of t-shirts.
This 'Hodwy' t-shirt gives the proper pronunciation of the word, and goes on to explain that the word is a "Southern way to blend the words "how did we" in order to talk qwicker."
The shirt goes on to give an example of how it should be used in conversation. "Hodwy go to Buc-ee's for a snack and stay for 2 hours?"
Then it adds, "Often mistaken for Howdy spelt wrong."
Once Again...Intentional or Not?
So...this takes us back to the questions addressed in the original story in July.
Was the misspelled billboard an intentional marketing ploy by the beaver brains at Buc-ee's corporate? Are we to believe that all along, Buc-ee's just wanted to create and take ownership of a new contraction in the Texas/Southern language? A word that would drive even more clothing sales?
Or, was the spelling of hodwy on the billboard truly an unplanned blunder? A mistake that the marketing geniuses at Beaver corporate turned into another reason to buy a t-shirt (which, by the way, we did).
We May Never Know
To quote the old commercial on how many licks does it take to get to the center of a Tootsie Roll Tootsie Pop..." the world may never know."
It just proves the point that when it comes to Buc-ee's, that Beaver is a gnaw-it-all.
30 Things We Go Nuts for at Buc-ee's
Texas - Do You Agree With This Ranking Of Buc-ee's Snacks People Should Try?
So many in the state of Texas have a favorite snack from Buc-ee's, but how could they be ranked? We have one individual's opinion to discuss.
Gallery Credit: Tommy Paradise, Townsquare Media, Tik Tok foods_insight, Canva