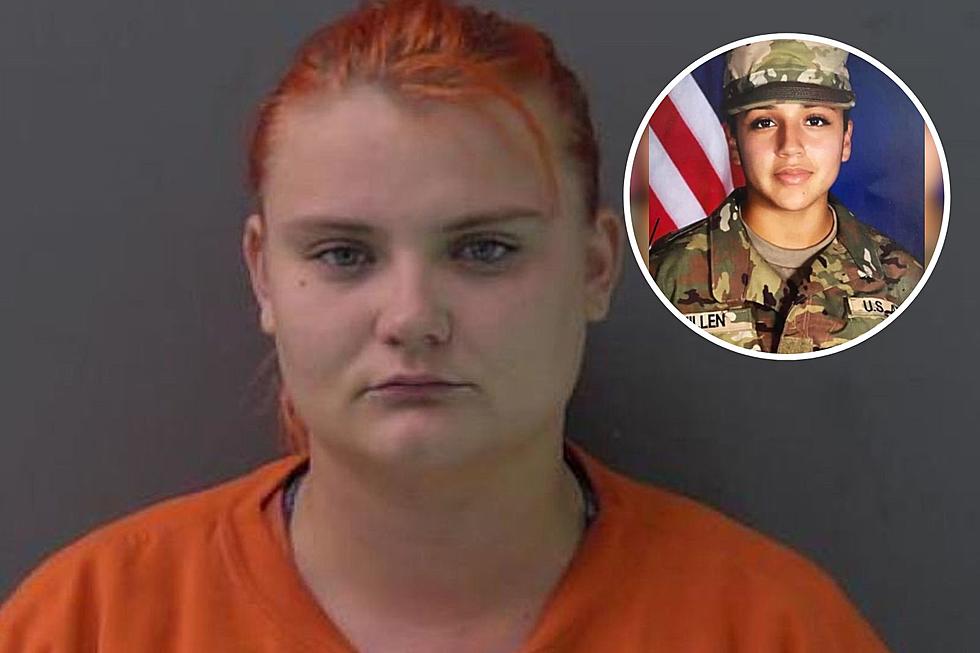 Cecily Aguilar Sentenced For Her Role In Vanessa Guillén's Murder
Bell County Jail/US Army/Canva
The disappearance of Vanessa Guillén in April of 2020 brought much media attention to Central Texas. After her remains were found nearly two months later, the journey for justice was already in motion.
Cecily Aguilar, who stood accused of assisting in concealing the body of Guillén, plead guilty in November of 2022 to three counts of false statement or representation and one count of accessory to murder after the fact. Her boyfriend, Aaron Robinson, was to be arrested for the murder of Guillén, but he took his own life before police brought him into custody.
Now, almost one year later, Aguilar has now been sentenced for her crimes.
Cecily Aguilar's Sentence
According to multiple sources, Aguilar's punishment was 30 years in prison and $1 million dollar fine. In the courtroom, according to KXXV, she also spoke to the family saying "I am ashamed of my actions and the person I was — my actions haunt me every day...Vanessa does not deserve what happened to her."
It is unknown at the current time where Aguilar will serve her sentence.
However, another individual connected to Aguilar, her ex-husband Keon Devonte Aguilar was recently found dead in June of 2023. According to KWTX, Keon and Cecily were officially divorced on February 13, 2023. Keon's death is still under investigation, with police in Michigan still searching for answers in his death.
As this story is still developing, we will have more information when it becomes available.
ALERT: These Bell County, Texas Most Wanted For July 2023
Many individuals in Bell County believe try to run from police in the state. But you can help bring them to justice. Have you seen these individuals?
You Can Help Bring A Top Ten Most Wanted Fugitive From San Antonio, Texas To Justice
It's been two years since anyone in the state of Texas has seen Steven Clay Leifeste. Last seen in 2021, he's been placed in the Texas Most Wanted Top Ten.
They Went How Fast? Here Are Ten Fastest 2022 Speeding Tickets In Texas!
Yes, we all speed, but going this fast is rather dangerous...
Seven Scariest Sights In Texas
These are the 7 most haunted places to visit in Texas according to
TravelTexas.com