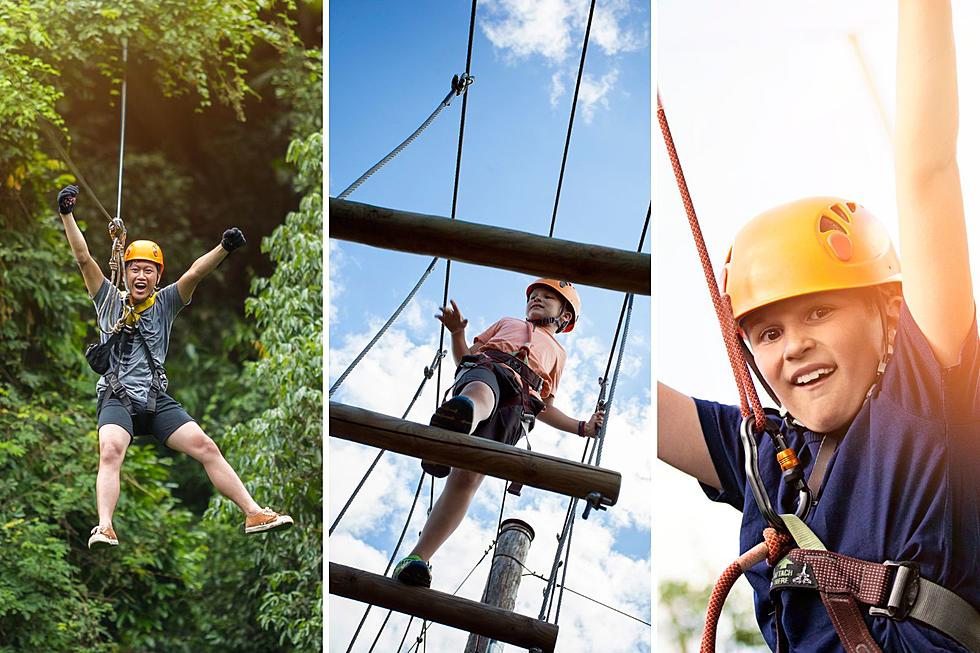 Challenge Yourself To A New Zipline & Aerial Ropes Course In Arlington, Texas
Getty Images
If flying through the air in a harness attached to a cable and set of trolley wheels sounds like fun to you, you need to jump into the truck and head west on I-20 to Arlington, Texas to experience a new zipline and zip around from treetop to treetop and across the Trinity River.
A new outdoor adventure park is giving you the opportunity to zipline and feel the freeness of flight inside River Legacy Park in Arlington near N. Collins St. (FM 157) and N. Green Oaks Blvd. This unique place is for the entire family. Not only is there zip lining, but there is also ax throwing and high above the trees there's an aerial ropes course inside the park.
Ziplining is a lot of fun.
I've strapped in and gone ziplining in Colorado, Tennessee, and even here in East Texas, just outside of Athens at New York, Texas Zipline Adventures. It truly is a lot of fun. You're zipping around from tree to tree, just like a bird or flying squirrel!
How high and how long is the longest run at Go Ape?
The longest run can be dominated by attacking the Treetop Adventure route. With super-long zip lines stretching across the Trinity River, the longest ride is 600 feet at a height of 40 feet and has more than 60 exciting obstacles along the course. Don't worry, if you're not accustomed to heights, there is an option that is closer to the ground!
The Treetop Journey's longest run is 130 feet at 20 feet above the ground and it has about 30 obstacles. That's not all though to do because you can test your ax-throwing skills.
The adventure park is open on weekends and will be open seven days a week after Memorial Day. If you're up to the challenge like I am, we better book our times now!
2023 Opening Dates For Water Parks Around East Texas
When it comes to catching a break from the oppressive East Texas heat and humidity you can turn to any of these nearby water parks.
See the Must-Drive Roads in Every State
KEEP READING: Scroll to see what the big headlines were the year you were born
Here's a
look at the headlines
that captured the moment, spread the word, and helped shape public opinion over the last 100 years.
See the Must-Drive Roads in Every State