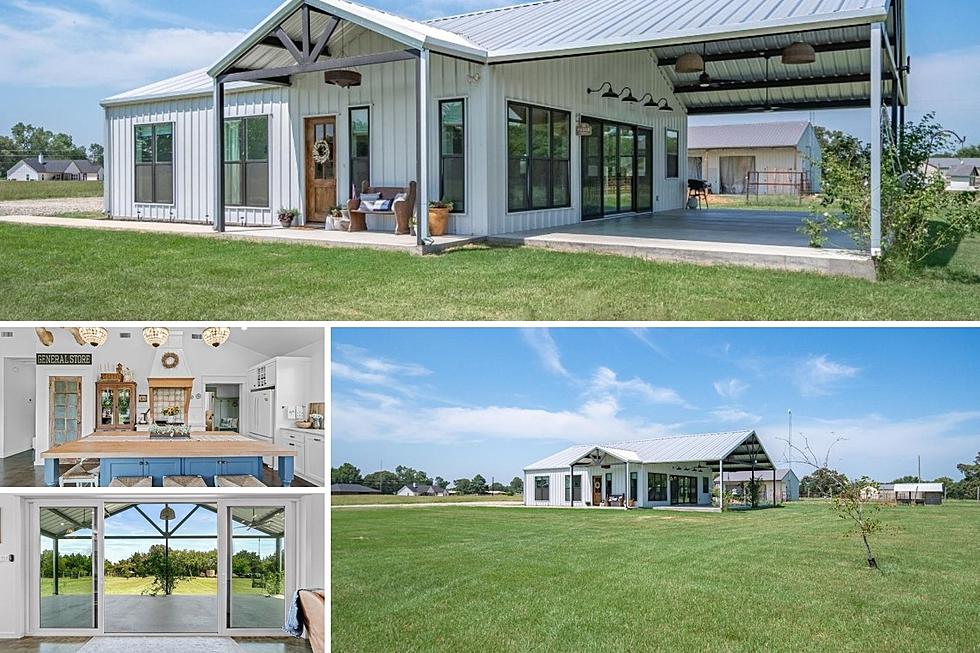 Charming Home on 4 Acres Under 500k in Canton, Texas
Photo courtesy of Robbie Fenn Johnson via realtor.com, CANVA
Canton is a beautiful town in East Texas with lots of things going on besides the obvious Trade Days, including this gorgeous home that is currently for sale. It seems like this property gives you the best of everything as it's a newer home and it looks fantastic. But it's not one of those newer homes that is right next to its neighbors as this property comes with 4 acres of beautiful land to enjoy.  
If you're wanting some privacy but still want to be only about 5 minutes from stores and restaurants then you're going to want to check out the property at 133 Vz Country Road 1108 in Canton, Texas 75103. The home itself is 3 bedrooms and 2 bathrooms, the home is a total of 1,800 square feet so it's not tiny but it's not gigantic either. This piece of real estate is perfect for those not wanting to spend all weekend cleaning a gigantic home.  
Extras Come With This Property in Canton
Besides the nice 4 acres of land and gorgeous newer home, this place also has a 30x40 shop with concrete and goat stalls. The 12x20 work shed is also equipped with water and electricity. There is a second electrical meter that has an RV hook up if you have family wanting to stay, or just a place for you and your toys. 
Let's Look at the Pictures
This property was stunning the first time I looked through the photos. Currently listed for $499,999 whoever buys this property is going to love it! Let's look at all the photos so you can see how amazing this place looks.  
Barndominium on 4 Acres in Canton, Texas
This gorgeous home on 4 acres is currently for sale in Canton, Texas
Gallery Credit: Billy Jenkins
Adventure Shopping Trade Days in Canton
Here is just a small preview of Trade Days in Canton the World's Largest Flea Market
Gallery Credit: Billy Jenkins