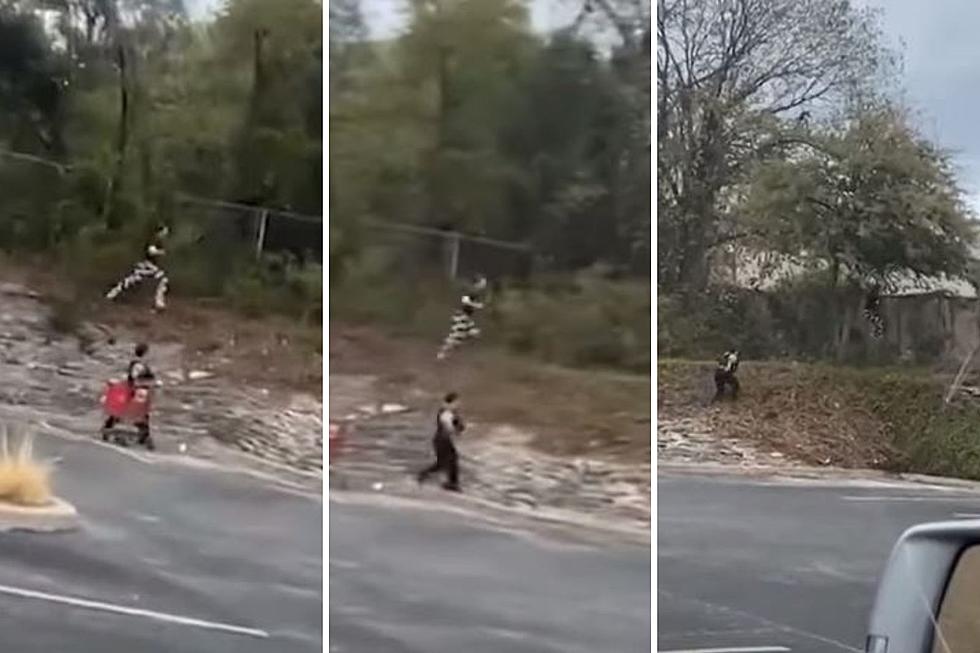 Crazy Video Of Murder Suspect's Brazen Escape From Texas Officers
KXAN YouTube
Check Out This Wild Video That's Circulating Of A Murder Suspects Desperate And Brazen Attempt To Escape Texas Corrections Officers In Austin.
If you recall last year, the story of professional cyclist Anna Moriah Wilson who was allegedly murdered by "yoga teacher" Kaitlin Armstrong in a story that gripped Texas and the nation.
According to police, Wilson was shot and killed at a home in east Austin in May 2022. Police questioned Armstrong at the time but did not arrest her. When a warrant was issued for her arrest days later, it was discovered Armstrong had fled the country.
Well Armstrong attempted to FLEE again, this time she wouldn't get far.
Armstrong's murder trial was set to begin Oct. 30 in Austin, where she faces a first-degree murder charge in Wilson's death.
Police allege Armstrong gunned down Wilson minutes after the 25-year-old victim returned to a friend's apartment following a night out with Armstrong's live-in boyfriend, Colin Strickland. Like Wilson, Strickland was a professional gravel cyclist, and the two allegedly had a brief fling in 2021.
On the night of the slaying, Strickland drove Wilson to her friend's apartment on his Harley-Davidson motorcycle. Moments after he pulled away, according to Austin police, Armstrong's Jeep appeared on surveillance video taken from a neighboring home.
A friend came home and found Wilson with gunshot wounds. Police said shell casings discovered at the scene matched a handgun they later seized from Armstrong and Strickland's home. Armstrong was arrested in Costa Rica after a 43 day manhunt.
Armstrong Attempted To Escape Officers While On A Doctor's Visit.
According to a report from KXAN, Armstrong ran from officers while leaving a medical office building around 8:17 a.m. Wednesday. The former high school track star led police on a 10-minute foot chase, but she couldn't shake them.
Cell phone video shows what looks like Armstrong, with her hands restrained, running on a hill next to the medical office's parking lot with an officer chasing her. You can also see the woman in the video try to jump over the fence. Armstrong could now face additional charges for her escape attempt.
Top 11 Counties for Executions in Texas and a Prisoner Who Was Executed in That County
Texas is well known for its use of the death penalty with many executions carried out for heinous crimes every year. Which counties have the most in the state? How many have been carried out in East Texas? Let's take a look at the numbers and some of the crimes committed.
Gallery Credit: Google Maps, Texas Department of Criminal Justice
158 Arrests Were Made In Gregg County Last Week, 50 Were Felonies (ending 10.08.23)
The following individuals were arrested and booked into the
Gregg County Jail
and received at least one felony charge. These individuals are considered innocent until proven guilty in a court of law. Some individuals have posted bail and are out of jail at this time while others are waiting for a bond hearing or court date. Some of the individuals below were detained by Gregg County deputies and are being held on a US Marshal, Federal, or Immigration detainer. All information was obtained through an open records request and provided by the
Gregg County Sheriff's Office.
Gallery Credit: Gregg County Sheriff's Office
Here are the 10 Most Snake Infested Lakes in Texas
Given that the Lone Star State has the largest number of snakes than any other U.S. state, it's good to be aware while enjoying our Texas lakes.
Gallery Credit: Tara Holley