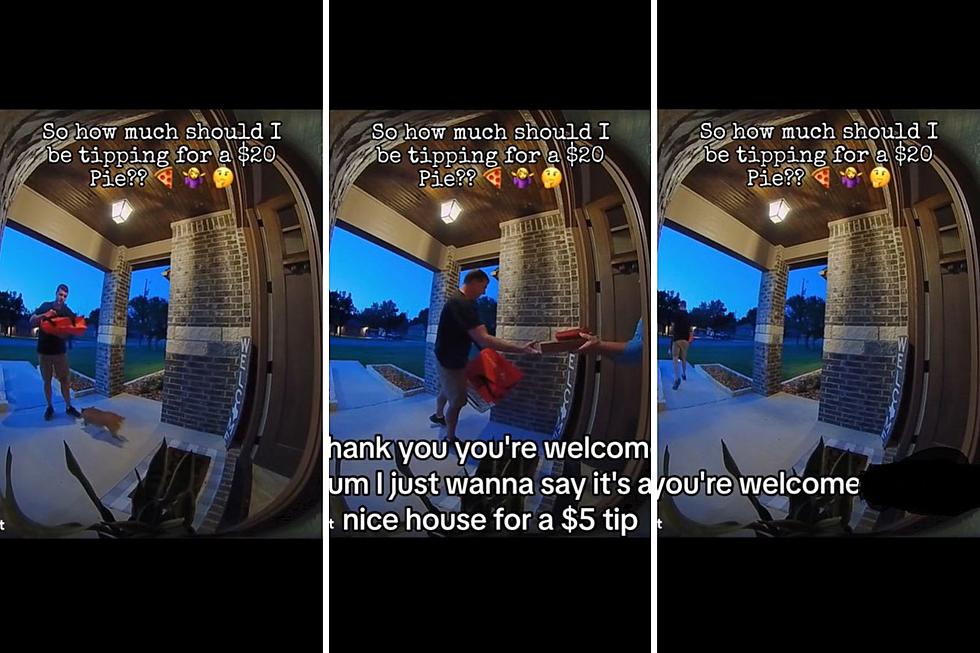 DoorDash Driver Fired After Cussing at Kempner, Texas Woman Over $5 Tip
ladybug3660 via TikTok
The subject of tipping has no gray area. You either don't mind offering a good or generous tip or you think the whole system of tipping is ridiculous and don't do it. The thing is, tipping will always be around whether you like it or not. Whether you like it or not, there are workers who depend on those tips to pay their bills and enjoy a good life. If you decide to eat out at a restaurant that you know will ask for a tip, give them a tip, it's not going to kill you to tack on an extra $10 for them when you're spending $130 on food and drinks for your date night. On the other side of that coin, if you work for tips, you should not throw a fit about the amount being tipped. Why? Because you'll end up looking silly like this DoorDash driver did in Kempner, Texas.
Tip Your Waiter or Waitress
Yes, the notion of working for $2.50 an hour while depending on tips can seem a bit absurd but it exists and people do make a good living doing it. If you don't like to idea of tipping, don't go to a place where a server will ask for one. That answer doesn't sit well with a lot of people but it's the best solution. There are two ways people look at tipping, too. One way is a straight up percentage of the check amount. It is suggested that even if you deem the service as poor, you should leave at least a 10 percent tip. However, a standard tipping percentage is usually 15 to 20 percent. The other way is some people solely base their tip on the performance of the server. This is usually frowned upon in the serving community but some people prefer the better-service-bigger-tip approach.
Complaining About Tipping
We've seen stories of service workers that depend on tips confronting those who don't leave a tip at all or a very small tip. It always comes across as petty on both sides. Petty would be the proper description of what happened to a woman in Kempner, Texas, located between Killeen and Lampasas in Central Texas. Lacey Purciful had ordered a pizza and another item to be delivered to her home through DoorDash. Upon arrival, the delivery person, identified as Corey, made a smart remark about the size of his tip based on the niceness of the house she lived in.
I just want to say it's a nice house for a $5 tip. - DoorDash driver Corey
After handing over the order to Lacey, and Lacey offering a very sincere "Thank you," the delivery driver responds by saying, "I just want to say it's a nice house for a $5 tip." To which Lacey replied "You're welcome" as the delivery man walked off. His response? A hardy "F#&k you." You can watch the full interaction in her TikTok video below:
Lacey's order was around the $20 price point. Add in the $5 and that's a 25 percent tip, well above the normal tipping rate. DoorDash has an option to add an additional tip after the order is delivered, no doubt for someone who feels that their order was delivered with exemplary service. While this "gentleman" won't be receiving that, Lacey did post how she does use it posting the video of a DoorDash delivery interaction from earlier that same day. Watch it below:
This man was respectful and cordial and genuinely enjoys what he does and wanted to have an authentic conversation with Lacey. She rewarded that with an extra tip for that driver which he very much deserved. As for the driver Corey, he has been removed from DoorDash.
Bottom Line
Tipping will be around whether you like it or not. Even if you don't believe in it, still do it because the person working hard for you depends on that money. For those who work in the service industry, you have to understand that not everyone believes in how you're paid for the work that you do. That doesn't mean you can accost someone for not offering a tip or offering a small tip, it won't change their mind.
$7,000 in Total Reward Money Offered for 2 Fugitives Wanted in East Texas
Lufkin Police and Henderson County Sheriff's Office is looking for two fugitives on Texas Most Wanted List.
Do Not Leave These 16 Items in Your Car in the East Texas Heat
The heat in East Texas is no joke. We will regularly have days above 95 degrees which means that our cars can get up to 180 degrees or higher inside. That can turn into a dangerous situation if you leave certain things in your car.
Paris and Grand Saline Hold 2 Unique Guinness Book World Records in Texas
Texas is known for a lot of things including many different Guinness Book World Records. East Texas has a claim to two of those unique world records that still stand today.