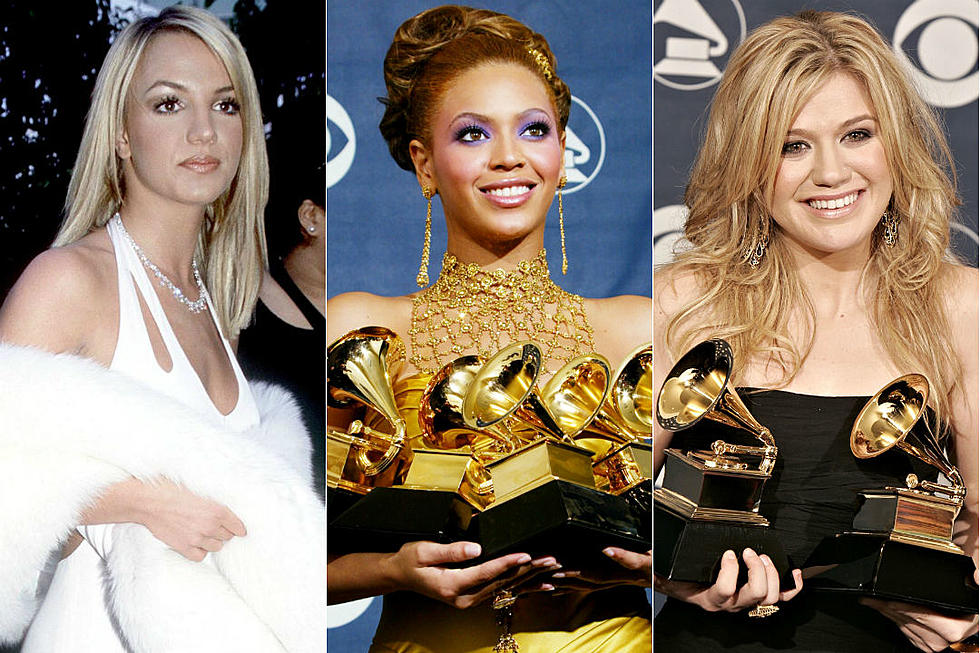 From Britney to Beyonce to Kelly: See Pop Stars' Very First Grammys Performances
Brenda Chase/Kevin Winter/Frederick M. Brown, Getty Images
You only get one chance to make a first impression, particularly when tens of millions of people (the music industry's most critical executives included) are watching.
Later this month — and as part of music's biggest night — Cardi B, SZA and more up-and-coming radio standouts will join an esteemed group of industry peers for an opportunity they've likely coveted since birth: the chance to perform at the Grammys, and for the very first time. Yup, alongside vets like Pink, Lady Gaga and Bruno Mars, a hard-working collection freshmen will attempt to win over crowds at the Grammys' 60th annual installment. And while it might seem like a daunting task, each act needs only look back a few years for inspiration (or 31 years, in the event Janet Jackson is his or her idol).
Yup, pop stars from Britney Spears in 2000 to Beyonce in 2004 to Kelly Clarkson in 2006 have had to battle back nerves to perform at the Grammys for the first time. Many have taken to the stage again since (is there a year since 2009 that Adele hasn't?), but for each, there will always be No. 1.
Check out pop stars' very first Grammys performances below, see how 2018's crop of Grammys contenders stacks up when the show airs on January 28 on CBS and don't forget to follow along with PopCrush for night-of coverage!
Janet Jackson, "What Have You Done for Me Lately," 1987:
Mariah Carey, "Vision of Love," 1991:
Madonna, "Nothing Really Matters," 1999:
Britney Spears, "Baby One More Time" Medley, 2000:
P!nk, Christina Aguilera, Mya, Lil Kim, "Lady Marmalade," 2001:
Alicia Keys, "Fallin'" + "A Woman's Worth," 2002:
Beyonce (solo), "Dangerously in Love," 2004:
Justin Timberlake, "Seniorita," 2004:
Gwen Stefani (solo) "Rich Girl" + Maroon 5 "This Love," 2005:
Kelly Clarkson, "Because of You," 2006:
Rihanna "Umbrella" + Carrie Underwood "Before He Cheats," 2008:
Taylor Swift + Miley Cyrus, "Fifteen," 2009:
Adele, "Chasing Pavements," 2009:
Lady Gaga, "Poker Face" Medley, 2010:
Bruno Mars, "Grenade" Medley, 2011:
Justin Bieber, "Baby" Medley, 2011:
Nicki Minaj, "The Exorcism of Roman," 2012:

Ed Sheeran, "The A Team," 2013:

Sara Bareilles, "Brave," 2014:

Sam Smith, "Stay With Me," 2014:

Ariana Grande, "Just a Little Bit of Your Heart," 2015:
Demi Lovato, "Hello," 2016:
Andra Day "Rise Up" + Ellie Goulding "Love Me Like You Do," 2016:
The Best of the 2017 Grammy Awards Red Carpet: