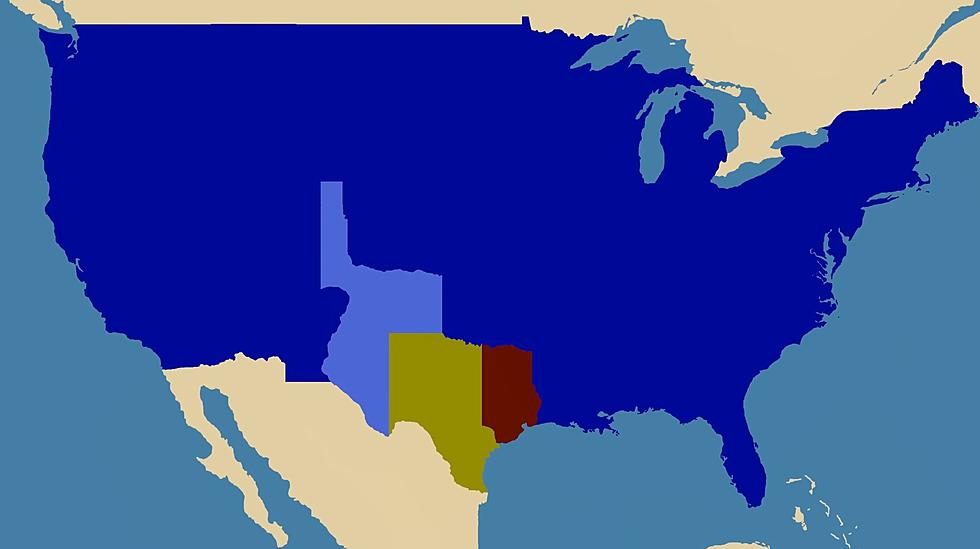 How Texas Got Its Crazy Shape & Some Weird Things Shaped Like It
Photo, History Matters/YouTube
There are only a few states that are instantly recognizable by their shape alone, Texas being the most identifiable one. It didn't start out looking that way though.
California and Florida are familiar to most but the shape of Texas practically makes a statement as it, and its residents, are so unique.
The shape of Texas appears all over the place, in all kinds of things and products, but it didn't always look like it does today.
The lone star states iconic shape was truly locked in by the compromise of 1850 when we gave up some land.
Prior to that the territory was super huge, about 50% larger than it is now.
The portions given up in the compromise were to pay off a huge debt Texas owed the United States of America. More on that in this video.
It went up from west Teas, (now mostly New Mexico), alongside and across the panhandle and west-northwest into todays Colorado. Oklahoma got their panhandle, above ours, out of the deal and Kansas took a tiny bite.
That's hard to visualize I know so, you can check out a drawing by clicking here. The design isn't just for maps either.
It's such a great image, it pops up on anything and everything. For example ...
How about some Texas ice cubes?
A Texas cutting board would be cool, after all, we are the "Beef Capitol of the World".
Waffles anyone? Soak 'em in strawberry syrup and I am SO in.
How about a drink tray for your pool beer?
You can, of course, get Texas emblazoned on just about anything ... like glassware.
There are also Texas shaped bbq grills, guitars and a Texas shaped lazy river. It sits atop a skyscraper 'cuz, why not?
You can see more Texas shaped stuff here.
Cool, Historic And Weird Things Along Route 66 In Texas
Some of the odd stuff you'll find along Route 66 where it goes through Texas.
Gallery Credit: Dubba G
Glimpse Inside El Paso''s New Hooters
Glimpse Inside El Paso's New Hooters'
Gallery Credit: Dubba G