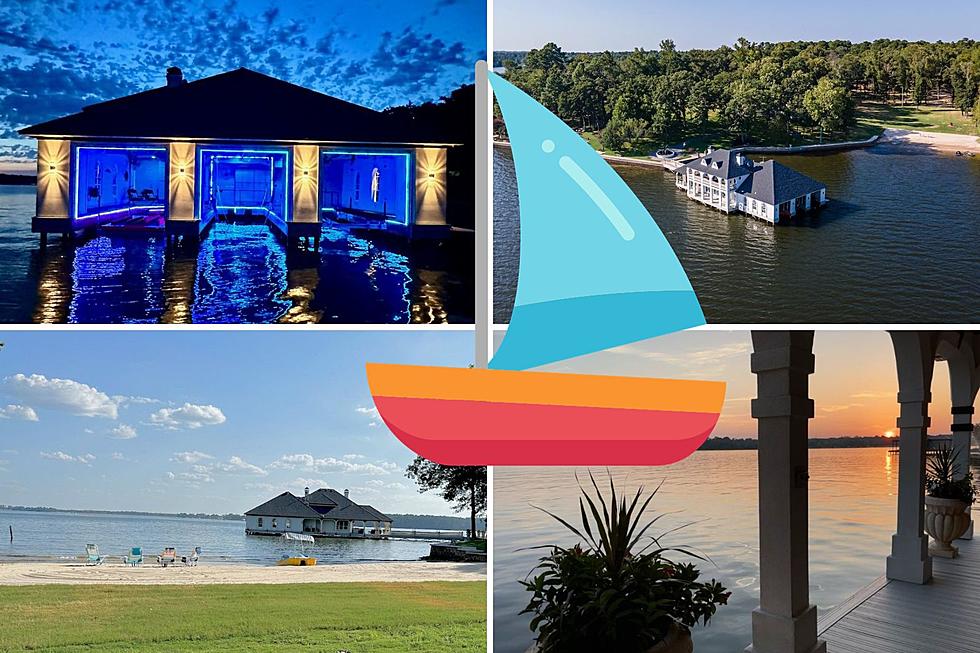 Live In This Unusual Tyler, Texas Floating Mansion
Listing Spark -Aaron Jistel MLS#20444979
You could build a new home on land, or just keep living in the over 5,800 square foot boat house.
Say that you live in the lake, not just on the lake.
Dare to dream big and see how the other half lives in Tyler, Texas
This lakefront property in the Tyler metro area is all about choices. You could build another entire home on the almost six acres of land that is included, or just continue to live in the massive high-end boat house.
Living on the lake with the amazing views and water coming right up to your back porch is a dream come true for many Texans. With over 7,000 lakes in Texas you know we love adventure, and this house has it all.
With over 663 feet of waterfront, the Azalea-covered property has its own private, white sand beach. If you live there full time your kids will go to the Arp school district.
This Lakehouse in Tyler, Texas Is In The Lake
The gated grand entrance driveway is over 6 inches thick and 20 feet wide. Lights along the way let you know that you are headed somewhere special.
Drop your car off at the climate-controlled 3-car garage, which has attached ADA guest quarters for your family members who don't want to bob in the lake. Once you get to the main house, technically a boat house with 3 slips, luxury awaits.
High-end appliances, fancy toilets, covered porches, a movie theater, and an outdoor spa are all waiting for you.
The house is listed for almost 4 million dollars. Luckily most of the furnishings, art, bronze statues, and decor are included. The boats and jet skis are negotiable if you want everything all at once.
Take a look around this floating mansion on Lake Tyler.
Live In The Mansion On The Lake In Tyler, Texas
You could jump off your floating mansion's front porch into Lake Tyler.
Gallery Credit: Dan Patrick
Vacation Rental on Lake Travis That Sleeps 40 People
Here is a look at the huge vacation rental big enough for your family reunion.
Gallery Credit: Billy Jenkins
Longest Floating Boardwalk in the U.S. is in Texas
If you're around Weatherford, Texas you will want to stroll across the longest floating boardwalk in the country!
Gallery Credit: Billy Jenkins