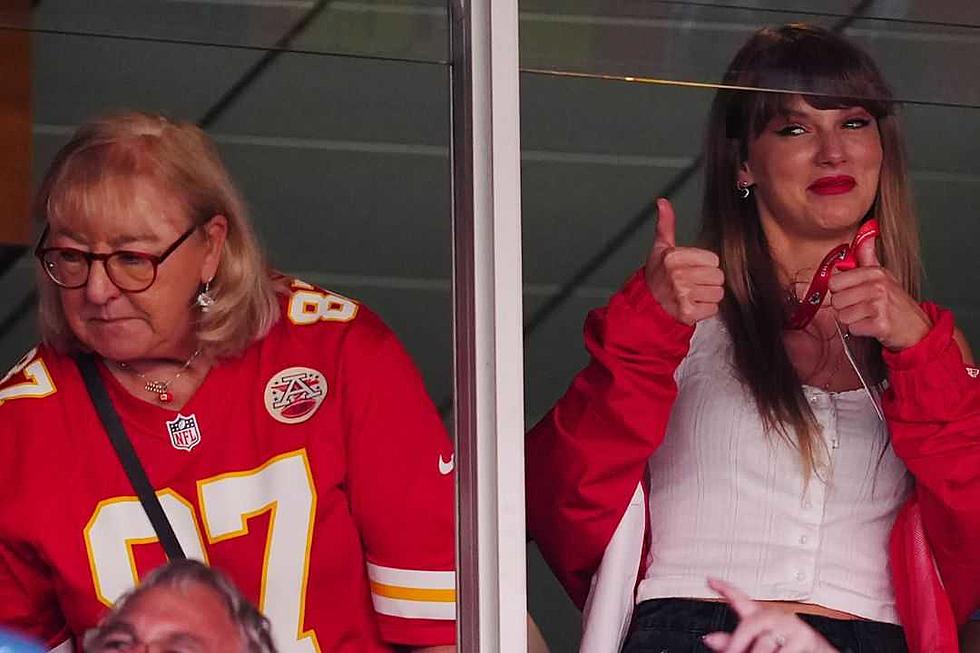 Travis Kelce's Mom Donna Approves of Taylor Swift
Jason Hanna, Getty Images
Travis Kelce's mom is most certainly a fan of Taylor Swift.
On Monday (Oct. 2), Donna Kelce seemingly gave her stamp of approval to her son's rumored pop star girlfriend in a video shared to her Instagram.
Donna re-posted a video of her and Swift hugging during the Kansas City Chiefs' game against the New York Jets on Oct. 1.
The video features text that reads "Travis Kelce's biggest fans," alongside a red heart emoji.
In another Instagram post from the same day, Donna can be seen wearing friendship bracelets on both her wrists.
Swift attended Kelce's game against the Jets in New Jersey on Sunday. She was also previously spotted at the Chiefs' game against the Chicago Bears at Arrowhead Stadium in Kansas City on Sept. 24.
Swift reportedly met Kelce's friends and family right before the game.
The singer visited the NFL player's house before she and his loved ones traveled together to the game, where she was spotted cheering for Kelce alongside Donna in the VIP box.
READ MORE: What Are Travis Kelce's Political Views?
On his New Heights podcast, Kelce called Swift "ballsy" for going to the game.
"Shout-out to Taylor for pulling up, that was pretty ballsy. I just thought it was awesome how everyone in the suite had nothing but great things to say about her. You know, the friends and family," Kelce said.
"She looked amazing, everybody was talking about her in a great light," the star tight end added.
Travis Kelce's Dating History Revealed
Meet the ladies who, at one point or another, reportedly captured the heart of the Kansas City Chiefs tight end.
Gallery Credit: Donny Meacham