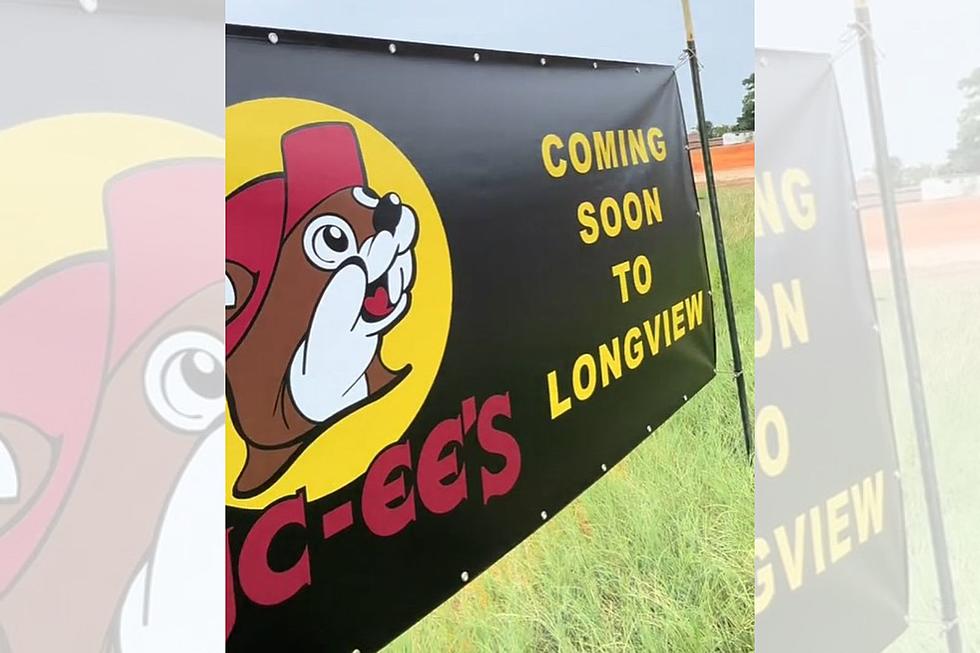 Longview, Texas Was Laughing About Buc-ee's While I Visited a Real One
fadez4dayz0 via TikTok
Buc-ee's coming to East Texas rumors have been around for years. It's just fun to speculate and wish for one. In the meantime, we can get our Buc-ee's fix with a relatively short drive to Terrell to the huge one along Interstate 20 there. Over the weekend, I celebrated my birthday with a trip to the Dallas Fort Worth metroplex and, of course, we had to stop at Buc-ee's as part of that trip. Unbeknownst to me until we returned home Saturday night, the whole city of Longview, Texas was excited over some news of Buc-ee's coming to their city. Thing was, it was meant for a good laugh.
What Happened
So some folks were traveling down Judson Road in Longview over the weekend when they spotted a sign. The sign simply said "Coming Soon to Longview" with the logo of Buc-ee's to the side of the text. Several people snapped a picture and posted it on the All Things Longview Facebook group. From there, excitement spread across Longview that the famed Texas icon would be coming to town.
Twas Not the Case However
Alas, the excitement quickly faded as word got around that this was nothing more than a very elaborate prank. Unfortunately, Buc-ee's IS NOT coming to Longview. Especially in such a small spot like that particular area of Judson Road.
The Long Running Rumor
One of the longest running Buc-ee's-to-East-Texas rumors has been that a location will be built somewhere along Interstate 20 in Lindale. Personally, my best guess would be at the intersection of Toll 49 and I-20. But all the land surrounding that area is owned by individuals or other entities. That doesn't rule out a Buc-ee's but it also means that there are no plans in the near future, at least, that Buc-ee's will come to East Texas. We'll keep our ear to the ground and if it does happen, we hope to be the first to tell you.
Usual Road Trip Stop at Buc-ee's
Over the weekend, me, my girlfriend and her daughter took a road trip to DFW for my birthday. We spent some time at the National Video Game Museum in Frisco, Dave & Busters in Euless and, of course, a stop at Buc-ee's in Terrell. I didn't pick up a new shirt this time at Buc-ee's but did pick up some snacks and some other stuff. When we got home Saturday night, I saw the news about this prank and found it very funny.
Quick Side Note
If you are ever looking for a fun weekend trip with the family, head to Frisco and check out the National Video Game Museum. It is full of the history of video games from the very first consoles in the 1970s to some very rare and very valuable games on display to interactive displays and playable consoles from the history of gaming. It's only $12 to get in and includes four tokens to the arcade at the end of the tour and has a gift shop, too. It's a lot of fun.
13 Great Locations to Add a Buc-ee's in East Texas
We've put together a wishlist of great locations for a Buc-ee's location in East Texas.
The New Food at the 2023 State Fair of Texas is Sure to Make Your Mouth Water
Fair season is here to enjoy a ton of rides, lots of games and eat some great tasting fair food. The State Fair of Texas in Dallas has all that but takes the food to a whole 'nother level.
Revisiting My 2021 Trip to the National Video Game Museum in Frisco
The history of video games is relatively short but is full of big moments, fond memories and a great look into the advancement of technology.