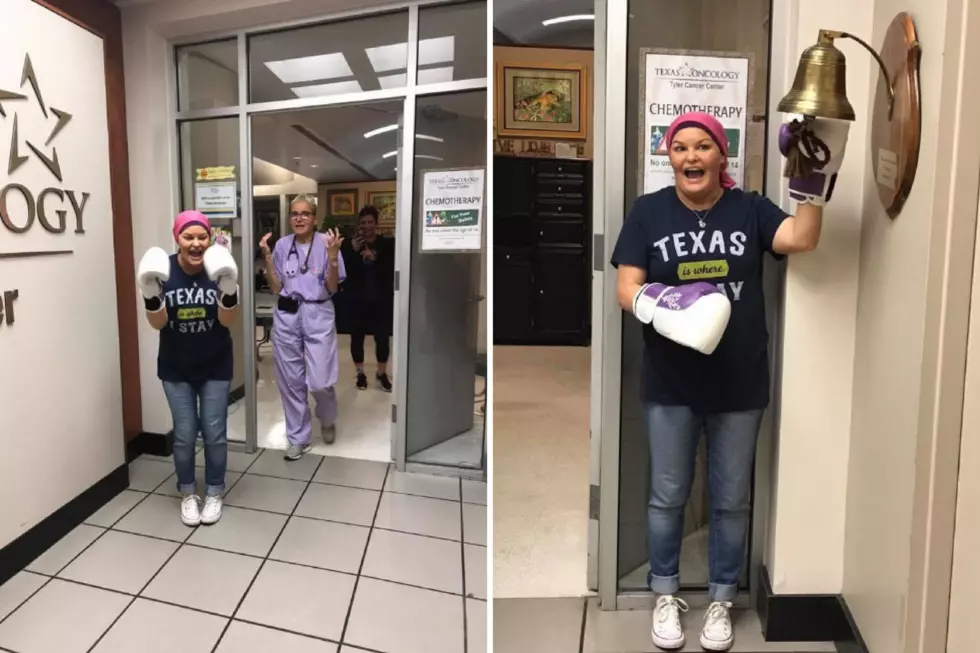 Mom's Exit from Tyler Hospital After Beating Cancer Has Gone Viral
Photos courtesy of @cambusken via Tiwtter
Everyone talks about how difficult life is and don't get me wrong... life is the hardest thing in life! But there are those who persevere through ordeals I cannot even fathom and by doing so, they inspire people around them.
In this case, a mother from Tyler, Texas inspired her daughter Cameron Stokes as well as thousands of strangers on Twitter. Yesterday, Yahoo News reported on a heartwarming scene at Texas Oncology Hospital in Tyler. 45-year-old Wendy Reed finished her last day of chemotherapy and according to Yahoo, patients typically ring the bell to symbolize the end of their chemo treatment. But Wendy had something else in mind.
She punched the bell with boxing gloves on.
"I had zero intention of ringing it, I wanted to punch it off the wall," she said via BuzzFeed News.
Her daughter captured the uplifting scene, knowing her mom had just beaten cancer. It was an emotional occasion for their family, but it appears thousands of people who saw the post  on Twitter were also touched with over 200,000 likes and 41,000 re-tweets.
I truly hope for the best for Wendy and Cameron - and anyone else who has gone through something like this. We can learn a lot from their strength and the encouragement so many strangers provided for them.